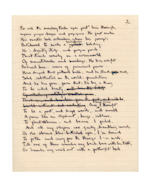 AUTOGRAPH REVISED MANUSCRIPT OF HIS VERSE PLAY 'HOOPS', his name in his own hand on the title page ('Wilfrid Gibson'), 356 lines, including about five deleted and interlinear lines, some autograph revisions with reconsidered readings not in the printed version, prose passage at the beginning setting the scene, FINE FULL RED MOROCCO GILT BINDING BY DOUGLAS COCKERELL, 18 pages, inlaid, folio, oak box, dated 1914

And then consider camels: only think
Of camels long enough, and you'd go mad --
With all their humps and lumps; their knobbly knees,
Splay feet and straddle legs; their sagging necks,
Flat flanks, and scraggy tails. and monstrous teeth...

'Hoops' was published in Gibson's Borderlands, 1924.

Gibson was one of the so-called Dymock Poets, a short-lived community of writers who settled in the village of Dymock, Gloucestershire, just before the First World War. The group included Lascelles Abercrombie, Edward Thomas, Robert Frost, Gordon Bottomley and John Drinkwater. They published their own journal, New Numbers. No manuscripts of 'Hoops' are mentioned in Location Register of Twentieth-Century Literary Manuscripts and Letters, 2 volumes, 1988. The main collection of Gibson's papers is at the Brotherton Library, Leeds.