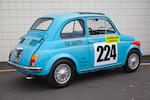 1965 FIAT-Abarth 595
Chassis no. 110F 0862866/1624
Engine no. 110F 000 2747829 ABA205
• 595cc air-cooled twin-cylinder
• Four-speed manual transmission

• Documented ownership by known Abarth racer
• Recent restoration to vintage racing livery
• Rarely seen outside of Europe

After leaving Cisitalia in 1948, Austrian-born engineer Carlo Abarth set up as an independent in Turin. From producing induction and exhaust systems, Abarth branched out into selling performance kits primarily for FIAT production cars, later building a highly successful series of aerodynamically stylish sports prototypes and limited-series production cars. With its FIAT 500-based 595, Abarth adopted the most cost-effective method of coaxing greater power from a small engine, fitting a big-bore cylinder block that boosted capacity from 499 to 593cc. Higher-compression pistons, re-worked inlet ports, a special camshaft and exhaust system, and a larger carburetor helped raise power from 22 to 30bhp, though the biggest gain was in mid-range torque. Abarth's conversion halved the standard car's acceleration times and endowed the 595 with a top speed of more than 120km/h (75mph). Lowered suspension and wider wheels and tires helped the baby FIAT utilize the increased performance.

This FIAT-Abarth 595 previously belonged to the late Vincenzo Gattafoni, the well-known marque exponent who figured prominently in the Italian touring car championships of the late 1960s/early 1970s and has featured in various books on the model. It retains its all-important Abarth-specific additional chassis number in the front trunk area, specific to those 595s built by the Abarth factory (Abarth hop-up parts were also available "off the shelf"). Believed taken off the road sometime around 1983, the car was rediscovered in Italy by the previous owner several years ago and was fully rebuilt in 2011, refinished in its old racing livery before coming to the US. This beautiful little FIAT-Abarth comes complete with a copy of its Italian Certificato Cronologico recording Gattafoni's ownership.