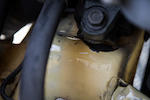 From the Estate of Eugene Beardslee
1948 Lincoln Continental Cabriolet
Chassis no. 8H171796
Engine no. CH171796
Body no. 876H56842

• 305ci, L-head, 130hp V12
• Three-speed manual transmission

• Recent mechanical and cosmetic service

The first generation Lincoln Continental of 1940-1948 brought European-inspired design elegance to the American automobile. The most famous, and certainly most widely emulated, attribute of the original Lincoln Continental was its rear-mounted, metal-shrouded spare tire.

The 1940-41 Continentals shared their pointed prow and curvaceous fender shapes with the streamlined contemporary Lincoln Zephyr, and they shared that car's chassis. The 1942 Continentals featured new, more squared-off fenders, and the redesigned frontal appearance found on all Lincolns of that war-shortened model year.

When production resumed in 1946 following WWII, the Continental and other Lincolns generally continued the 1942 styling, but sparkled with new, bolder grillwork that gave them more road presence. The Continental offered here is one of 452 Cabriolets produced for 1948, the final year for the first-generation design and the last Continental until the Mark II was introduced in 1955.

During 1951 the Museum of Modern Art included a first-generation Continental in an eight-car exhibit honoring automotive design excellence. Collectors also recognized the 1940-48 Continentals as Classics early on—no early Continental would ever be just another 'used car.' The cars' continuing popularity inspired the after-market accessory "continental kits" of the 1950s.

The 1946-48 Lincolns were the only post-WWII American cars powered by a V-12 engine. Rated at 130 horsepower, the 305-cid L-head twelve was coupled to a standard three-speed manual transmission.

The Continental Cabriolet was an expensive, ultra-exclusive car of very limited production. Many were purchased new by Hollywood celebrities. The list price for the 1948 Continental Cabriolets was $4,746—more than two and a half times the cost of that year's Ford V-8 Convertible!

This car was purchased by Gene Beardslee from his good friend Victor Nevins who, like Gene, was also an active participant in the old car hobby. Gene had admired Nevins' Lincoln for years, and once Victor finally decided to part with the car, Gene quickly acted. Originally painted in Pace Car Yellow, once in Gene's possession cosmetic work was performed. Like the '42 Coupe, the Lincoln was the recipient of the Ford Motor Company award from the Lincoln Owners Club, which recognized quality and authenticity in fine machines. Recently, the car was freshly serviced to a fine mechanical and cosmetic standard.

Still ranked among the world's most admired cars, this first generation Lincoln Continental has long been a Classic Car Club of America Full Classic® and its timeless form will always please admirers of artistic automotive design.
Footnotes
Saleroom notices
Please note that the correct chassis number for this vehicle is SH176796.