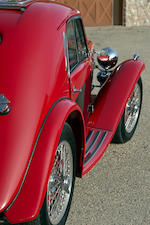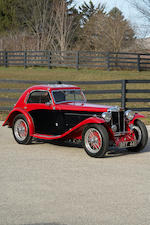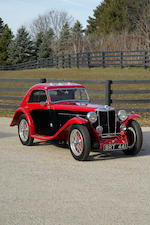 Ex-Gene Ponder Collection, one of only 3 known surviving N Series Airline Coupes
1936 MG NB Magnette Airline Coupe
Chassis no. NA/0848
Engine no. 1112 AN
• 1,271cc, OHV inline six
• 4-speed manual transmission

• One of seven six-cylinder Airline Coupes built
• One of only three surviving
• Ex-Gene Ponder

One of the most intriguing and important aspects of the 1930s motor industry is its interest in aerodynamics and how this was reflected in the evolution of the automobile. It can be argued that France lead the way with coachbuilders such as Figoni et Falaschi and Letourner et Marchand staking their own claims with their Teardrop and Aerosport designs on Talbot Lago and Delage chassis, though these were produced in limited numbers and strictly for the luxury market. In America there was, of course, the Chrysler Airflow among others that represented a more accessible and affordable acquisition with similar design tendencies. Britain too saw many of its coachbuilding houses, which only 40 years earlier had been constructing carriages to be drawn by horses, now focused on wind-cheating design, beautiful flowing renditions came from the pen of luminaries such as A.F. McNeil of the J. Gurney Nutting house.

Against this backdrop it could easily be argued that one of the prettiest swept back designs were the very few Airline Coupes that graced MG chassis. The design was created by H.W. Allingham a man with more than a decade of experience in the car industry, notably at Chalmer and Hoyer, later Hoyal, and then his own independent design company. Of particular note are the 'cathedral' style lighting panels on the sliding sunroof, the spare tire neatly blended into the swept back tail underneath a metal cover, and the effect of the tail which tapers inward at its base. Then there is separation molding down the sides of the car which allowed for two tones, the full flowing fenders the rears flicking up at their ends. The low profile is achieved by dropping the body over the outside of the chassis. At despite all of the detail and thought that went into the styling, there is actually still an accommodating cabin and relatively large doors to enable access by even the taller adults of the modern day.

Although sculpted by Allingham and marketed by him also, the Airlines were actually built by both Carbodies and Whittingham & Mitchel. In total it is thought that a mere 51 were ever constructed, and it is worth noting that the majority of those cars were built on the four cylinder MG PA and PB series. Only 7 were fitted to the more potent NA/NB 6 cylinder cars, and of those 3 retain original Airline bodies.

Noted collector Gene Ponder was a huge fan of the MG brand and particularly of these aerodynamic coupes, it must have been incredibly rewarding for him to have achieved ownership of such a rare car when he acquired this example in around 2000. It is understood that the car was a very fine basis, perfect material for the exacting restoration that ensued. In doing so, Mr. Ponder had the car's color changed from two tones of green to his preferred red, accented by black side panels. One of the more troublesome details to get correct was to track down the right Borrani wheels, which were sourced at the considerable cost of $9,000! As is immediately evident to this day, the restoration was a thorough and high quality job, befitting the importance of the car.

Mr. Oldenburg had also long coveted this Airline Coupe, and was able to acquire it, from the purchaser at the Ponder dispersal auction, a couple of years ago. In his ownership, as he was intent on using the car, hydraulic brakes have been fitted to improve its stopping.

Between the inherent details in this era of MG, which played on the octagon of its logo and the exquisite shape and features which Allingham incorporated into these coupes, these cars have a jewel like quality and quite understandably remain among the most collectible of all MG cars. Even among those, this ultra rare 6 cylinder NB powered Coupe stands out as being a very special Airline.
Saleroom notices
Please note that the title for this vehicle is in transit.