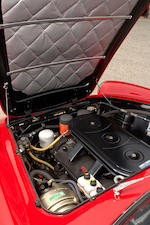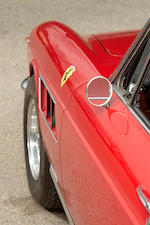 1968 Ferrari 330GTS Spider
Coachwork by Pininfarina
Chassis no. 11021
Engine no. 9823
• 4.0-liter, DOHC, 300hp V12
• Five-speed manual transmission

• One of only 99 built
• Original European delivery
• Ex-Gene Ponder

It could be argued that the three most covetable characteristics of Ferrari ownership are beauty, exclusivity and the possibility of open air motoring, the 'wind through your hair' sensation, that never wanes in its appeal. A 330GTS ticks all of those boxes handsomely, by definition an open topped automobile, they date from those halcyon days of the late 1960s, when beauty just pipped aerodynamics in terms of sale ability and only 99 were ever built ensuring their exclusivity.

The convertible version of the GTC, the GTS was introduced at the Paris Salon in 1966. Beneath the 330's hood was the 4.0-liter, 300bhp version of Ferrari's familiar, two-cam, 60-degree V12, as used in the 330GT 2+2. The short - 2,400mm wheelbase - chassis followed Ferrari's established practice of tying together sturdy oval-section main tubes in a steel spaceframe, while the suspension was independent all round by wishbones and coil springs. First introduced on a road-going Ferrari in 1964 (on the 275GTB) the rear suspension incorporated the five-speed, all-synchromesh gearbox in the form of a transaxle. Unlike the 275GTS, the 330GTS (and 330GTC) employed the superior torque-tube transmission introduced on the 275GTB towards the end of 1965.

Testing a 330GTS in 1968, Road & Track magazine found that the fully sorted, all independent, transaxle chassis gave, 'a soft, level ride, wonderful adhesion and excellent behavior. Out on the road, once the driver has the feel of things, he feels he could do almost anything with this car.'

Luxuriously equipped in the best Gran Turismo manner, the 330GTS interior boasted leather seats and electric windows as standard, radio, air conditioning and Borrani wire wheels being the options. With a top speed in excess of 150mph, excellent ride comfort and sure-footed handling, Ferrari could justifiably claim the 330GTS to be the world's finest convertible two-seater. Only 100 330GTS models were produced by the factory between 1966 and 1968, alongside 600 of the 330GTC Berlinetta.

The 84th 330 GTS to be built, 11021 was ordered new through Jacques Swaters esteemed Garage Francorchamps, in Brussels, Belgium, it was delivered by the factory on September 26, 1968. As booked, it had been specified as being in Argento that June, but on the final invoice this specified Bleu Ribot as its color, so this must have been altered at the later stages of its build, its interior was black leather. It also featured the rare accessory of a factory hard top, something that added nearly 5% to its invoice, though sadly is no longer with the car.

The first private owner is not known at this time, indeed further European history is also not recorded, but within 3 years the car was already in the US and is known to have been in New York, New York. The car has resided in the U.S. ever since. Later in the 1970s it was owned/or managed by Kyle Fleming of Virginia Beach, Virginia, and as advertised by him in 1979 the car is listed as having new red lacquer paint, Borrani wire wheels and factory air conditioning, (the latter aspect not being confirmed in period documentation). Handled by Ed Waterman in January 1987, the Ferrari had passed to Dr. D.G. Whitney of Roswell, Georgia by 1990. Ten years later the car is known to have been in private New Jersey ownership, at which point there is reference that the car was by now fitted with a 330 GT 2+2 engine, number 9823, which it should be noted is of the identical type 209 specification to its original unit.

Sometime in the early 2000s, noted Texan collector Gene Ponder acquired the Ferrari. Mr. Ponder was known for having an affinity for red cars, and for repainting them to his prefered livery. In this case, the Ferrari was almost certainly already red, but it is understood to have been refurbished nonetheless, and its interior lightly customized to match this, being in red and black leather with a red leather top cover. Its top is in black double duck. A particular detail of note, the origins of which have not been determined is a chrome shield fitted behind the Ferrari badge on its nose.

On the dispersal of Gene Ponder's collection in Marshall, Texas in 2007, the car passed into its next collection ownership that of the Oldenburg Family. Since acquisition, it has seen regular use, accruing some 8,500 kms. Today its condition remains extremely smart, its interior showing very limited wear and only very light aging to its paintwork. When photographed for preparation of this catalog the car started instantly and on a brief test drive showed itself to be a well sorted example with good brakes.

Looking almost affordable when compared with California Spyders, a 330 GTS is rarer, more powerful, and arguably more usable, the Oldenburg Family Collection's example is ready to be enjoyed.
Saleroom notices
Please note that the title for this vehicle is in transit.