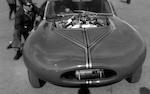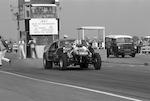 The first-ever "Altered" drag racing car in England, the ex-Keith Sales
1963 MG B "Megalomania"
• Over 400bhp
• 396ci Chevrolet V8 with Hilborn injection
• Four-speed Muncie transmission

• Impressively documented period race history
• A legend of the Swinging Sixties British drag racing scene
• Comprehensively restored to period race livery
• Scare the hell out of your neighbors

Organized drag racing in the United States began in the 1950s, but racing enthusiasts in Great Britain had to wait a few more years to see the sport emerge in their own country. Jaguar specialist Keith Sales, a former jet aircraft engineer, was fascinated by the standing-start quarter mile, and began racing a modified Jag Mk II sedan, with which he won his class at the 1966 inaugural event at Santa Pod, England's first drag strip. Soon after, he decided to construct his own special. Thus was born "Megalomania", one of the most outrageous machines ever seen on British soil.

Sales' plan was to stuff a huge American V8 into a salvaged MGB convertible, and did so with the help of two American servicemen stationed at a nearby US Air Force base. Both were drag racing enthusiasts, and one, John Wachter, not only helped finance the venture; he donated a 396ci Chevrolet engine from his own 1965 Impala SS. The MGB shell was gutted and lightened as much as possible. Fibre Glass Repair of Bromley created a new coupe body that was grafted onto the MG, whose door panels are the only stock parts visible. A fiberglass copy of an XKE bonnet was added. The front suspension remained MGB, but with heavier springs and truck shocks. The big V8, initially carbureted but later fuel-injected, produced an estimated 400hp, fed through a Muncie four-speed transmission. Initially, Sales used a Ford rear axle, but soon swapped in a stronger Oldsmobile unit. The car debuted at Santa Pod in August 1966, turning mid-14s. Further development dropped that into the mid-12s – with extensive photographs documenting these outings - but the car was already obsolete.

It's believed that Wachter brought "Megalomania" to the US in 1968, but no evidence has been found showing that it ever raced here. The current owner discovered the car, missing most of its running gear, languishing in a Tucson, Arizona scrapyard in 2010. After confirming the car's historical significance, the owner embarked upon a full cosmetic and mechanical restoration to its late 1960s appearance. It has been fitted with a period-correct 396ci Chevrolet with Hilborn injection, a Muncie close-ratio four-speed, a rare Moon fuel tank to replace the missing original, and a new MGB windshield. A proper cooling system was added.

This crowd-pleasing and fully-documented race car, which thrilled onlookers at England's first drag strip in 1966, presents a rare opportunity for the vintage and nostalgia drag racing enthusiast.

Footnotes