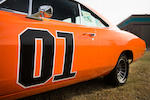 An original "Dukes of Hazzard" stunt car
1969 Dodge Charger "General Lee"
Chassis no. XP29G9B388140
• 383ci V8 motor
• Four-speed manual transmission

• Original "General Lee" stunt car
• Documented ex-Warner Bros.
• Original, unmolested example

1969 was the heyday of the American Muscle Car and the Dodge Charger was in the core of the furnace. The Charger's fastback two-door hardtop body style with its "Coke bottle" fenders, full width grille and simulated fender side extractor vents was distinctly purposeful and subtly refined. Its appeal didn't depend on fins, flairs or embellishment, just good design attractively presented.

Under the skin the Charger had the stuff to back up its visual appeal: magnificent engines, strong transmissions and solid suspension. It wasn't, however, a "Good Guys" car, having a potent but portentous presence that communicated more menace than promise.

One of the most famous cars in television history, "The General Lee" tore across prime time for seven years. "The General Lee" was, in fact, one of the main stars of the series, with its trademark long jumps and close and convoluted escapes from the law. Set in Georgia, the "Duke" boys were a pair of Robin Hood characters in constant conflict with 'Boss' Hogg and his bumbling sheriff Roscoe P. Coltrane. And who can forget Catherine Bach as Daisy Duke? The Dukes of Hazzard has enjoyed a resurgence in popularity through syndication, and two, made for television movies. There are literally hundreds of websites devoted both to the show and specifically to "The General Lee." Interest in the original television series was rekindled in 2005 with the release of the Warner Brothers film and the orange Charger remains one of the most iconic, instantly recognizable cars of all time.

Exhibiting a great patina consistent with an unrestored "General Lee" stunt car, the accompanying history file includes a copy of the original purchase agreement between Warner Bros and Jay Ohrberg dated September 5, 1986, confirming this particular car was used as a stunt vehicle in the cult television series Dukes of Hazzard. In 1998 the car passed to the next owner and changed hands again in 2001, joining the Hollwood Rock & Roll Museum in Branson, Missouri. The car changed hands again later in 2001 and came into the present ownership in 2005. We are advised the car runs and drives just fine and in addition to the history file, has the Air Cleaner signed by a Dukes of Hazzard cast member.
Saleroom notices
A photocopy of the original purchase agreement is included with this car, but bidders are encouraged to satisfy themselves as to the authenticity of this example. Furthermore, please note that there is no history file included with this lot.