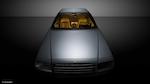 The Turin Motor Show, ex-Jacques Swaters Collection
1980 Ferrari Pinin Sports Saloon
Coachwork by Carrozzeria Pininfarina
Chassis no. 1.02.200
Since the dawn of the 1960s Pininfarina has been Ferrari's favoured coachbuilder, this long-standing collaboration between manufacturer and stylist resulting in some of the world's most beautiful motor cars. So it was only fitting that when Pininfarina celebrated its 50th anniversary it would do so by creating a very special Ferrari - the 'Pinin' - named in honour of the famous carrozzeria's founder, Battista 'Pinin' Farina. Unique as the only four-door Ferrari ever built, the Pinin was first shown to the public at the 1980 Turin Motor Show alongside examples of Pininfarina's greatest work including designs for Alfa Romeo, Lancia, Cisitalia and, of course, Ferrari. Apart from its four doors, the Pinin was also unusual in deploying Ferrari's 5.0-litre 12-cylinder 'boxer' engine in a conventional front-mounted, rear drive configuration. However, it was not the first time that Pininfarina had put a boxer engine in the front of a Ferrari, having displayed just such a four-seater, two-door coupé at the 1974 Turin Show.
The Pinin's necessarily lengthy body was styled by Diego Ottina under the direction of Pininfarina's design chief, Leonardo Fioravanti, who has been responsible for many of the carrozzeria's most successful designs since the '60s. Choosing the horizontally opposed 'boxer' engine made it possible to achieve a slender nose, for which Lucas developed special, slimline, multi-parabolic headlights, thereby avoiding the use of retractable units. There was further lighting innovation at the rear, where Carello's body coloured units only became visible when illuminated - a common enough feature nowadays but unheard of 30 years ago. The smoked glass side windows cleverly hid the 'A' and 'B' pillars, creating the impression of uniformity and lightness, while inside the cabin there was a revolutionary form of dashboard instrumentation that only became visible when the ignition was switched on. As well as the extra leg room afforded by the Pinin's extended wheelbase - 5cm longer than the contemporary Ferrari 400GT '2+2' - rear seat passengers also got their own control unit and a second radio for use with earphones.
In truth, much of the Pinin's advanced technology was only notional but might well have been incorporated had the car gone into production. Sadly, that was not to be. Ferrari's parent company FIAT was busy reclaiming its market share with models such as the Uno, and devoting precious resources to develop a four-door Ferrari was seen as unjustifiable. The Pinin was featured on the cover of 'Quattroruote' magazine in May 1980 but remained a static 'show' car, with empty boxer engine, and after further appearances at the 1980 Los Angeles Auto Show and Carrozzeria Italiana in Pasadena in '81, quietly disappeared from view.
Many years later the Pinin was sold via Adolfo Orsi to Jacques Swaters, proprietor of Garage Francorchamps, Belgium's Ferrari importer. While in Swaters' possession the Pinin was displayed at the Essen Motor Show in 2005 as part of Pininfarina's 75th anniversary celebrations. In 2008 Swaters parted with much of his accumulated Ferrari memorabilia at the Maranello auction where the Pinin was sold to the current vendor. Unlike Swaters, the new owner wanted a running car, not a static exhibit, and commissioned former Ferrari Technical Director Mauro Forghieri's Oral Engineering to carry out the necessary work.
Investigating the Pinin, Oral discovered that it was basically a stretched 400GT aft of the front bulkhead, including the rear suspension and differential, while the engine bay was adapted from the mid-engined 512BB's rear subframe. The front suspension consisted of short wishbones with the springs welded in place. Oral sourced a complete 512BB engine, which had to be moved forwards in the engine bay for proper installation, and adapted a 400GT gearbox to fit. Other works carried out to transform the Pinin into a runner included strengthening the chassis, fabricating a fuel tank, manufacturing a wiring loom, fabricating a radiator, and installing fully functioning suspension and brakes.
The completed Pinin first ran in March 2010 on a disused airport runway in Marzaglia near Modena and was test-driven there for 'Forza' magazine, which reported its impressions in the August 2010 edition (copy article available). Also contained within the accompanying extensive history file is a letter from Pininfarina confirming that it was displayed at the Turin Motor Show car and then the Los Angeles Auto Salon in 1980. In addition there are many plans, designs and copious correspondence.
Sadly, the car's original Veglia instrumentation has long since been removed and conventional units fitted in its place, while the fixed side windows and lack of a ventilation system make it unsuitable for use in extreme conditions. Nevertheless, the Pinin is a fully driveable motor car, capable of gracing any concours d'élegance field where its unique and historic status as the only four-door Ferrari may be fully appreciated. Indeed, since completion the Pinin has participated in the Cartier 'Style et Luxe' Concours d'Élegance at the 2010 Goodwood Festival of Speed, where it was most enthusiastically received, and also at Mauro Forghieri's exhibition 'Modena - Terra di Motori' and the Trieste Concorso d'Eleganza 'Maestri Carrozzieri'. Surely a unique opportunity not to be missed by any serious Ferrari collector.

Au salon de Turin de 1980, Pininfarina célébra son 50e anniversaire en exposant une unique Ferrari 4 portes prototype non roulant, la Pinin. Aucune production de série ne fut envisagée et la Pinin finit par être vendue à Jacques Swaters, importateur Ferrari en Belgique et patron de l'écurie Francorchamps, qui l'exposa à Essen en 2005 avant de la vendre en 2008 à l'actuel propriétaire. Celui-ci entreprit d'en faire une automobile roulante et confia cette mission à Oral Engineering de Mauro Forghieri en Italie. Un travail considérable fut entrepris comprenant l'adaptation d'un sous-châssis et d'un moteur de 512 BB et d'une boîte de 400 GT, le renforcement du châssis 400 GT de base, l'installation d'un réservoir et d'un faisceau électrique, d'un radiateur et de suspensions et de freins fonctionnels. La Pinin roula en mars 2010 et fit l'objet d'un essai publié dans le magazine « Forza » en août 2010. Seules, les glaces latérales fixes et l'absence d'un système de ventilation en limitent l'utilisation. La voiture qui fut exposée à Goodwood en 2010 ainsi que dans d'autres manifestations de prestige où elle fut très admirée, est accompagnée d'un historique complet, d'une copie des articles la concernant et d'une lettre de Pininfarina ainsi que de nombreux plans, études et correspondances. Une opportunité à ne pas manquer pour tout collectionneur averti de Ferrari.