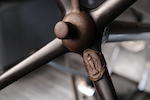 Ex-Luigi Scarfiotti, Scuderia Ferrari
1930 Alfa Romeo 6C 1750 Gran Sport Spider
Chassis no. 8513033
Engine no. 8513033
In motor racing legend, few names rank higher than that of Enzo Ferrari, the former racing driver and mechanic who, after establishing himself as sole dealer for the Alfa Romeo marque in the Emilia-Romagna and Marche regions of Italy, at the end of 1929 joined with three wealthy motor racing enthusiasts, plus Alfa Romeo and Pirelli, to establish a racing stable "to buy, race and perhaps someday build, high-performance cars". The first race in which the Scuderia Ferrari competed was the 1930 Mille Miglia, the fourth running of the classic endurance event, for which a team of three Alfa Romeos was entered, driven by Ferrari's partners Alfredo Caniato and Mario Tadini and the political activist and amateur racing driver Luigi Scarfiotti, at the wheel of the car offered here, 6C1750 GS chassis 8513033.

Scarfiotti, a Deputy in the Italian parliament, had, it seems, wanted a car that was distinctive, elegant and sporty, and could be used not only for racing but also driven in local political parades.

His choice fell on the new supercharged twin-cam GS (Gran Sport) version of the 1750cc version of the Fourth Series of the 6C Alfa Romeo designed by the gifted Vittorio Jano, which had been launched at the 1929 Rome Automobile Show. It was the latest iteration of Jano's 6C series first seen in prototype (and much tamer) single-cam form at the 1925 Salone di Milano.

For 1930 the 6C1750 was available in three versions, according to Alfa Romeo production figures quoted in Angela Cherrett's authoritative book Alfa Romeo Tipo 6C; the naturally-aspirated 3rd series Turismo with a single overhead camshaft, the 2nd and 3rd series twin-cam Super Sport available with or without a supercharger and the 4th series supercharged Gran Sport. Both supercharged models had Alfa-built twin-lobe Roots-type blowers, the main difference between the Super Sport and the Gran Sport being the supercharger installation: the Super Sport had a smaller, geared-up supercharger, while that on the Gran Sport was driven at engine speed, which eliminated the high-pitched supercharger whine emitted by the SS. Power output of the GS was quoted as 102hp at 5000rpm, and the car was built on the short 1.745m/ 9ft wheelbase, with the engine set back some 15 inches in the frame and a distinctive sloping radiator.

Alfa Romeo production figures quoted by Angela Cherrett give a total of between 206 and 213 cars for the combined production of the 4th and 5th Series 6C1500 and 6C1750 Gran Sport, for both the SS and the GS were produced in the smaller capacity for specific racing classes.

Supplied by Enzo Ferrari's agency, Luigi Scarfiotti's car – first registered on 1 April 1930 with the local Macerata provincial index "MC 2012" – still carries the "Concessionaria Emilia Romagna-Marche – Cav. Enzo Ferrari - Scuderia Ferrari" plaque on its dashboard. Its declared value at registration was the significant sum of Lire 70,000 – approximately $4200 at the then rate of exchange – and its two-seater body was built by Zagato.

Recalled Scarfiotti 40 years later: "I confirm that the body is by Zagato; as Scuderia Ferrari, we asked him for a lightweight body for the Mille Miglia."

And, indeed, the image of the Madonna of Loreto on the badge on this car's steering wheel might well be a subtle reference to Ugo Zagato's old nickname of "el gagà de Loret" ("the dandy from Loreto") from the days when, as a young man, he lived near the Piazzale Loreto in Milan and dressed in the latest of fashions.

Ugo Zagato, who had learned his trade in the old-established "Varesina" coachworks of Cesare Belli in Milan, had set up on his own account after the Great war, using the skills that he had acquired while building fighter aircraft for the Italian Air Force to create automobile bodies that were as light as they were beautiful. Among his appreciative customers was the newly-elected leader of Italy, Benito Mussolini, who expressed his "highest compliments" for the "magnificent motor with the very best coachwork" on a telegram to Ugo Zagato.

His attention to detail was legendary; his bodies were costly, and when a wealthy Milanese family took Zagato to court on the grounds that their son had been "mad" to order a "shockingly expensive" Zagato-bodied 8C2300 Alfa, the judge rejected their claim on the grounds that "the search for beauty is a most normal thing in a man".

Zagato's painstaking approach was highly appreciated by the top drivers of the day, and his circle of friends included Giuseppe Campari, Baconin Borzacchini, Giulio Ramponi... and Enzo Ferrari.

The majority of Zagato's output in the 1920s and '30s was built on Alfa Romeo chassis, and Enzo Ferrari recalled in after years "the first ultralight structures that [Ugo Zagato] realized with speed at the last moment in the old coachworks at 10 Viale Brianza in Milan in 1927, and think of how much motoring history was made in those Zagato spiders, first on the RL, then on the 1500 and 1750. It was a glorious series, the fruit of an avant-garde mechanism and a brilliant improvisation that lasted for years and brought so many victories."

Ferrari's connection with Alfa Romeo went back to the 1920 Targa Florio, in which he had competed at the wheel of a 6.2-liter 40/60 Alfa and finished second; he was a works driver until setting up his agency in Modena in 1929 and racing quasi works cars under the Scuderia Ferrari name. He had also acted as go-between in the negotiations that lured the brilliant engineer Vittorio Jano away from Fiat to join Alfa Romeo in 1923. And when Jano created the six-cylinder Alfa Romeo 6C1500, Enzo Ferrari drove an early 6C1500 S to victory in the 360km Circuit of Modena – the new car's racing debut – at an average of 107.6km/h. So his links with the Alfa Romeo company went far deeper than the normal agent-manufacturer relationship.

Scarfiotti's car was an apt choice for a man in his position, for Italy's leader and the head of his party, Benito Mussolini, was the proud owner of a Zagato-bodied 6C1750SS.

Less than two weeks after he had taken delivery of his new car, Scarfiotti drove it in the Mille Miglia (1000 Mile) road race as one of the Scuderia Ferrari team; his co-driver and mechanic was the Scuderia Ferrari's Guglielmo Carraroli, who had been Enzo Ferrari's riding mechanic as far back as 1920, when the duo raced a mighty 1914 7.2-liter Isotta Fraschini in local events.

Sadly, though 6C1750 Alfas swept the board in the Mille Miglia, with Nuvolari finishing first and averaging over 60mph, and the 1500cc version won its class, none of the Scuderia Ferrari cars finished, Scarfiotti being eliminated by a broken leaf spring. Years later, Luigi Scarfiotti recalled his "friendly battles with Cavalieri Ferrari, because he was not pleased with the result!"

Scarfiotti continued to campaign his Alfa during 1930, coming second overall and winning his class at the Colle di Paterno in July, and competing in the Circuito di Senigallia the following month (he failed to finish). The Alfa finished fifth overall in the Coppa Gran Sasso, came fourth in the 12-mile Teramo-Civitella del Tronto hillclimb and was fourth overall in the Coppa Pierazzi.

With those events under his belt, in 1931 Scarfiotti was ready to make another attempt at the Mille Miglia with this car, again running as part of the Scuderia Ferrari team; his co-driver/mechanic was Piero Bucci. This time, there was no mistake, and the Alfa finished sixth overall, in the excellent time of 17 hr 27 min 36 sec, coming in 1 hr 17 minutes behind the winning SSK Mercedes driven by Rudi Caracciola. A further measure of the excellent performance of Scarfiotti's 6C1750 GS was that it finished three places and 21 minutes ahead of the highly favored new 8C2300 driven by Tazio Nuvolari.

We are informed that a scrutineer's lead seal that comes with the car had "finally fallen off fairly recently" – apparently from the steering column – and has the numbers "1931" and "117" stamped on both sides, indicating that it was applied during the 1931 Mille Miglia, in which Scarfiotti's Alfa ran as No 117.

That sixth place was a convincing enough result for Scarfiotti to be invited to co-drive one of the Scuderia Ferrari's cycle-winged Alfa Romeo 6C1750 racing cars in the 1932 Mille Miglia, partnered by Guido d'Ippolito: they finished third overall.

That same year, Scarfiotti sold his 6C1750 GS back to Alfa Romeo, possibly in part-payment for the spectacular new Alfa Romeo 8C2300 "Corto" Zagato-bodied streamlined coupé that was first registered by him on 6 February, but was mysteriously re-registered "as new" two months later to the Scuderia Ferrari with two-seat spider bodywork. " 8513033 was registered to the Alfa Romeo Company Milan on May 18th that year with registration number MI 38883. Subsequently
in 1935 it encountered either a mechanical issue or the bodywork may have been damaged and the car was unregistered and taken off the road following this incident.
It seems certain, however, that at this stage its competition career was over, and its subsequent history is unclear until it was discovered "in 1960 in Modena by an Italian gentleman who rescued it".

We are informed that its rescuer, Giuseppe Bruni, took the car to a restoration shop in Florence for recommissioning. In 1973 he wrote to Luigi Scarfiotti at his home in the seaside town of Porto Recanati in the Marche region.

"I remember the car very well, because it gave me a lot of satisfaction, both in races and private life," replied Scarfiotti, whose interest in motor sport had died with his son, the highly respected racing driver Ludovico, who, like his father, had driven with success in the Mille Miglia, but been killed in practice for a mountain championship climb in Germany in the summer of 1968.

The car remained in the Bruni family for many years and it is believed that additional restoration was completed by Autofficina Faralli, near Pisa, Italy, between 1999 and most probably receiving a largely new body in the original style at this moment. The car then came to Switzerland to a museum near Geneva and Chris Gardner who drove it, had it on his website for sale in 2005.

Detailed examination of the car has been carried out by a renowned marque expert who declares that "85130333" retains its original engine, gearbox, rear axle, front axle, steering box and chassis. These parts were found to be number correct and matching, with identical numbers stamped on mating faces to show that they had always been together.

The car came to the United States in 2005 and became part of a private collection in Texas before being purchased by the current European owner in 2008. In 2011the chassis frame and the engine were analysed by 2 different institutes one being the RWTH in Aachen, Germany and both clearly concluded that the materials, the steel and aluminium are from the time the car was built by Alfa Romeo. The samples were even compared to those taken from a 1930s Mercedes S chassis and were found to be practically identical, there can therefore be no doubt about the originality of these parts.

We are told that when the engine was overhauled, five pistons out of the six were marked with the logo "SF" (Scuderia Ferrari), claimed to be the earliest documented example of Ferrari's signature on a race car.

An old Ferrari hand has stated that all the spare parts changed by the mechanics of the Scuderia Ferrari were initially marked with a little "SF" logo and from mid 1932 a little rampant horse.
The same source avers that the "SF" logo on a small brass cylinder with a plug found inside the rear baggage trunk was fitted during the Mille Miglia to mark the fact that the Scuderia's mechanics had checked the car.

The supercharger is said to have undergone a "recent rebuild", while an interesting detail is that the Memini Type DOA twin-throat carburetor has a cast-in auxiliary fuel chamber of truncated triangular section hidden behind the normal float chamber; this is believed to have been a modification made on competition cars to eliminate a "flat spot" that occurred during circuit racing, possibly due to fuel surge on banked tracks like Brooklands and Monza.

This remarkable "matching numbers" car is a unique link with the birth of the Scuderia Ferrari: it is, quite simply, a car from the very first team to race under the banner of the prancing horse.

Vendue par l'agence d'Enzo Ferrari à Luigi Scarfiotti (père du pilote Ludovico Scarfiotti), cette Alfa Romeo 6C 1750 GS fut immatriculée en avril 1930, habillée d'une carrosserie légère de Zagato en vue de courir la Mille Miglia. Ugo se fit une spécialité de carrosser des Alfa Romeo grand sport ou compétition le plus légèrement possible. Scarfiotti fit donc partie de la Scuderia Ferrari engagée dans la Mille Miglia 1930, mais la victoire revint à une voiture d'usine pilotée par Nuvolari. Scarfiotti courut encore en 1930 et, en 1931, finit 6e avec cette voiture devant la 8C 2300 de Nuvolari. Il vendit la voiture la même année, probablement en reprise sur une 8C 2300. Elle ne fut redécouverte qu'en 1960 à Modène par Giuseppe Bruni qui la fit restaurer et la conserva longtemps. Une deuxième restauration fut effectuée par Autofficina Faralli en 1999 et la voiture reçut à ce moment une carrosserie en grande partie neuve. Elle passa en Suisse en fut mise en vente en 2005. Un expert de la marque certifie que « 85130333 » a ses moteur, boîte, pont arrière, essieu avant, boîtier de direction et châssis d'origine, avec numéros concordants. Une analyse récente des composants et du châssis a montré que ceux-ci étaient bien d'époque et produits par Alfa Romeo, tandis que d'autres détails attestent de sa bonne provenance. Cette rare et historique 1750 GS témoigne aussi des débuts de la Scuderia Ferrari, autre excellente raison d'acquérir ce chef-d'œuvre de mécanique et de style.