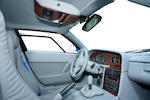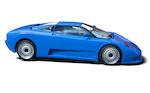 830kms from new
1992 Bugatti EB110GT Coupé
Chassis no. ZA9AB01E0NCD39012
Forty years after Ettore Bugatti's death in 1947, the once legendary but moribund marque, one of the most renowned in automotive history, was acquired by ambitious Italian businessman Romano Artioli, whose aim was nothing less than a resurrection of Bugatti in the form of a state-of-the-art supercar. Artioli chose Modena, home to Ferrari, Lamborghini and Maserati, as the place to build his modern factory from which the first completed production car rolled out in 1992. Designated 'EB110' (signifying its debut 110 years after Ettore's birth) the first new Bugatti since the 1950s was an advanced mid-engined supercar acclaimed as worthy successor to its formidable antecedents.
The Bugatti EB110 was designed by none other than engineer Paolo Stanzani and stylist Marcello Gandini, co-creators of the exotic Lamborghini Countach supercar to which the EB110, with its short nose, wedge-shaped body and gull-wing doors, bore a strong resemblance. Beneath the skin there were similarities too, the short-stroke V12 engine with forward mounted gearbox having been pioneered on the Countach. Had the EN110 stopped there it would have constituted a remarkable enough debut for a fledgling manufacturer, but to the already outstanding specification Stanzani added five valves per cylinder, four turbo-chargers, a bespoke six-speed gearbox and four-wheel drive! Despite the complexity, the EB110 worked well on the road, its compact dimensions combined with four-wheel drive making for exceptional agility, and excellent grip and balance no matter what the conditions. The 3.5-litre V12 developed 561bhp, good enough for a top speed of about 360km/h, a figure recorded at the Nardi test track in Italy that placed the EB110 on a par with that other 'World's Fastest Car', the Jaguar XJ220.
While, understandably, headline writers emphasised its performance to the exclusion of almost everything else except the price ($456,000), the EB110 was nevertheless a very well built product possessing a roomy and lavishly equipped interior. There was also a lightweight competition version: the even more powerful and expensive EB110SS. Unfortunately for Artioli and his collaborators, the EB110 launched just as the early 1990s recession took hold and the company entered receivership in 1994. In total a mere 154 of these exotic cars were built, Michael Schumacher being perhaps the most high-profile owner.
This EB110GT was first registered by Bugatti Automobili SpA in Modena before passing in 2000 to the current owner in Switzerland. Chassis number '39012' has covered only 830 kilometres from new and is described as in original and un-restored condition. Representing a very rare opportunity for the serious collector to acquire one of these fabulous cars with what could be considered as delivery mileage, it comes with ACI Certificato Cronologico and Swiss Permis de Circulation (cancelled 2009).

Œuvre de l'ingénieur Paolo Stanzani et du styliste Marcello Gandini, la Bugatti EB110 de 1992 était à la pointe de la technologie : moteur V12 de 561 cv, 4 turbos, six vitesses et 4 roues motrices pour 360 km/h en pointe. Apparue en période de crise, il n'en fut fabriqué que 154 exemplaires. Cette EB110 fut immatriculée pour la première fois au nom de Bugatti Automobili SpA avant de devenir la propriété du vendeur en Suisse. Le châssis n° 39012 qui n'a parcouru que 830 km depuis l'origine est donc pratiquement neuf et non restauré. Représentant une occasion unique d'acquérir cette 'supercar' avec un kilométrage de livraison, cette EB110 est accompagnée de son Certificato Cronologico de l'ACI et son Permis de Circulation suisse (annulé en 2009).

Saleroom notices
Please note that the mileage of 830 km can not be guaranteed. Please view the file for this car, which contains a full history and condition report by B-Engineering, who look after these cars and keep the official company records. Veuillez noter que le kilométrage de 830 km ne peut être garanti. Veuillez regarder le dossier pour cette voiture qui contient un historique complet et un rapport par B-Engineering,qui s'est occupé de ces voitures et garde tous les documents officiels de la société.