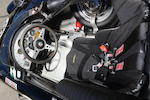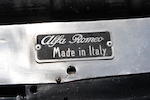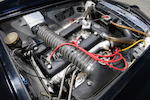 The ex-Phil Mason/Al Leake, Jr.
1957 Alfa Romeo Giulietta Spider "Sophia"
Coachwork by Pininfarina
Chassis no. AR1495*03083
Engine no. AR1315*41849
* 1300cc twin-cam alloy 4-cylinder
* 5-speed manual transmission

* Historic California SCCA racer
* Countless race wins
* Seven original logbooks
* Multiple time Monterey Historics participant


In the world of vintage motor racing, certain cars are truly historic while others are merely recent builds to a vintage "spec". The car on offer has genuine, significant racing history, arguably one of the most well-known racing Alfa Romeo Giuliettas on the West Coast if not the entire US - a car which has earned, and will be offered with, some seven SCCA logbooks documenting its history. Long ago nicknamed "Sophia", and commonly known by its association to West Coast Alfa racing legend Al Leake, Jr. and the curiously named Rubber Chicken Racing group of Alfa die-hards, this Giulietta Spider has been raced with incredible success for at least 35 years with countless victory laps along the way.

The first known log book is dated September 11, 1976 and confirms the original black and white livery, the car being owned at that time by Bob Fields. Early in 1978, the car was sold to Dan Craddock and just over a year later, in 1979, Phil Mason acquired it. Throughout his ownership Mason developed this car as a serious contender in the F-Production class, racing up and down the West Coast and making the trek to Road Atlanta for the SCCA Runoffs several times. Dozens of images documenting this period are retained in digital form by the vendor and may be viewed upon request. Sophia's first race entry with Al Leake as the driver was at Sears Point on March 22, 1986. Leake raced the car extensively in SCCA, first in F- and later G-Production, deciding to return the car to vintage configuration during the late 1990s.

Since then, Sophia has become a vintage racing phenomenon, often beating the Corvettes and Porsche Abarth Carreras at events such as the former Monterey Historic Automobile Races and the Wine Country Classic.

During its restoration, the cabin was reconfigured as a single seater to a "monoposto" style, incorporating a passenger tonneau cover as well as an attractive faired headrest. Since being acquired by the vendor in 2008, "Sophia" has been mechanically freshened and had the suspension set up by none other than Phil Mason himself.

"Sophia" is powered by Alfa Romeo's legendary 1300cc twin cam alloy four cylinder engine, backed by a five-speed manual transmission. The low, cut-down racing windscreen and single hoop roll bar, bearing the SCCA roll cage number 33-1016, attest to its competition pedigree.

Today "Sophia" presents to a clean vintage racing standard; for anyone who has fancied racing a vintage Alfa, this example represents a unique opportunity to purchase a storied, extremely well-known and winning racing machine with genuine competition provenance.
Footnotes