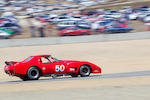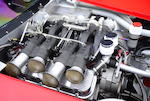 The two time 12 Hours of Sebring participant
1977 Greenwood Chevrolet Corvette IMSA Racing Coupe
Chassis no. 20008.77
* 7-liter V-8 with 700+ bhp
* Brutally fast 200mph endurance racer
* Genuine Greenwood Customer Car
* Wild 'Wide-body' styling
* Period IMSA race history
* Professionally restored
* From the Tom Armstrong Collection

The late 1970s were a riotous, raucous time in sports car racing.

Sanctioning bodies were in disarray, searching desperately for ways to overcome the lingering resentment of the '73 oil embargo. Porsche's 935s defined the era. Loosely based on looking something like a 911, it spawned a divergent entry of "silhouette" racers and set the tone for brave, imaginative competitors who sought to develop something, anything, that would be competitive with it.
One element that remained constant through that period was the appeal of big, strong, loud American V-8s and the sports car made for them, the Chevrolet Corvette. The leading proponent of the genre was John Greenwood.

John's father worked at the GM Tech Center and John grew up building engines and street racing around Michigan. John didn't get a racing license until 1969 but immediately showed his competence by winning the 1970 and 1971 SCCA A/Production championship in a 427 Corvette of his own construction. It was the first showcase for his talent for combining strong engines with refined suspensions and advanced aerodynamics. Greenwood's Corvette quickly attracted attention, including comedian Dick Smothers who co-drove in some endurance events and BFG, who noticed Greenwood's victory in a street tire endurance race and conceived the idea of promoting their street Radial T/A tires by competing at the most important endurance races, Daytona, Sebring, Watkins Glen and of course the 24 Hours of Le Mans.
It was audacious, as were the Corvettes that John Greenwood had developed. The Stars and Stripes livery, conceived by Greenwood and executed by GM Design's Randy Wittine, distinguished the BFG Corvettes and became legend. So did their thundering performance.

After the two-year BFG deal was done Greenwood began development on the series of Greenwood Corvettes that would help define the "silhouette" era, the Wide Bodies introduced in 1974.
The Wide Body Corvettes were a successful collaboration between Detroit-based Greenwood and a sub-rosa culture of enthusiastic racers within GM, the most prominent of whom was Zora Arkus-Duntov. Duntov never wavered in his support of the Corvette or racers determined to make it competitive and the free-form rules of IMSA GTX (Grand Touring Experimental) give him and his compatriots the latitude to implement ideas that had no hope of surviving the anti-racing suits at GM.

Aerodynamics became key to performance when 700+ horsepower engines began to push the Greenwood Corvettes to over 200mph down the long straights of Le Mans and around the mixed oval/road courses of IMSA. Duntov conceived the lowered, raked, chiseled nose with molded integrated flares to cover the ultra-wide slick tires needed to handle the weight and power of the Corvette. To achieve maximum rake and best air penetration the whole body was lowered over the frame, especially at the front.
It was Greenwood's solution to the wide fenders that became the signature design element of the Wide Body cars, the vast openings at the rear of the fenders. In addition to preserving square feet of nearly horizontal surface for aerodynamic downforce they dumped under-fender turbulence created by the big tires with minimal disturbance to the body's airflow. It was a flash of brilliance quickly recognized and copied by BMW and others and became one of the functional trademarks of the silhouette era.

GM's Randy Wittine translated the concept into an integrated whole and Bob Riley collaborated on refining chassis and suspension design based on the stock Corvette frame and suspension. The rear suspension trailing arms were notched for tire clearance and the rear frame was sectioned, then thoroughly reinforced by a network of triangulated tubes that also formed the roll cage. Riley's suspension incorporated needle bearing bushings and concentric shocks/coil springs to supplement the standard Corvette transverse leaf springs. Other changes were radical, relocating the engine a foot back in the chassis and offset five inches to the right for optimal weight distribution.

The two Greenwood team cars pretty much swept the board in their class in 1974-75, creating demand for both parts and customer cars. Just eleven complete Greenwood Wide Body cars were built, from 1975 through 1978 when they were superseded by even less Corvette-like tube frame cars.

Continuing the lineage of the famed BFG "Stars and Stripes" Greenwood Corvettes of 1971-72, these few full frame Greenwood Wide Bodies are among the most recognized, charismatic, exciting cars of this era in American road racing. When outrageous, extravagant, wildly-imaginative creations filled the grids of American endurance races, and the violence and cacophony of 7 liter V-8s created a legacy that still lives at Le Mans, the Greenwood Wide Bodies were the most successful and most recognizable.

The Greenwood Wide Body known as #008 was completed in July 1977 for R.V. Shulnberg, a scrap metal dealer in Tampa, Florida. R.V. was a gentleman driver, occasionally teaming with Dave Heinz in local, long distance races like the 1978 12 Hours of Sebring where Shulnberg, Heinz and Michael Keyser qualified sixth fastest and ran with the leaders for much of the early part of the race before being sidelined after 83 laps, about 2/3rd distance. Chassis '008' also contested the Talladega 6 Hours in 1978 (where it is pictured in János Wimpfen's monumental "Time and Two Seats") driven by Shulnberg, Heinz and Keyser, qualifying fifth but retiring after 39 laps due to overheating.
The final notable race appearance for Shulnberg's Scrap Metal team was at Sebring for the 1980 12 Hours, the owner co-driving with Keyser and Tim Morgan and retired with engine problems although it was classified 63rd overall.

Although it has been suggested that the Shulnberg Greenwood Corvette contested other races, including SCCA Trans Am, subsequently no record of it appears in available resources including SCCA box scores. It was discovered by Greenwood expert Lance Smith in largely original condition and accompanied by a store of spare parts in Tampa in 1989 which strongly suggests it was only infrequently raced before being stored at Shulnberg's business.

It was restored by J&L Fabrication in Puyallup, Washington for its next owner, Greg Sullivan, wearing Stars and Stripes livery and incorrectly identified as the "Spirit of New Mexico '74" and appeared at the Goodwood Festival of Speed in 2003 along with Michael Keyser, then at the Monterey Historic Races celebration of Corvette's 50th Anniversary.
Acquired by its present owner, a Corvette aficionado, from Greg Sullivan in 2007, it was updated to modern historic racing specifications and raced a few times in historic competition then given another nut-and-bolt restoration at J&L with an alloy Big Block sourced from General Motors. Since then it has seen little use but careful conservation of its restoration with its last outing at the Monterey Historics in 2011.

In addition to its innovative Bob Riley designed suspension it has one of the most important features of the Greenwood Wide Body cars, the Kinsler cross flow fuel injection system. Not only did this system abet the production of the huge power that propelled the Wide Bodies to legendary speeds, its low profile left intact, even with the Wide Bodies' lowered bodies, the broad hood that Zora Arkus-Duntov and the GM designers wanted for smooth air flow and aerodynamic downforce.

Greenwood Corvette slab-side Wide Body #008 is one of the most rare and recognizable automobiles from a period of nearly uninhibited experimentation and creativity. Its Sebring and Talladega histories give it international and North American credibility, but it is its design and the eardrum bursting, raucous, riotous sound of its fuel injected Big Block V-8 that endears it to historic race event organizers, spectators and fellow competitors.

Its current owner says, "It shakes the ground, and everything attached to it ... there is no end to how fast it will go."
Footnotes