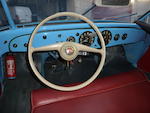 1953 Panhard Dyna Junior Roadster
Chassis no. 37262
Engine no. 044510
Panhard abandoned its large-capacity range in the post-WW2 era to concentrate on small utility cars of considerable mechanical ingenuity, based initially on a design by front-wheel drive pioneer, Jean-Albert Grégoire. Powered by air-cooled, horizontally opposed, twin-cylinder engines, these Dyna Panhards featured front-wheel drive (of course), independent front suspension, torsion bar springing, aluminium bodywork and a typically Gallic dashboard gearchange. The cars were fast for their size, economical and handled well. A new addition to the range for 1952, the mechanically similar (though steel-bodied) Dyna Junior Roadster was powered by an 845cc overhead-valve twin developing 42.5bhp, which was carried in a box-section chassis braced by tubular cross members. A convertible version was introduced in 1953 and a total of around 4,700 Dyna Juniors had been made when production ceased in 1956.
According to the Club Panhard & Levassor France, this rare and technologically interesting car is one of the earliest Dyna Junior Roadsters, identified by the visible door hinges and the absence of external door handles. Only some 509 Dyna Juniors were made with these external door hinges. The car formed part of an important Italian private collection for some 20 years and is described as in generally good condition both mechanically and cosmetically. Finished in blue with red interior, it comes with bill of sale and ASI certificate.

Panhard abandonna ses grosses cylindrées après la Seconde Guerre mondiale pour se concentrer sur une petite voiture utilitaire dotée d'une technologie des plus modernes inspirée au départ d'une étude de Jean Albert Grégoire, le pionnier de la traction avant. Propulsée par un moteur bicylindre à plat refroidi par air, ces Dyna Panhard avaient (naturellement) la traction avant, quatre roues indépendantes par barres de torsion, une carrosserie en aluminium et un sélecteur de vitesse à la planche de bord typiquement français. Ces voitures étaient rapides pour leur taille, économique et doté d'un bon comportement dynamique. Nouveauté en 1952, la Dyna Junior Roadster identique sur le pan mécanique (mais carrossé en acier) était propulsée par un bicylindre à soupapes en tête de 845 cm3 développant 42,5 cv installé dans une châssis caissonné renforcé par des traverses tubulaires. Une version cabriolet fut introduite en 1953 et au total, 4,700 Dyna Junior furent produites jusqu'à l'arrêt de la fabrication en 1956.
Selon le Club Panhard et Levassor France, cette rare et intéressante voiture du point de vue technologique est une des premières Dyna Junior Roadster identifiable à ses charnières de portes apparentes et à l'absence de poignées d'ouverture extérieures. Panhard ne sortit que 509 Dyna Junior à charnières apparentes. La voiture qui a fait partie d'une importante collection privée italienne pendant une vingtaine d'années est décrite comme étant en bon état mécanique et de présentation. Peinte en bleu avec intérieur rouge, elle est accompagnée de sa facture d'achat et du certificat de l'ASI.