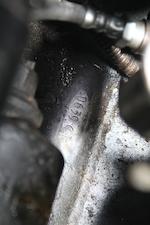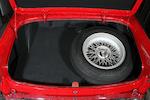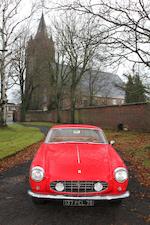 Mille Miglia eligible
1957 Ferrari 250GT Berlinetta
Coachwork by Carrozzeria Boano
Chassis no. 0639GT
Engine no. 0639GT
The introduction of the 250 Europa heralded a significant change in Ferrari's preferred coachbuilder; whereas previously Vignale had been the most popular carrozzeria among Maranello's customers, from now on Pinin Farina (later Pininfarina) would be Ferrari's number one choice, bodying no fewer than 48 out of the 53 Europa/Europa GTs built. Pinin Farina's experiments eventually crystallised in a new Ferrari 250GT road-car that was first displayed publicly at the Geneva Salon in March 1956. However, the Turin carrozzeria was not yet in a position to cope with the increased workload, resulting in production being entrusted to Carrozzeria Boano after Pinin Farina had completed a handful of prototypes.
Ex-Farina and Ghia designer Mario Felice Boano had founded Carrozzeria Boano in 1954 together with his son Gian Paolo and partner Luciano Pollo. When father and son left for FIAT, Pollo was joined by Boano's son-in-law, Ezio Ellena and the company changed its name to Carrozzeria Ellena. 130-or-so Boano and Boano/Ellena 250GTs (all left-hand drive) were made between 1956 and 1958, the split being approximately 80/50 in favour of the Boano. The later Boano/Ellena cars were distinguished - generally but not exclusively - by a higher roofline and the absence of quarter-lights in the side windows.
These cars represented a significant departure for Ferrari. Driver and passenger comfort were taken seriously for the first time; the interior was more luxurious, seats were broader and there was less noise intrusion. By this time there was also synchromesh in the gearbox, which, combined with a softer ride and light steering, was exactly what was expected by the increasingly important North American market. However, the Boano and Boano/Ellena-bodied models' mechanical similarity to other arguably more desirable, competition-orientated members of the 250GT family resulted in a number of them being converted, and original survivors are relatively rare today.
Records show that Ferrari 250GT chassis '0639' was sent from the factory to Carrozzeria Boano in December 1956 and completed in February '57. Finished in silver grey, the car was delivered new in the spring of that same year to publisher Giorgio Mondadori in Milan, Italy. Subsequently exported to the UK, it was owned there in 1980 by Jim Baxter, proprietor of the Lark Lane Motor Museum in Liverpool. In April 1986 the Ferrari was mentioned in Thoroughbred & Classic Cars magazine and in 1987 was listed in the Ferrari Owners Club England membership roster as owned by Baxter and registered on UK plates 'EPD 27B'. In December 2000 the car was offered for sale in Paris, described as 'restored in Italy' and with an odometer reading of 68,580 kilometres. In 2003 '0639' passed into the current owner's hands and in April 2007 took part in the Ferrari 60 Relay event at Reims-Epernay, France and the Bugatti – Ferrari anniversary rally in Burgundy. Recently '0639' has undergone a full engine rebuild at Italian sports car specialists 'l'Officina' in Brussels as well as a complete mechanical overhaul, a Bonhams' specialist having recently test driven the car. It is also featured in a road test by 'Classic and Sportscar' France in their latest issue. Cosmetically nicely presented, this matching numbers Boano has also recently been inspected for Ferrari Classiche certification which is expected to be delivered shortly, as no negative observations were made regarding the car.
More refined and practical than any previous road-going Ferrari yet retaining the sporting heritage of its predecessors, the 250GT Boano is an historically significant landmark model of which '0639' is a fine example. Bonhams recommend close inspection of this rare and sought after berlinetta Ferrari.

L'introduction de la 250 Europa annonça un changement significatif du choix du carrossier préféré de Ferrari, Vignale, qui avait été jusque-là le plus souvent choisi par les clients de Maranello, car désormais Pinin Farina (par la suite Pininfarina) sera le n° 1 de Ferrari en construisant pas moins de 48 des 53 Europa/Europa GT produites. Les recherches esthétiques de Pinin Farina se cristallisèrent sous la forme d'une nouvelle Ferrari 250 GT de route dévoilée au public au Salon de Genève de mars 1956. Mais la carrozzeria de Turin n'était pas encore prête à assumer cette surcharge de travail si bien que la production fut confiée à la Carrozzeria Boano après la réalisation par Pinin Farina de quelques prototypes.
Ancien styliste chez Farina et Ghia, Mario Felice Boano avait fondé la Carrozzeria Boano en 1954 avec son fils Gian Paolo et un associé, Luciano Pollo. Lorsque le père et le fils furent appelés par FIAT, Pollo fut rejoint par le gendre de Boano, Ezio Ellena, et la raison sociale devint Carrozzeria Ellena. En 1956 et 1958, environ cent trente 250 GT Boano et Boano/Ellena furent produites, toutes avec volant à gauche, la répartition donnant approximativement 80 voitures à Boano et 50 à Ellena. Les dernières Boano/Ellena se caractérisaient – mais pas toujours – par une ligne de toit surélevée et l'absence d'un déflecteur aux glaces latérales.
Ces voitures représentent une mutation significative pour Ferrari. Le confort du conducteur et du passager étaient pour la première fois sérieusement pris en compte, l'intérieur était plus luxueusement traité, les sièges étaient plus larges et le bruit dans l'habitacle mieux étouffé. À cette époque, les boîtes étaient synchronisées, ce qui, associé à un confort de marche plus acceptable et à une direction plus légère, plut aux marché nord-américain en pleine croissance. Mais la similitude de la mécanique des modèles carrossés par Boano/Ellena avec celle des variantes plus recherchées et plus orientées vers la compétition de la famille 250 GT entraîna la transformation de nombre d'entre elles, si bien que les survivantes d'origine sont devenues rares aujourd'hui.
Les registres indiquent que le châssis Ferrari 250 GT "0639" fut expédié en décembre 1956 de l'usine à la Carrozzeria Boano où la caisse fut achevée en février 1957. Peinte en gris argent, la voiture fut livrée neuve au printemps de la même année à l'éditeur Giorgio Mondadori à Milan (Italie). Exportée ensuite au Royaume-Uni, elle devint en 1980 la propriété de Jim Baxter, propriétaire du Lark Lane Motor Museum à Liverpool. En avril 1986, la Ferrari fut citée dans Thoroughbred & Classic Car et en 1987 figura dans la liste des membres du Ferrari Owners Club England au nom de Baxter, immatriculée au Royaume-Uni sous le numéro « EPD 27B ». En décembre 2000, elle fut mise en vente à Paris et décrite comme étant « restaurée en Italie » avec 68,580 km au compteur. En 2003, « 0639 » devint la propriété de l'actuel vendeur et, en 2007, elle prit part à l'épreuve Ferrari 60 Relay à Reims et Epernay (France) et au rallye anniversaire Ferrari-Bugatti en Bourgogne. Récemment, « 0639 » a bénéficié d'une réfection totale du moteur par les spécialistes des voitures de sport italiennes « l'Officina » à Bruxelles ainsi que d'une complète révision mécanique, un spécialiste de Bonhams ayant récemment essayé la voiture sur route. Elle a également fait l'objet d'un essai routier par « Classic and Sportscar » version française publié dans leur dernier numéro. D'une belle présentation du point de vue cosmétique, cette Boano aux numéros concordants a aussi été récemment examinée en vue de sa certification par Ferrari Classiche dont l'attestation devrait être prochainement délivrée car aucune réserve n'a été émise concernant la Ferrari.
Plus raffinée et d'utilisation plus pratique que les Ferrari de route précédentes, mais néanmoins éligible pour le rétrospectif des Mille Miglia, en conservant l'héritage sportif de ses devancières, la 250 GT Boano dont '0639' représente un très bel exemplaire est un repère significatif dans l'histoire de la marque. Bonhams ne peut que recommander l'inspection minutieuse de cette rare et très recherchée berlinette Ferrari.