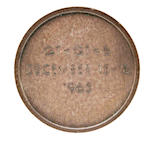 SCHIRRA'S FLOWN GEMINI 6 MEDALLION.
Flown Gemini 6 sterling silver medallion, 1 inch in diameter. The crew mission emblem is on the obverse with the mission dates engraved on the reverse.

Accompanied by WALLY SCHIRRA'S signed provenance letter which reads in part: "This medallion flew in space during December 15 and 16, 1965 on the Gemini 6 mission. I was mission commander and 'rookie' astronaut Tom Stafford served as pilot. The medallion became a part of history when we completed the world's first manned space flight rendezvous with Gemini 7 on December 15. This flight technique was one of the most important capabilities developed in the Gemini Program. Spacecraft rendezvous later became the flight method to accomplish a lunar landing and return...."