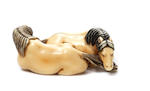 A rare ivory netsuke of two recumbent stallions
By Masanao, Kyoto, late 18th century
Resting side by side, each with its head lowered over its companion's tail and their legs drawn in to form a compact composition in slightly-worn and well-toned ivory, the eyes pupils inlaid, signed in an oval reserve Masanao. 5.7cm (2¼in).
Footnotes
Saleroom notices
Please note that this netsuke is from the Clyde Engle, and not Glen Engle as is erroneously recorded in the catalogue.