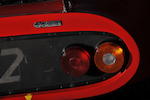 The Ex-North American Racing Team - Alain Cudini/John Morton/John Paul/Philippe Gurdjian
1981-82 Ferrari 512 BB/LM Berlinetta Le Mans 24-Hours Competition Coupe
Chassis no. 35527
Engine no. Type F102 B no. 000023 (original)- Type F110A no. 00682 (installed)
Ferrari established a landmark in its production road car design in 1973-74
with the release of its rear-engined flat-12 365 Boxer Berlinetta model.
The 365 Boxer reigned supreme for a period, as the fastest and most sensationally-specified 'supercar' anywhere on the world's markets, but increasingly restrictive pollution and noise legislation – particularly in the USA, meant the design had to be re-considered. Ferrari decided that the 4.4-litre engine should be enlarged to 4942 cc through increasing both the bore and stroke dimensions. The larger-capacity power unit could then provide the same power and torque levels at reduced engine revolutions, while the new 5-litre engine was also to use racing-style dry-sump lubrication to eradicate oil surge problems which might be caused by the increased cornering power and speeds of the more powerful car.

Ferrari began to consider a return to endurance racing competition with a version of their production Gran Turismo design. This was to be the first time the old front-engined 365GTB/C Daytona had been phased out and the 312PB works team sports-prototypes had completed the 1973 racing season, that Ferrari was seriously considering any other form of competition than Formula 1.

The move was made in preparation for the 1978 Le Mans 24-Hour race – and two special 512 Boxer Berlinetta/Le Mans (512BB/LM) cars were prepared by outside sub-contractors in Italy, to be campaigned by the company's long-faithful French concessionaire Charles Pozzi with another one prepared for American East Coast concessionaire Luigi Chinetti, and a fourth by the Belgian concessionaire Garage Francorchamps, for industrialist Jean Blaton – himself a Le Mans veteran racing under the pseudonym 'Beurlys'.

These cars were lightened and stripped down to around 2,425lbs weight while the flat-12 5-litre engines were developed to deliver around 460-horsepower. A larger nose spoiler was fitted; balanced out along the car's length by a rear aerodynamic wing.

These 1978 Ferrari 512BB/LM cars were faster through the Sarthe circuit's high-speed curves than the old Daytonas and so lapped faster, but the transmission in these rather hastily modified and undeveloped cars proved fragile, and the results were elusive.
The Fiat-Ferrari combine had been encouraged – however – and with noisy encouragement from their concessionaires and with racing customers willing to open their cheque books and pay hard cash for some sport, a second series of 512BB/LM cars, was developed to higher specification. Fuel injection helped raise power output to some 480 bhp at 7,200rpm while mid-range torque was boosted by an even greater proportion. The suspect transmission was developed and strengthened for racing, and oil cooling radiators were added to preserve it for a full 24-hour race distance. Brakes and suspension were also further refined and upgraded while the cars' aerodynamic bodyforms were improved through wind tunnel testing.

The new long-tailed 512BB/LMs emerged as really exotic-looking projectiles, and with their weight further reduced to around 2,370 lbs they were not only going to be very fast in a straight line, but also relatively nimble around the tighter corners.

Two of these new 512BB/LM cars were produced for the Pozzi team and one for Luigi Chinetti's NART organization. They made their racing debut in the 1979 Daytona 24-Hours in Florida but experienced severe tyre problems on the part-banked circuit and every one was forced to retire. At Le Mans the Belgian 'Beurlys' car joined the ex-Daytona trio, but Michel Leclere's Pozzi team entry collided with a slower car early on the Sunday morning while its sister, driven by Jean-Claude Andruet/Spartaco Dino, ran (extraordinarily) as high as third before succumbing to lubrication failure

Chassis 35527, a truly magnificent Le Mans 24-Hours race Ferrari Boxer Berlinetta is the 23rd of only 25 such cars built during the late 1970s/early 1980s. Of these ultra rare prototypes designed and built to race at Le Mans only 19 were to see track action and 14 race at the legendary La Sarthe circuit. Amongst these BB/LM speciale cars, this particular vehicle is a very special example indeed. Its original engine was developed to a very special state of tune. Today the car is offered with two flat-12 cylinder engines, both its original BBLM type F102B power unit, number '000023' (stamped Marion as in Marion Chinetti) and the one installed of Type F110A – number '00682' - which is described as being "a seriously sorted unit" which - as the previous owner's mechanic reports - has developed no less than 560bhp during dynamometer testing, at just 7,900 rpm. This power unit features titanium connecting rods new camshafts, and 13:1 compression pistons. Very considerable investment has been made in the car's technical specification and preparation through the past decade and it has achieved considerable success in Historic and Vintage races. Its gearbox is also understood to be the original, and the car is offered here with a number of racing-oriented spare parts of which a complete list is available to potentially interested parties.

The car was campaigned in period by the Chinetti family's celebrated North American Racing Team and backed by Mrs Marion Chinetti for its drivers, who included Alain Cudini, John Morton, John Paul and Philippe Gurdjian. This car weighed-in at just 1,100 kilogrammes rather than the normal BB/LM model's 1,200kg, and around the legendary Sarthe circuit outside Le Mans it proved to be the quickest of all BB/LMs competing in the International Grand Prix d'Endurance.

This particular car contested Le Mans twice, in 1981 – when it was driven by Cudini/Morton/Gurdjian, and 1982. During the latter year, this car was running in 3rd place overall until well within sight of the race finish when it developed a transmission problem, which slowed it in the final two hours. The car finally finished in ninth place overall.

At Le Mans in 1981 – running under race number 49 – the car failed to finish after a late-race accident, having completed no fewer than 247 laps. In the 1982 Le Mans 24-Hours, the car then appeared under race number 72, finishing ninth overall and fourth in its IMSA/GTX category.

In 1984 the car was then sold to prominent American Ferrari enthusiast Bob Donner, of Denver, Colorado. In 1989 it was sold in the Nurburgring Oldtimer Meeting auction sale, achieving a price of £677,420 plus 8 per cent buyer's premium. It had been acquired by the Swedish investor Hans Thulin, but during the recession year of 1990 it became available once more after Mr Thulin's bankruptcy, having been repossessed by the Swedish Nyckeln Bank.

In February 1993 it was acquired by Bernie Chase's Vintage Motors company in Encinitas, California, and the following month saw it re-sold through Ferrari of Los Gatos to Mr Tom Celani. In September 1996 dealer Mike Sheehan of Costa Mesa, California, re-sold the car to Steven Barney's Foreign Cars Italia company in Greensboro, North Carolina. Its next owner was Ferrari enthusiast Chris Cox of Prova International in Chapel Hill, NC, and by 1999 this outstanding ex-NART Ferrari was being cared for by Mitra Neumann, back in California. Subsequent owners include Todd Morici (2000), who invested lots of time and money on suspension, brake and cooling improvements, Jean Guikas of Marseilles, France (2003) and Charles T. Wegner of West Chicago, Illinois, USA (2006). In Mr Wegner's ownership the car has been not only magnificently restored but raced in the American Shell Ferrari Maserati Challenge race series.

By 1981-82 the Ferrari 512 Boxer Berlinetta/Le Mans projectiles were formidably exciting and dramatic-looking thoroughbred racing machines, and '35527' as offered here is a particular attractive, highly specified and potentially very competitive Vintage racing example of the genre. Bonhams recommend close inspection of this Boxer, which represents a rare opportunity of acquiring a continuous history and fully race ready ex-Le Mans Ferrari, eligible for many worldwide events including Le Mans Classic, where it has already run and shown its potential as a front runner.

Cette magnifique Ferrari Berlinetta Boxer Le Mans - châssis n° 35527 - est la 23e des 25 voitures seulement assemblées à la fin des années 1970 et au début des années 1980. Sur ces prototypes d'une extrême rareté, dix-neuf seulement furent engagés en course et quatorze affrontèrent le légendaire circuit de la Sarthe. Parmi ces BB/LM vraiment spéciales, celle-ci l'est encore plus. Son moteur d'origine fut développé à un stade tout à fait particulier. Aujourd'hui, la voiture est proposée avec deux moteurs douze cylindres à plat, à la fois le type original BBLM type F102B, le n° 000023 (frappé Marion, pour Marion Chinetti) et celui qui équipe la voiture, le F110A n° 00682 décrit comme étant « sérieusement préparé » comme le rapporte le mécanicien du précédent propriétaire, et qui développa pas moins de 560 ch lors des essais au banc à 7 900 tr/min. Ce groupe est équipé de bielles en titane, de nouveaux arbres à cames et de pistons portant la compression à 13 :1. De considérables investissements ont été consentis au cours des dix dernières années pour élever les spécifications techniques de la voiture et sa préparation et elle a obtenu de remarquables succès dans les épreuves historiques comme Le mans Classic. La boîte de vitesses serait aussi d'origine et la voiture est proposée ici avec un lot de pièces compétition dont la liste est à la disposition des acheteurs potentiels.

La BB fut engagée en compétition à son époque par le North American Racing Team géré par la famille Chinetti et soutenue par Mme Marion Chinetti pour ses pilotes qui se nommaient entre autres Alain Cudini, John Morton, John Paul et Philippe Gurdjian. La voiture pesait tout juste 1 100 kg au lieu de 1 200 pour une BB/LM normale et, sur le circuit des 24 Heures du Mans, elle se révéla la plus rapide de toutes les BB/LM engagées dans les courses d'Endurance.

La voiture proposée courut deux fois Le Mans : en 1981, pilotée par Cudini/Morton/Gurdjian et en 1982. Lors de cette seconde année, elle se maintint longtemps en troisième position au général lorsqu'en vue de l'arrivée, un problème de transmission la ralentit dans les deux dernières heures. Elle réussit néanmoins à terminer neuvième au général et quatrième de sa catégorie IMSA/GTX sous le numéro de course 72.

En 1981 au Mans, sous le numéro 49, elle ne put finir, victime d'une sortie de piste en fin de course après avoir effectué 247 tours.

En 1984, la voiture fut vendue à un amateur américain fanatique de Ferrari, Bob Donner, de Denver (Colorado). En 1989, mise aux enchères à la vente du Nürburgring elle est vendue au Suédois Hans Thulin, mais celui-ci, frappé par la crise de l'année 1990, fut déclaré en faillite et la voiture fut reprise par la banque suédoise Nycklen.

En février 1993, elle passa aux mains de la société Vintage Motors de Bernie Chase, à Encinitas (Californie) et, un mois après fut revendue via Ferrari de Los Gatos à Tom Celani. En septembre 1996, le négociant Mike Sheehan de Costa Mesa (Californie) revendit la voiture à la société Foreign Cars Italia de Steven Barney à Greensboro (Caroline du Nord). Le propriétaire suivant fut le passionné de la marque Chris Cox
De Prova International à Chapel Hill (NC) et, en 1999, cette extraordinaire Ferrari ex NART revint en Californie chez Mitra Neumann. Les propriétaires suivants furent Todd Morici (2000) qui investit beaucoup de temps et d'argent sur les suspensions, les freins et l'amélioration du refroidissement, Jean Guikas de Marseille (2003) et Charles T. Wegner de West Chicago (Illinois) (2006). Aux mains de ce dernier, la voiture fut non seulement superbement restaurée, mais elle courut les épreuves du Challenge American Shell Ferrari Maserati.

En 1981-1982, les Ferrari 512 Berlinetta Boxer Le Mans furent des machines spectaculairement rapides et passionnantes et « 35527 » offerte ici en est un exemplaire particulièrement séduisant, très spécifiquement défini et potentiellement très compétitif dans son genre. Bonhams recommande donc d'examiner attentivement cette Boxer qui représente une rare opportunité d'acquérir une Ferrari historique ex Le Mans à l'histoire claire et ininterrompue, prête à courir et éligible dans la plupart des épreuves historiques dont Le Mans Classique où elle a déjà concouru et montré tout son potentiel.