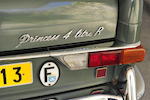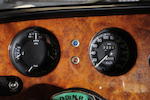 1966 Vanden Plas Princess 4-Litre 'R' Saloon
Chassis no. V/RS32924
One of Britain's most illustrious coachbuilders, chiefly remembered for its sublime vintage Bentleys, the firm of Vanden Plas was acquired by Austin in 1946 and re-invented as a marque in its own right some years later. From the late 1940s onwards Vanden Plas engaged in bodying top-of-the-line Austins, most notably the A135 Princess Limousine, before marque status arrived for 1960. However, something less grandiose was required in order for Austin to exploit the potential of the esteemed coachbuilder's brand in the much larger owner-driver market, so from 1960 onwards there was a Vanden Plas-badged version of the Austin A99 Westminster: the Princess 3-Litre. Mechanically identical to the Austin A99 and Wolseley 6/99, incomplete cars destined for the Vanden Plas treatment would be despatched from the Cowley factory to the coachbuilder's works in Kingsbury, North London where they were finished to the highest standards, gaining walnut veneer embellishments, special instruments, sumptuous leather trim and extra sound deadening insulation. When the Austin A99 was upgraded to A110 specification in 1961, gaining a longer wheelbase and more power, the Princess followed suit, becoming the 'MkII'.
The next phase of development saw the Princess offered with the six-cylinder Rolls-Royce FB60 engine: a short-stroke 3,909cc variant of that used in the Silver Cloud. Extensive revisions were made to accommodate the Rolls-Royce engine and the new model – known as the Princess 4-Litre R – was most enthusiastically received. Sadly, after the initial enthusiasm wore off, sales slowed to a trickle and only 6,555 cars had been built when the model was withdrawn in 1968.
This rare 'left hand drive' Vanden Plas Princess was acquired by the current owner's father in 1975 with only 10,000 kilometres recorded from new. When the vendor's father passed away last year the car was retrieved from its garage and given fresh oil, petrol, spark plugs and battery, after which it started first time! The Princess has covered circa 45,000 kilometres from new and is described as very original, though in need of re-commissioning after some 25 years off the road. Offered with French Carte Grise.

No reserve.

Cette rare Vanden Plas Princess à conduite à gauche achetée en 1975 par le père de l'actuel propriétaire affichait alors 10 000 km au compteur. Après son décès l'année dernière, la voiture sortie de son garage, munie de bougies et d'une batterie neuve et ravitaillée en essence et en huile fut remise en route instantanément. Cette Princess qui a parcouru au total environ 45 000 km se présente dans un remarquable état d'origine, mais demande par conséquent une révision générale après avoir été inutilisée pendant vingt-cinq ans. Elle est accompagnée de sa carte grise française.

Sans réserve.