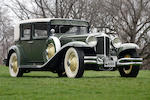 1931 Cord L-29 Brougham
Chassis no. 2929340
Errett Lobban Cord introduced the L-29 in 1929 as a gap-filling model priced between his Cord Corporation's Auburn and Duesenberg lines. Powered by a straight-eight 'flat head' engine built by Lycoming - another of Cord's companies - the L-29 featured front-wheel drive, then much in vogue at Indianapolis. An avid race fan, Cord had been impressed by the performance of the Harry Miller-designed front-wheel-drive Junior 8 Special, and in 1926 purchased the passenger-car rights to Miller's fwd designs. Cornelius Van Ranst was hired to assist with development, and by November 1927 the first prototype was ready for testing and assessment by Fred Duesenberg, Cord's Chief Engineer. Staff designer Al Leamy contributed the stylish coachwork, which was underpinned by Van Ranst's X-braced chassis frame, the world's first.

Production of the new car - now dubbed 'L-29' - commenced at the Auburn, Indiana plant in April 1929, with a two-day press launch in June. The advantages conferred by the L-29's front-wheel-drive layout - chiefly, a low centre of gravity and increased passenger space - were immediately apparent, while the freedom of its low-slung frame gave coachbuilders meant that the Cord was soon attracting the attention of master craftsmen on both sides of the Atlantic; indeed, many connoisseurs consider the L-29 to be the most stylish American car of the period.

The L-29 was offered initially in sedan, brougham, convertible coupé and phaeton versions, at prices ranging from $3,095 to $3,295. Unfortunately for Cord, just as his new baby was reaching dealers' showrooms the Wall Street Crash of October 1929 blew away a huge proportion of his intended clientele. Despite a program of price cuts, sales never took off and the world's first practical front-wheel-drive production car was discontinued in 1932. Including cars supplied in chassis form to independent coachbuilders, only 5,010 L-29s were built, of which it is thought that around 300 of all types exist today.

The rarest of the body styles today is this handsome Brougham. The Brougham is a distinctive, sports sedan with blind rear quarters. It has an exotic European look and compliments the ultra low Cord chassis. The long, long hood and sweeping open fenders mated to this small closed body give a classic era look that was not duplicated by many other builders.

This Cord was purchased by the vendor six years ago. The vendor informs us that this car was restored 20 years ago by a noted marque specialist, however it has been carefully maintained and looks very good today. Much care was taken during the restoration to preserve as much originality as possible, particularly in the interior. The wonderful dash still has its beautiful finish and the unusual Cord clock fills the center panel.

Cord's are wonderful cars for many different reasons; the historical and technical innovation, the wonderful dramatic styling or just that they were products of one of the worlds finest motor corporations. A collector owns a special piece of motoring history when they own a Cord L29.