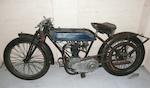 1924 Triumph 3½hp Model R 'Ricardo' Racer
Frame no. 339975
Engine no. 91950 HRI
Triumph's early output was confined to side-valve machines, but in 1921 the appearance of the Coventry firm's first overhead-valve model caused a sensation. Based on the existing SD ('spring drive') model, whose frame and engine bottom end it inherited, the newcomer sported a four-valve cylinder head designed by automotive engineering consultant, Harry Ricardo. Although the 'Riccy' was unsuccessful at the Isle of Man TT races, a works bike ridden by Frank Halford broke the world flying mile record in 1921 with a speed of 83.91mph.

The first production models arrived in 1922 equipped with a cast-iron rather than the racer's steel cylinder barrel, but otherwise were much the same, featuring paired parallel valves set at 90 degrees in a pent-roof combustion chamber, bifurcated inlet port and separate exhausts. Druid girder forks were fitted until Triumph's own design was ready. Economy rather than outright performance was the road-going Riccy's strongest suit, in excess of 100 miles per gallon being within reach at moderate cruising speeds. Although Rudge went on to make a success of their four-valve designs, Triumph's did not last into the 1930s, being dropped at the end of 1927, perhaps due to the expense of the bronze head and turned steel barrel. Today, the Ricardo is regarded as one of Triumph's most collectible motorcycles.

Dating from 1924, this unrestored but complete Triumph Model R comes from a collection of early motorcycles in Victoria. A photograph of what may well be this bike appears in the James Flood Book of Australian Motorcycling on page 180, although at the time of cataloging this had not been verified. The bike has the correct twin slide Triumph carburettor. The bike has not been run for some time and is sold as such, but we are advised that getting the running should be relatively straightforward. With a delightful patina, right down to the original Lycett saddle and leather cover, this rare Triumph could either be preserved as is or would be an ideal candidate for restoration.
Saleroom notices
Please Note: Additional research into the provenance of this motorcycle is being undertaken and potential bidders are advised to contact a specialist for further information.