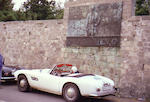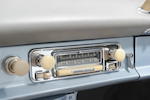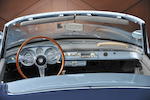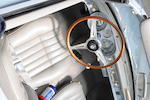 Fresh restoration with engine rebuild by Motion Products
1957 BMW 507 Roadster with Hard top
Chassis no. 70038
Engine no. 40037
In the 1950s, car designers on both sides of the Atlantic produced some of the all-time greats of automotive styling, none of them more classically beautiful than the sublime BMW 507. Transatlantic in inspiration - aimed at the United States market, styled by a New York-domiciled German ex-patriot and built in Germany - the 507 reflected North American taste yet was unmistakably European in origin.

The 507 tale began in 1954, when Austrian-born entrepreneur Max Hoffman, at that time the US importer of various European makes, convinced BMW that they should build a sportscar to rival Mercedes-Benz's successful 300SL. Hoffman knew just the man to style the car too: Count Albrecht von Goertz, an independent industrial designer who had worked for the legendary Raymond Loewy on the latter's trend-setting Studebakers. Designer of everything from fountain pens to furniture, Goertz had never before styled an entire car, and post-507 would not work for BMW again until the 1980s, by which time he had produced another classic automobile: Datsun's 240Z.

The fundamental elements of BMW's proposed new sportscar already existed in their range, most notably the 3.2 Liter, all aluminum V8 engine which was installed in a shortened chassis for the 507. With a robust chassis countered by aluminum bodywork, 150bhp was on tap and the car was capable of around 125 mph with 60 mph coming up in 11 seconds. For relaxed cruising, the 507 had few peers, its state of the art V8 delivering ample torque over a wide rev range.

BMW missed Hoffman's $5,000 price target by a wide margin, which meant that the 507's initial US selling price was set at $9,000, more than double the cost of a Ford Thunderbird or Chevrolet Corvette. Even Mercedes-Benz's 300 SL was cheaper, which didn't help sales. The smart money knew style and quality when they saw it and for them BMW's svelte roadster was the car to be seen in: rock legend Elvis Presley, motorcycling World Champion John Surtees, film stars Alain Delon and Ursula Andress, skiing champion Toni Sailer, Prince Rainier of Monaco and the Aga Khan all being owners at one time or another. In a 3 year production run, just 252 of these beautiful German sportscars were sold.

According to BMW Mobile Tradition's Certificate of Authenticity provided to former owner Stephen Block, chassis 70038 was sold new in Germany in May 1957 to agents Auto-Fels of Mannheim. It was delivered in Ivory white paint, though its interior is not listed, and was equipped with a Becker Mexico radio and manual antenna, as well as a hard top.

In the early 1980s it was acquired by serial 507 collector Dr. Jack Frasher of Greenville, SC, from Dr. K.W. Ballentine of Fayetteville, NC. Bonhams recently traced Dr. Ballentine and he recalled his car collection fondly which he said was quite large and included other prominent cars such as a Ferrari 250 SWB California Spyder. He remembered having purchased the 507 from Orange County, CA, and mentioned that it already had the front disc brakes and hard top. He felt that his ownership had lasted for a few years, possibly a decade, which would place it in California in the mid-1970s, though when it arrived in America has yet to be established.

In 1986, the car passed from Frasher back across the Atlantic into the ownership of another enthusiast of the marque and model, Ulrich Sauer. Mr. Sauer and his son Martin recall the car to have been particularly original, it already had been upgraded to front wheel brakes and was complete with the hard top it retains to this day. While a little 'scruffy' they recall that it was perfectly usable, and it provided a good touring car which they exercised on a number of road events. In around 2000, mindful that 507 was by now in need of a restoration, in preference they chose to sell it and acquire a ready to use example. It was sold during the Techno Classica in 1999 and shortly after this returned to the U.S.

Around this time it was presented by Brooks/Bonhams at a Florida auction, where it can be seen to be substantially original and well worn. It was still in the Ivory paint scheme it had been when new and the interior, in red leather was almost certainly the original. By this stage its front brakes had been uprated to Dunlop discs, which it retains. At this point the car became the subject of a professional refurbishment at the hands of Skip Shirley for then owner Tom Davidson. More than $100,000 was spent on a detailed and thorough rebuild, during which the car was painted to its stunning light metallic blue scheme and re-trimmed in gray leather. To set the car off reproduction Rudge 'knock-off' wheels were fitted (the original steel wheels and 3 covers are with the car). This restoration was completed in time for a shake down on the Gauthier Classic in 2003, to ready it for the Colorado Grand in 2004. Mr. Davidson's journey from 'Vail to Vail' is featured in the journal of the Rocky Mountain Chapter of the BMW Car Club of America.

The 507 subsequently passed to a Stephen Block of Moraga, CA. During the Block ownership, a BMW Mobile Tradition Zertificat and facsimile handbook was supplied with the compliments of Heiko Seekamp, confirming the original delivery details listed above. It was acquired by the present owners in 2006.

On arrival in the current prestigious Oldenburg collection, the car was treated to a complete engine rebuild at the hands of highly respected garage Wayne Obry's Motion Products. The intent while in the Oldenburg collection has always been to have a car that was on the button and ready to use, and this has been achieved. At the time of cataloguing the car was road tested by a Bonhams specialist and was found to perform extremely well, its suspension is well set up to provide comfortable road handling, while the solid power resource and completely rebuilt gearbox shifts very smoothly both up and down the pattern. The brakes are equally precise and bring the car calmly and consistently down the odometer without drama. So, aside from its gorgeous aesthetics and condition, this is a great driving example also.

BMW's 507 is one of the most iconic designs of its day, there was quite literally nothing that looked like this BMW. It could be argued that its styling cues came from Italy, but the 'shark-nose' treatment pre-dates the Ferrari Grand Prix car, while its running gear and assembly are very clearly German in their precision and technical prowess.

Today, they are perhaps more coveted than ever before, as aficionados have increasingly learned to appreciate the looks and practicality that the car offers as a mount for many historic touring events, for which by date it is eligible, including Colorado Grand, Mille Miglia, and Le Mans Classic. For those that recognize the long-term importance of rarity as well as aesthetics, a 507 puts you in a more exclusive club than its contemporary Mercedes-Benz or indeed many Ferrari models.