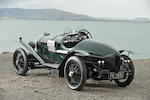 One of only eighteen examples manufactured
1925 Bentley 3-liter 100mph Supersports 'Brooklands' Two-seater
Chassis no. 1161
Engine no. 546
With characteristic humility W.O. Bentley was constantly amazed by the enthusiasm of later generations for the products of Bentley Motors Ltd. and it is testimony to the soundness of his engineering design skills that so many of his products have survived. From the humblest of beginnings in a mews garage off Baker Street, London, in 1919, the name of Bentley rapidly achieved fame as a manufacturer of exciting fast touring cars, well able to compete with the best of European and American sports cars in the tough world of motor sport in the 1920's. Bentley's domination at Le Mans in 1924, 1927, 1928, 1929 and 1930 is legendary and one can only admire the Herculian efforts of such giants as Woolf Barnato, Jack Dunfee, Tim Birkin and Sammy Davis, consistently hurling the British Racing Green sports cars to victory.

'W.O.' had proudly debuted the new 3-liter car bearing his name on Stand 126 at the 1919 Olympia Motor Exhibition, the prototype engine having fired up for the first time just a few weeks earlier. In only mildly developed form, this was the model which was to become a legend in motor racing history and which, with its leather strapped bonnet, classical radiator design and British Racing Green livery has become the archetypal vintage sports car.

For the demanding motorist who demanded something extra Bentley offered the sensational 100mph Supersports model from 1925 to 1927. Only eighteen examples were built of which 17 were on the extra short 9ft wheelbase, the other on the Standard Speed model 9ft 9½in wheelbase. It was unashamedly expensive with a chassis price of £1,050 compared with £925 for the Speed model. The lightweight chassis checked in at 22½cwt, the rear axle ratio was 15:53 and the A-type gearbox was standard. The Supersports model was instantly recognized by the distinctive Green Label tapered radiator. Bentley unashamedly claimed the Supersports to be capable of the magic 100mph.

Chassis 1161, on the short 9ft wheelbase, was first registered in July 1925 with London County Council, its recorded first owner being one J B Stennett of The Laurels, Winchmore Hill. The original body style is not recorded although there can be little doubt that it would have been of a sporting nature in view of the high-speed chassis specification. The guarantee period for the Supersports model was just one year, (all others had five years), and the Service Records for this car quote an expiry date of July 31st, 1926. Curiously the first entry for any service work is for 1929. Lt. Col. Peter Gillett of The Royal Artillery owned the car in 1949 before selling it that year to Lt. Col. Hugh Widdington-Moor. D J Haley owned the car in 1950, W Main of Fitton, near Bristol was the recorded owner in 1951 and Jim Howarth of Burnley acquired it in 1966.

Interestingly BDC records state that when in Haley's ownership the car was fitted with engine number 72 which further research shows came from chassis number 68, the first owner of which was the aforementioned J B Stennett. Michael Hay's standard work, Bentley – The Vintage Years, records that at some stage 1161 was fitted with a 4½-liter engine and the engine now fitted, number 546, comes from chassis number 540. The original engine from 1161, engine number 1145, is recorded by Hay as surviving and in chassis number 609.

It was Jim Howarth who constructed the present coachwork in 1987, creating a car in true Brooklands style, following photographic research of similar competition model Bentleys and other cars. That Howarth achieved the desired effect is clearly evident in the end product and this car took the eye of the present owner a few years ago, who simply had to add this car to his thorough-bred of exclusive vintage motorcars. A favorite within that collection, 1161 has been meticulously maintained to the highest standards, being constantly prepared and on-the-button for that fast blast around the hills in the area where it currently resides.

The coachwork is superbly liveried in dark British Racing Green and the interior is trimmed in black leather with matching black carpets. Driving equipment includes Lucas King of the Road head and side lamps, CAV rear lamps, including flashing indicators and brake lights as a concession to road safety, André Hartford shock absorbers, the luxury of front wheel brakes, quick fill and release petrol cap and gloriously resounding fishtail exhaust. The car is offered equipped with 820 x 120mm beaded edge wheels, new Excelsior tires with Dunlop heavy duty tubes with brass air fittings installed; this package makes handling a delight. Also included are a full set of 18in wheels and tires which the more competitive motorist may prefer. As a fast touring car 1161 has a most useful luggage storage area behind the seating accommodation. A 'batwing' windscreen is also offered as an option to the aero screens presently fitted.

Surviving examples of the Supersports model are rare indeed and are highly prized in Bentley circles where their performance potential is seriously respected. 1161 is offered with old style buff log book from 1949, a tax disc from 1951, FIVA identity card, old British MoT certificates and a good set of working tools, along with a copy of Bentley Service Records covering the period 1925 to 1939.