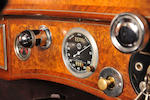 1925 Minerva AF Limousine
Chassis no. 55901
Engine no. 55929
Minerva - the 'Goddess of Automobiles' - was the finest make produced by Belgium's once vibrant motor industry. Founded in Antwerp in 1899 by Dutchman, Sylvain de Jong, Minerva began life as a bicycle maker, swiftly diversifying into the manufacture and supply of proprietary motorcycle engines before building its first powered automobile around the turn of the 19th Century. De Jong set up Minerva Motors SA in 1902 and thereafter his company progressed from being a manufacturer of engaging 'driver's cars' to one that looked more towards the chauffeur-driven carriage trade.
Built along Panhard lines, the early Minervas were powered by a variety of engines of sidevalve configuration and proved hugely successful, particularly in the UK where they were vigorously promoted by the firm's London agent, David Citroën (cousin of carmaker, André) who had joined de Jong on the board of a re-capitalised Minerva company in 1903. The adoption in 1908 of Charles Yale Knight's double sleeve valve engine - a design noted for its silence - enabled Minerva to establish itself in the forefront of luxury carmakers alongside marques of the calibre of Rolls-Royce, Hispano-Suiza, Isotta-Fraschini and Cadillac. Indeed, The Honourable C S Rolls was one of the firm's first overseas dealers. By 1910 all Minervas featured the Knight engine, the larger models, such as the MM, being much favoured by European royalty, the Kings of Belgium, Norway and Sweden among them. Minerva's was soon the biggest car plant in Belgium, employing 1,600 workers.
In their day Minervas enjoyed an outstanding reputation in competitions of all kinds. They fielded a winning team in the 1912 Grand Prix de Belgique regularity trial, took the Swedish Winter Cup in 1911, 1913 and 1914, and even finished 2nd, 3rd and 5th in the 1914 Isle of Man Tourist Trophy.
Swiftly back on its feet following the German occupation, Minerva returned to making large, luxurious motor cars and in the 1920s enjoyed considerable success in the United States where it found favour with film stars, politicians and industrialists alike. Smaller models appeared: a 2.0-litre four in 1923 and a similar-sized six in 1927. Larger cars continued to be a speciality though; a brace of straight-eights was announced for 1930 but hard times lay ahead for the world's luxury car manufacturers. Minerva's fortunes declined steadily and in October 1935 it merged with Belgian's only other surviving motor car manufacturer, Imperia. Minervas continued to be made for another year or two and after WW2 the company produced Land Rovers under licence for the Belgian Army.
This handsome Minerva Model AF limousine is powered by a 5,343cc six-cylinder engine. The car's first owner was the prosperous Pretoria businessman and stagecoach operator, George Jesse Heys, whose coaches ran between the South African cities of Pretoria and Durban. His residence was Melrose House in Pretoria, named after the eponymous abbey in Scotland. The car was known as the 'Minerva from Melrose House'.
Mr Heys used the Minerva from 1926 until 1929 when he returned to the UK following the sudden death of his wife. The car remained hidden inside a crate for approximately 50 years, hence the very low recorded mileage. Its second owners were Mr A J Gelman and Mr Harold Menkin (a Pretoria Chrysler agent) who transported the crated-up Minerva to their warehouse in Johannesburg where it was stored for a further eight years.
The third owner was collector Mr Jim Haas of Chicago, USA who imported the car from Johannesburg to the USA in 1987. The last owner bought the Minerva from Mr Haas in 2008 and imported it into the Czech Republic where the engine, gearbox and brakes were restored, vacuum booster included. Care was taken to reuse as many original parts as possible, even down to retaining the original tyres. Indeed, this particular Minerva is believed to be the only example of this type left in the world that retains its original Minerva factory bodywork.
The car is registered and licensed in the Czech Republic and comes with FIVA Identity Card, its old South African logbook and current roadworthiness certificate. Winner of many concours d'elegances and participant in various European historic events, it represents rare opportunity to acquire an elegant and traditional Vintage-era limousine belonging to one of motoring's select aristocracy of patrician marques.
Saleroom notices
The current road worthiness certificate is not present.