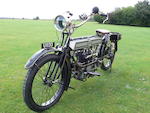 1914 FN Four-Cylinder 7hp Type 700
Registration no. U 1133
Frame no. 70024
Engine no. 46
Like BSA, La Fabrique Nationale d'Armes de Guerre ('FN', for short) began as a munitions manufacturer, turning to the production of motorcycles in 1900. Today the Belgian company is best remembered for its sensational four-cylinder models, the first of which appeared in 1904 and was first exhibited publicly at the 1905 Paris Cycle Show. Designed by Paul Kelecom, the FN was the world's first practical four-cylinder motorcycle, its smooth, almost-vibrationless operation setting it apart from rival singles and v-twins.

Responding to demands from sidecarists for more power, FN introduced a 748cc, 7hp four – the Type 700 – for 1914. This new engine was a sidevalve of 'T'-head layout, with mechanically operated valves and a mechanical oil pump, which drove the three-speed gearbox via a steel, multi-plate clutch. Pedal starting was dispensed with on the Type 700, a kick-start mechanism being added at the right-hand side of the engine. The model remained in production up to 1923 when it was replaced by a new overhead-valve, chain-driven four.

This well-known four-cylinder FN 'Pioneer' has featured in a number of publications over the years including the March 1983 edition of Classic Bike magazine, in which it appeared on the front cover. Classic Bike's five-page article (copy available) recounted the machine's recently completed restoration by James Tennant-Eyles, who was pictured riding it up and down the drive of his country house. Although substantially complete and apparently in not too bad a state when received, the FN proved to be badly deteriorated on closer inspection, necessitating the remanufacture of a number of major components including the rear frame, mudguards, fuel tank, fork struts, tool boxes, brake back-plate, valve gear and more besides.

The FN's owner at the time of its restoration was a Mr Alan Bailey, of Hemel Hempstead, Herts, who kept the machine until January 1990. Subsequently owned by Gerald Twyman, Philip Buck and Roy Tubby, it was acquired from the latter by Brian Verrall in November 2006. A typed article on file written in the early 1960s by a previous owner – 'J. E. S.' – recounts the story of the FN's discovery, purchase (from one Edward Damadian) and initial restoration in the late 1950s. The FN was purchased at Bonhams' sale of the Verrall Collection in September 2008 (Lot 275) by the current vendor, who has completed the 2010 and 2011 Pioneer Runs on the machine and describes it as 'on the button'.

Presented in very good condition, this highly capable Pioneer motorcycle is offered with a quantity of photographs; assorted expired SORNs and tax discs; three expired MoTs (2000-2001, 2002-2003 and 2006-2007); Sunbeam MCC Pioneer Certificate, issued to A W Bailey in October 1983; (copy) old V5/V5C and current Swansea V5C documents; and a substantial quantity of photocopied FN-related literature to include an English-language maintenance manual; 5hp model instruction manual; various magazine articles and a range brochure.