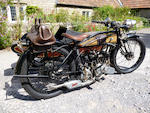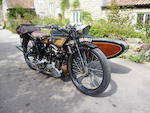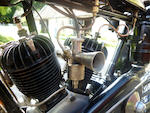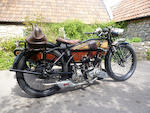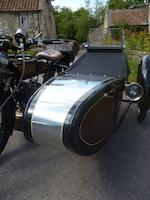 1924 James 3½hp Model 12 Sports Twin
Registration no. DS 9607
Frame no. 5107
Engine no. S71
Like so many famous and not so famous motorcycle firms, that founded by Harry James in 1880 started out as a bicycle manufacturer. Based initially at Sparkbrook and then Greet in Birmingham, the James Cycle Company built its first motorcycle, a Minerva-powered machine, in 1902. The first model to be powered by James's own engine followed in 1908; this was the 'safety' James, a radical design featuring wheels carried on stub axles, scooter-fashion. More orthodox designs followed, with two-stroke, sidevalve, overhead-valve, single-cylinder and twin-cylinder models featuring in the range before the end of the 1920s. The company was proud of the fact that, unlike the majority of the competition, its motorcycles were manufactured in their entirety in the James works, with only components such as the Bosch magneto, Mills carburettor, tyres and lamps being bought in from other manufacturers.

For 1914, James offered a revised single-cylinder model in three-speed and two-speed versions, both of which featured fully enclosed, all chain drive. The firm's first v-twin, the 500cc (3½hp) 'No.7', arrived that same year. Priced at 60 guineas, James's top-of-the-range offerings were quality products that incorporated some interesting ideas, one of the more practical being the 'spring drive' shock absorber built into the rear wheel hub. 'We confidently claim that this refinement affords all the sweetness of "belt drive" with none of the attendant foibles,' declared its maker.

After WWI, James continued to offer a range that consisted of both singles and twins, the 3½hp (496cc) Model 12 Sports Twin being a new introduction for 1923. James was justifiably proud of its Sports Twin, claiming speed with extreme flexibility, even torque, perfect safety and silence as the outstanding merits of a motorcycle that achieved such consistent and phenomenal success in the popular reliability trials of the day. All were individually tested by the works before sale and guaranteed to do 65mph.

In one of his many 1970s road tests of vintage motorcycles, Titch Allen described the Model 12 James as smooth and fast with delightful handling, concluding: 'I think I can best sum up the sports twin "Jimmy" by saying that of all the vintage motorcycles that I've let slip through my fingers, this is the one I wish I had acquired.'

The vendor acquired this 1924 Model 12 in 1991 from an auction at Rochester, Kent. It had been sympathetically restored in the 1980s and came with copies of the owner's handbook for the model and some literature on the Mills carburettor, which was fitted as standard. After an initial strip and rebuild of the engine, gearbox and clutch, the James enjoyed regular use on a variety of VMCC rallies, as both a solo and a combination, up until 2005. The only additions over the years have been the Lucas Model 60 horn, period Stewart 'motorcycle' speedometer, André 'de lux' steering damper, Bluemels tyre pump and a full acetylene lighting set, complete with the correct Lucas sidecar lamp.
In 1997, what is believed to be a 1924 James sports sidecar was acquired. This very sporting chair, with its unusual and attractive timber side panels and polished aluminium deck, was in well preserved original condition, only requiring sympathetic restoration and a re-trim before being ready for use. For his wife's comfort the vendor added the double-duck tonneau and aero screen, both of which are easily removable.

In 2003, the original fuel tank was restored and repainted by the renowned motorcycle paintwork specialists, Lewis & Templeton. Since the end of 2005, the James has been kept in a dehumidified store amongst a collection of similar machines. Recently, in preparation for sale, the machine has been carefully re-commissioned for the road and is expected to have a fresh MoT and road fund licence in time for the auction. Offered with Swansea V5.
Saleroom notices
Please note the engine number on this machine is S712 and not S71.