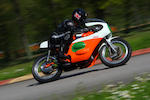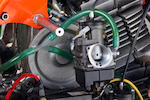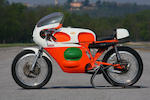 Moto Villa V4 250cc Grand Prix Racing Prototype Replica
Brothers Francesco and Walter Villa began building their own motorcycles in 1968. An Italian road racing champion in the 125cc class on four occasions, as well as two-time winner of the Barcelona 24-hour race, Francesco had previously designed two-stroke racers for both Mondial and Montesa. Walter raced Villa bikes before his rise to stardom, which saw him secure three consecutive 250-class World Championships for Harley-Davidson between 1974 and '76, to which he added one in the 350 class. The brothers' first racer was a water-cooled 125cc rotary valve single, which proved competitive enough for Walter to win the Italian championship in the bike's debut year. For 1969 a series of replicas were produced for sale to privateers and Moto Villa was on its way to international recognition.

While at Mondial, Francesco had designed and raced a 125cc horizontal single and a vertical twin-cylinder 125 and 250, all of them two-strokes. The first multi-cylinder two-stroke Villa though, would be a V4. Completed early in 1969, Villa's 250cc Grand Prix engine was essentially two air-cooled 125cc twins of 43x43mm bore/stroke mounted one above the other on a common crankcase at an included angle of 30 degrees, the crankshafts being connected via a coupling gear. As well as serving as the primary drive, the latter also drove the ignition unit and oil pump. Drive was transmitted via a dry clutch to the eight-speed gearbox, and the engine/transmission unit was housed in a heavily gusseted duplex loop frame. Ceriani supplied the front forks and rear dampers and there were Fontana brakes on both wheels.

Tragically for the Villas, their new baby arrived just in time to be rendered obsolete by the FIM's rule change limiting the 250 class to a maximum of two cylinders from the start of the 1970 season. Nevertheless, the brothers decided to try and race it at least once and entered the untried V4 in the Italian Grand Prix at Monza. After running erratically during practice, the V4 was put to one side and Walter rode a rotary valve single that had been brought as backup.

The sole V4 prototype was later sold to the Bombardier Corporation in Canada and is now owned by a Swiss enthusiast. One man who had admired it during his time working for Moto Villa was Giovanni Galafassi, creator of the faithful replica offered here. 'I thought it was a tragedy it never raced,' said Galafassi, interviewed by Alan Cathcart for his Classic Racer article on the Villa V4 (March/April 2010 edition) 'that the FIM bureaucrats destroyed the heritage of Italian motorcycle culture represented by machines like the Villa and four-cylinder Benelli, in favour of creating a monomarca class for Yamaha twins.'

With Francesco Villa's assistance, Galafassi began collecting the necessary drawings and parts to build his replica, many of which came from Moto Villa's stockroom. Assembly began in 1999 but would not be completed for another ten years, such were the competing demands placed on Galafassi's time by his business commitments. Equipped today with a six-speed gearbox, the Villa has been tuned appropriately for greater mid-range and produces a maximum of 45bhp. Other changes from original specification include a right-side gearchange, Yamaha pistons and con-rods, round-slide carburettors, a one-off ignition system and minor alterations to the frame to facilitate easier engine removal.

Riding the Villa V4 for the very first time since its completion, Alan Cathcart found that the engine started pulling strongly from just under 8,000rpm on its way to a peak of 12,500 revs. 'I can't deny that seeing the V4 running on the track, after ten years spent in the workshop building it, gives me a lot of satisfaction,' said Galafassi.

Presented today resplendent in Villa's traditional orange and white livery, this beautiful re-creation represents a wonderful opportunity to acquire a mythical Grand Prix racing motorcycle previously only accessible via the pages of the history books.
Saleroom notices
Please note the paddock stand is not included with the lot.