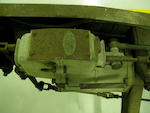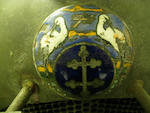 1
1929 Lorraine-Dietrich
Coachwork by 15CV Model B3-6 Tourer
Chassis no. 127764
Basé à Luneville en Lorraine, dans le nord est de la France, De Dietrich et Cie commença comme constructeur de locomotives avant de se lancer dans la construction automobile en 1896, époque à laquelle cette province très disputée était sous contrôle allemand. En 1905, le nom de la filiale des moteurs automobiles et aéronautiques fut changé en Lorraine-Dietrich et la croix de Lorraine adoptée comme emblème. Après la première guerre, la Lorraine rendue à la France, la construction d'automobiles (et de moteur d'avions) reprit, les principaux modèles des années 1920 étant une 4 cylindres 12 CV (2,3 litres) et une paire de 6 cylindres, la 15 CV (3,4 litres) et la 30 CV (6,1 litres). De ces dernières, la 15 CV B3-6 était la plus populaire, entrant dans l'histoire en finissant aux 3e et 4e places des 24 Heures du Mans en 1925 et 1926.
Achetée par un certain Louis Quételard au début des années 1950, cette Lorraine-Dietrich fit plus tard partie du musée René Berté à Chantilly et fut acquise par le vendeur en 1990. On pense qu'elle n'a pas eu plus de quatre propriétaires depuis son origine. Précédemment immatriculée en France sous le numéro 841 Y 60, la voiture est offerte en châssis roulant complet avec sa transmission, ses freins, sa boîte de vitesses, son différentiel, ses roues, son capot, son radiateur, son tableau de bord, ses compteurs, etc. Présentée comme presque complète, son moteur est démonté et doit être réassemblé, une majeure partie de ses pièces ayant déjà été restaurées. Très bonne base pour un torpédo sportif, la voiture est accompagné de ses papiers suisses 1320.


Based at Luneville in Lorraine, France, De Dietrich et Cie started out as makers of railway locomotives before branching out into automobile manufacture in 1896, by which time the oft-disputed province had been annexed by Germany. In 1905, the car/aero engine division's name was changed to 'Lorraine-Dietrich' and the Cross of Lorraine adopted as an emblem. After WWI, with Lorraine restored to France, manufacture of cars (and aero engines) recommenced, the principal models of the 1920s being a 12CV (2.3-litre) four and a brace of sixes: 15CV (3.4-litre) and 30CV (6.1-litre). Of these, the 15CV B3-6 was the most successful, entering the history books by winning the 3rd and 4th Le Mans 24-Hour races in 1925 and 1926.
Purchased by one by Louis Quetelard in the early 1950s, this Lorraine-Dietrich later formed part of the René Berté Museum in Chantilly, France and was acquired by the current vendor in 1990. It is believed to have had a maximum of four owners from new. Previously French registered '841 Y 60', the car is offered as a rolling chassis complete with running gear, brakes, gearbox, transmission, differential, wheels, bonnet, radiator, dashboard, gauges, etc. Described as 'nearly complete', the engine is dismantled and needs to be reassembled, a lot of its parts having been already restored. A very good basis for a sporting open tourer, the car is offered with Swiss document 1320.