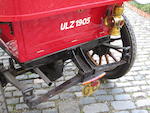 1905 Renault Type Y-A bicylindre 10 HP Double Phaéton roi-des-belges
Chassis no. Y-A 4632
Engine no. 1137
Le 14 janvier 1905, Renault soumit au service des Mines pour homologation la voiture Type Y n° 4124, soit environ 500 numéros avant la voiture présentée ici, précisant que le type Y-A avait un alésage de 100 mm et une course de 120 mm pour ses deux cylindres soit une cylindrée totale de 1 885 cm3 qui en fit une 10 HP pour le fisc. Selon son rapport de pont, elle atteignait 40 ou 50 km/h en troisième (prise directe). Un châssis roulant complet coûtait 7,500 F, tandis qu'un double phaéton comme cette voiture demandait 1 100 F de plus sans accessoires.

Cette jolie Renault bicylindre est devenue la propriété du vendeur en France il y a quelques années. À cette époque, elle avait vécu quelques années sous la forme d'une petite camionnette, la partie arrière ayant été transformée tout en conservant la plaque du carrossier, Merville Fils, de Paris. Le nouveau propriétaire décida de lui rendre sa forme originale plus élégante et l'envoya chez Henal Engineering dans l'East Sussex qu'il chargea de la reconstruction de la carrosserie à cinq places et de la restauration complète de la voiture.

Comme on peut le constater aujourd'hui, les travaux furent exécutés à un très haut niveau de qualité, y compris la confection d'une capote recouvrant toute la voiture. Pour parfaire son équipement, elle fut dotée de phares Blériot, de lanternes de côté Lucas King of the Road et d'un générateur d'acétylène.

Son propriétaire actuel est un grand utilisateur de ses voitures, tant dans les rallyes et pour des randonnées individuelles. Au début de cette année, il choisit d'aller en Normandie depuis les Home Counties, voyage qu'il effectua sans problèmes. Cette voiture est éligible pour de nombreuses manifestations en Europe dont le Rallye des Teuf-Teuf et ceux des Clubs Renault, tandis qu'au Royaume-Uni elle convient aux sorties réservées aux « monos et aux bis » du Veteran Car Club.


Renault applied to the Service des Mines for approval of the Type Y on the 14th January 1905 with their car number 4124, roughly 500 cars ahead of that which we offer today, in doing so they stated that the model Y-A would have a bore and stroke of 100 by 120 mm, for each of its two cylinders with a combined engine size of 1,885cc, it was rated locally at 10 French horsepower. Depending on its rear axle ratio that was good for between 40 and 50 km per hour, in top (third) gear. A rolling chassis would have set its new owner back 7,500 francs, while a double phaeton such as on this car, would have cost a further 1,100 francs without accessories.

This handsome twin cylinder Renault was acquired by the present owners in France a few years ago. At that time, it had spent many years in the form of a delivery vehicle, with the rear portion of its bodywork converted for storage, although it still bore the maker's plate for Merville Fils of Paris, clearly the original coachbuilders for the car. The new owner elected to return it to its more elegant original form and sent the car to Henal Engineering of East Sussex, with the remit to restore the car back to its original five seater form and refurbish the car at the same time.

As can be seen today, work was carried out to a very high standard, and included making of a full length hood also. To complete the car, it was equipped with Bleriot headlamps, Lucas King of the Road sidelamps and an Autoroche generator.

Its present owner is an active user and campaigner of his cars, both on events and for enjoyment, earlier this year he elected to drive the Renault to Normandy from the Home Counties, a journey which it completed without any problems. It is of course eligible for a number of events, in Continental Europe that includes those of the Teuf Teuf and Renault Freres Clubs while in the UK, it would be ideal for the 'singles and twins' rallies of the Veteran Car Club.