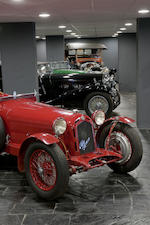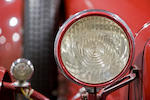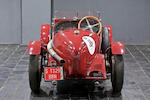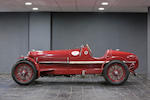 1932 Alfa Romeo 8C 2300 aux specifications Monza

Chassis no. 2111037
L'Alfa Romeo 8C-2300 fut conçue par Vittorio Jano, déjà créateur de l'Alfa Romeo 6C-1750 de sport antérieure. Il avait débuté chez Alfa en 1923 pour commencer immédiatement l'étude d'une nouvelle voiture de Grand Prix à deux ACT, la P2, qui remporta les GP de l'ACF et d'Italie en 1924 et les GP de Belgique et d'Italie en 1925. Les modèles 6C-1500 et 6C-1750 furent proposés avec moteur simple ou double arbre, cette dernière version étant suralimentée pour une utilisation en course ou pour le tourisme rapide. Alfa voulut revenir en Grand Prix et Jano dessina la 8C-2300 qui courut en châssis long (version Le Mans), châssis court (version Mille Miglia) et châssis compétition ultra court, la Monza. L'Alfa 8C-2300 fut engagée initialement par l'usine, mais, par la suite, par de nombreux pilotes et écuries privés, la plus célèbre étant la Scuderia Ferrari.

Le moteur installé dans l'Alfa 8C-2300 fut au début un groupe 2,3 litres qui fut porté à 2,6 litres en 1934. La puissance du moteur huit cylindres en ligne à blocs et culasses en alliage léger dépassa 170 ch. Le groupe est formé de deux blocs de quatre cylindres coiffés chacun de sa propre culasse, réunis sur le même carter de vilebrequin. Le compresseur Roots était installé du côté droit du moteur. Les dernières versions reçurent un carburateur Weber. Ce moteur, combiné à une boîte manuelle à quatre rapports et installé dans un châssis habillé d'une carrosserie légère donna une voiture incroyablement performante en son temps. Quiconque a pu entendre un Alfa 8C à plein régime ne peut oublier la magnifique symphonie qu'il émet, image sonore d'une montée en force inépuisable et impressionnante. Ce moteur est synonyme à la fois de puissance pure et de docilité voulue, capable de délivrer tous ses chevaux à la demande tout en restant très contrôlable à bas régime.

Les dimensions de la 8C sont celles de la 6C dont elle est dérivée. Les rares versions Monza offrent deux places sur un châssis encore plus court. Ces voitures sont identifiables par leurs ressorts avant ultra courts, leur carrosserie à pointe arrière et leur carénage de radiateur.

Sur 188 Alfa 8C-2300 assemblées entre 1931 et 1933, quelques-unes seulement furent transformées en Monza. Leur lignage était évident et la voiture pouvait légitimement revendiquer une vitesse de 225 km/h.

La carrière en compétition de l'Alfa Romeo 8C est émaillée de victoires et de noms de prestigieux pilotes. Les versions Monza, spécialement produites à quelques exemplaires, signèrent une longue liste de succès aux mains de nombreux pilotes dont Tazio Nuvolari.

La première 8C-2300 apparut en 1931 sous la forme d'un prototype engagé à la Mille Miglia. Deux exemplaires du modèle Grand Prix furent engagés au GP de Monza où ils prirent les deux premières places. C'est à la suite de ce doublé que les versions compétition reçurent l'appellation Monza. La même année, l'Alfa 8C-2300 devint la voiture à battre en compétition, gagnant la Targa Florio, puis remportant trois fois les 24 Heures du Mans en battant les Mercedes SSK et SSKL. Plusieurs victoires aux 24 Heures de Spa ainsi que dans le GP de Monaco sont aussi à porter à son crédit, confirmant les extraordinaires qualités des Alfa 8C et « Monza » sur la route comme sur les circuits.

L'exemplaire proposé ici dont le châssis court porte le n° 211037 fut, comme l'indiquent les archives, une des quatre voitures immatriculées par l'usine juste avant la Mille Miglia. Il a donc pu faire partie des voitures officielles.

D'après l'excellent ouvrage de Simon Moore, The Legendary 2.3 (publié par Park Side Publications, Inc., Seattle, ISBN n° 0-9617266-0-3), l'histoire de la voiture est en résumé la suivante : « Immédiatement après la course, la voiture fut vendue à Raffaele Cecchini de Rome. Il la conserva moins
d'un an avant de la vendre à Pietro Parisi, également de Rome, le 11 janvier 1933. Il prit part à la Coppa di Dilettanti à Rome en octobre de la même année comme le précise un article du magazine du RACI du 29 octobre montrant la voiture portant le n° 15. Cette photo montre qu'elle était équipée d'un pare-brise avec deux déflecteurs de type Zagato alors que le reste de la carrosserie avait conservé ses finitions Touring.

« Le propriétaire suivant, à compter du 5 octobre 1934, est mentionné sous le nom de Marcello Venturi, également Romain, qui la céda le 3 août 1935 à Luigi Zeloni, résidant sur les bords du lac de Côme. La voiture appartint ensuite à Oreste Teverelli, puis à Guido Barsotti. M. Barsotti engagea l'Alfa à la Coppa delle Valsassina le 2 mai 1935 où elle termina deuxième de sa classe, puis le 15 mai suivant au Grand Prix des Frontières à Chimay en Belgique, il fut victime d'un grave accident dans lequel la voiture fut sérieusement endommagée comme le mentionne André Biaumet dans son ouvrage consacré aux épreuves de Chimay. »

Nous pensons que l'épave demeura longtemps ignorée aux mains d'un collectionneur de motos de Rome. La voiture fut tirée de l'obscurité en 1977 par Aldo Cesaro sur une information donnée par Fusi et Bonnini qui commençaient alors à constituer la collection officielle d'Alfa Romeo. Les photos de l'époque montrent un ensemble de pièces sauvées dont un châssis court qui fut ensuite transformé en Monza à une date non précisée. Afin de reconstruire la voiture, Aldo Cesaro emprunta plusieurs pièces du châssis 231225 par l'intermédiaire de Sandra Barbini. Une fois terminée, la voiture réapparut pour la première fois en 1989 à la Mille Miglia. À cette époque, elle tenait son moteur et sa plaque de châssis du spider carrossé par Brandone sur le châssis 2211110. Pendant longtemps, au début des années 2000, la voiture fut la propriété de Jan Brujin, directeur de l'Automuseum de Deventer aux Pays-Bas.

Aujourd'hui, la voiture a récupéré sa plaque constructeur et des composants de son moteur d'origine. Elle est équipée désormais d'un pare-brise rabattable occupant toute la largeur de la caisse.

Le châssis a été totalement restauré avec changements de quelques entretoises. Les éléments constitutifs de la suspension et de la transmission sont d'origine, à l'exception des pièces de fixation qui ont été changées. La distribution et le compresseur sont des composants Alfa d'origine. Le bloc a fait l'objet de réparations successives afin de le maintenir en état de fonctionnement. Le carter de boite, les culasses, le boîtier de direction et les projecteurs ont été remplacés.

Totalement restaurée, la voiture se présente en excellent état et prête à rouler. Le contrôle des numéros de châssis et de moteur s'est révélé satisfaisant et la voiture est éligible pour la grande majorité des rallyes, courses et randonnées historiques.

The Alfa Romeo 8C-2300 was designed by Vittorio Jano, who was already the creator of the earlier Alfa Romeo 6C-1750 sports car. He started working for Alfa in 1923, and immediately initiated the design of a new twin OHC grand prix car, the P2, which won the French and Italian GPs in 1924 and the Belgian and Italian GPs in 1925. The 6C1500 and 6C1750 models came in single and twin ohc form with the latter also being supercharged for the racing and fast touring. Alfa wanted to return to GP racing and Jano designed the 8C2300 which competed in long chassis (Le Mans form), short chassis (Mille Miglia form) and the ultra short chassis two seater racing car, the Monza.. The Alfa 8C-2300 was raced initially by the factory but later by many private entrants and teams, the most notable of the latter being including Scuderia Ferrari.

The engine fitted in the Alfa 8C-2300 was initially 2.3 litres but increased in 1934 to 2.6. Power from the straight eight, twin ohc unit with alloy block and cylinder head rose to over 170 hp. The assembly consists of two blocks of four cylinders each with its own cylinder head, separated and joined by the lower engine and a common crankcase. The Roots supercharger was installed on the right side of the engine block. The later versions adopted a Weber carburettor. This engine, combined with a four speed manual gearbox, mounted in a light body resulted in an incredibly high-performance motor car at the time. Anyone who has heard an Alfa 8C at full chat cannot forget this wonderful symphony, a concentration of un-restrained and progressive power. This engine is both synonymous with immense power and well-considered driveability; it is able to release the horsepower when required and yet proves to be very driveable at low speed.

The dimensions of the 8C are identical to those of the 6C from which it is derived. The rare Monza versions have two seats and a still shorter chassis. The cars can be recognised by the extra short front springs and the pointed tail bodywork, as well as the radiator shroud.

Of 188 Alfa 8C-2300 models assembled between 1931 and 1933, only a small proportion were transformed into Monza versions. The lineage was clearly seen and the car could legitimately lay claim to 140 miles per hour.

The competition career of the Alfa Romeo 8C is littered with wins and illustrious drivers. The Monza versions, specially derived in a few models, picked up a long list of prizes, at the hands of many drivers including Tazio Nuvolari.

The first 8C-2300 appeared in 1931 as a prototype for that year's Mille Miglia. Two examples of the Grand Prix model were then entered in the Monza Grand Prix, where they finished first and second. From this double success the competition versions received the name "Monza". That same year, the Alfa 8C-2300 became the car to be reckoned with in competitions, winning the Targa Florio, followed by three consecutive victories at Le Mans, in front of the frustrated Mercedes SSK and SSKL. Several victories at the Spa 24 Hour race and also at the Monaco Grand Prix can be added to this, confirming the incredible qualities of the Alfa 8C and "Monzas" on both road and racetrack.

The example on offer today, with shortened chassis bears the number 2111037. Records indicate this chassis was one of four cars registered to the factory just before that year's Mille Miglia so could well have been one of the Works cars.

According to Simon Moore's excellent book The Legendary 2.3 (published by Parkside Publications, Inc, Seattle, ISBN no. 0-9617266-0-3), the car is chronicled – with some summarising - thus, "Immediately after the race, the car was sold to Raffaele Cecchini, from Rome. He kept it for less than a year before selling it to Pietro Parisi, also from Rome, on 11 January 1933. He took part in the Coppa di Dilettanti in Rome in October of the same year, as shown in an article in the magazine RACI of 29 October showing the car under number 15. This photo shows that it had a windscreen with two wind deflectors of the Zagato type, whereas the remainder of the bodywork retained the Touring finish.

"The following owner, from 05 October 1934 is recorded as Marcello Venturi, also from Rome, who sold it on 03 August 1935 to Luigi Zeloni, a resident from the coast of Lake Como. It subsequently belonged to Oreste Teverelli, then Guido Barsotti. Mr. Barsotti entered the car in the Coppa della Valsassina on 02 May 1935 where it finished second in its category, then on 15 May of the same year at the Grand Prix des Frontières de Chimay in Belgium, he was the victim of a serious accident with the car, which was seriously damaged, as reported by André Biaumet in his work dedicated to the Chimay races."

We understand the crashed remains were put away for a long time by a motorcycle collector from Rome. The car was brought out from obscurity in 1977 by Aldo Cesaro, on information conveyed by Fusi and Bonnini who were then starting to build up the official collection of Alfa Romeos. Photos from the time show a set of saved parts including a short chassis which was subsequently converted into a Monza at an unspecified time. In order to rebuild the car, Aldo Cesaro borrowed several parts from chassis 2311225, through Sandro Barbini. Once it was finished, the car made its first appearance in 1989 at the Mille Miglia. At this time, it took its engine and its manufacturer's plate from the spider with Brandone coachwork, chassis n° 2211110. For a long time at the beginning of the years 2000 the car was the property of Jan Bruijn, the director of the Automuseum in Deventer, in the Netherlands.

Today, the car has regained its manufacturer's plate and components from the original engine. It now has a wide folding windscreen over the width of the body shell.

The chassis has been entirely restored and some spacers have been changed. The elements forming the suspension and the transmission are original with the exception of the fixing elements which have been changed. The timing and the supercharger are original Alfa components. The engine block has been subject to successive repairs to preserve its use. The gear box casing, cylinder head, the steering gear box and the headlights have been replaced.

Fully restored, the car is in presented in good condition and ready for use. Chassis and engine number checks have been satisfactory and the car is eligible for a multitude of rallies, races and tours.