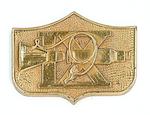 MEDALLION CARRIED ON GEMINI 9.
Shield-shaped medallion, gold-plated sterling silver, 1 inch across. Carried on the Gemini 9 flight by Commander Thomas Stafford. Features the crew mission emblem on the front, the reverse engraved with the flight dates of June 3-6, 1966, and Stafford and Cernan's names.

Accompanied by a Typed Letter Signed by Thomas P. Stafford, which reads in part: "The medallion enclosed with this letter was carried into space during June 3 through 6, 1966 on the Gemini IX mission. I commanded the flight while rookie astronaut Eugene Cernan served as pilot. The medallion is made of sterling silver and one of the very few that were gold plated." He details the flight objectives and the problems encountered, concluding: "We still had a lot to learn about working outside a spacecraft in 1966.
Gemini 9 was originally assigned to fellow astronauts Elliot See and Charlie Bassett. Unfortunately, they lost their lives in a jet crash on February 28, 1966 at St. Louis, Missouri ... Since Gene and I were the back-up crew, we were then assigned the prime crew positions. We never wanted to get the mission assignment this way but the Gemini flight program had to continue."