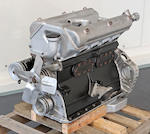 From the Estate of the late John J. Dalessandro
1955 Alfa Romeo 1900C Super Sprint Berlinetta
Coachwork by Zagato
Chassis no. AR1900C02056
Engine no. AR 00204-00914 (see text)
There are few more exciting combinations of names in the field of sports cars than Alfa Romeo together with Zagato. From the earliest days of the Alfa brand, the local coachbuilder was in touch with the demands of Alfas clientele and from their hallowed establishment exquisitely proportioned sports two seaters graced many of the pre-war 6 and 8 cylinder cars with which sporting achievement became synonymous. Into the Fifties and Zagato continued the trend with a select series of exquisite berlinettas, they were clearly back on form. The underpinnings were Alfa's renowned 1900C Super Sprint.

Design of the post-war Alfa Romeos was entrusted to Orazio Satta who embarked upon a systematic evaluation of vehicle dynamics directed at minimizing mass and aerodynamic resistance and maximizing roadholding and handling. The result of Satta's design philosophy and systematic refinement of design parameters was the Alfa Romeo 1900.

The 1900 debuted in late 1950 as a 4-door saloon, of unit body design which employed parallel A-arm front suspension and a lightweight live rear axle with coil springs and tubular shocks. In this form it was powered by a 1,884cc iron block, aluminum head, dual overhead camshaft, four-cylinder engine making a modest 80 horsepower when introduced, but the Alfa Romeo 1900's performance credentials were soon endorsed with the 100 horsepower 1900C which Italian coachbuilders quickly recognized as the ideal basis for low production and individual custom coupé and spyder bodies. Further performance development brought the 1900 to its ultimate specification with 1,975cc and 115 horsepower, the 1900C Super Sprint and 1900 T.I.

There can be no denying that Touring and Pinin Farina also created desirable coupés and cabriolets, but the ultimate Alfa Romeo 1900Cs were the few, select, Zagato cars. Intended for racing, only 39 "esse esse zetas" were built. Their aerodynamic efficiency and light weight extracted the maximum from Alfa's 1900 design and the 1955 Alfa Romeo 1900C Super Sprint Zagato Competition Berlinetta offered here has been described as one of the finest examples of this exclusive high performance Alfa Romeo in existence.

Originally delivered to racing cyclist Mario Binda in Milan on 5th August 1955, chassis '02056' was soon exported to the USA where by 1961 it was owned by one J C Edwards in California. At this time the engine block and cylinder head were replaced with Alfa Romeo 2000 equivalents, before the car was acquired by Jay Jacobs and then Philip Musser of Pt. Richmond. In the late 1980s well-known Alfa Romeo connoisseur Said Marouf purchased '02056' for his world class Alfa collection, entrusting it to multiple trophy winning restorers Paolo and Nino Epifani in Berkeley (CA) for a complete rebuild to the highest standards. Chassis '02056' was displayed at the Pebble Beach Concours d'Elegance in 1990 where it achieved third place in its class against the most intense competition in the world. Little used subsequently, it was acquired from Mr Marouf via Brooks/Bonhams by the former Dutch owner in January 2001 with only 2,000 post-restoration km showing on its odometer.

Upon re-importation to Europe '02056' was stripped and repainted in deep Burgundy red by Fabio Calligaris in Milan and the original 1900 Super Sprint Abarth exhaust system was restored. The car was twice displayed at the Palace Het Loo Concours where it won the Alfa Romeo class in 2003 and at the Schwetzingen European Concours in 2003 where it was the winner of the post-war Alfa Romeo class. In 2005 it was an invited participant in the 2005 Concorso di Eleganza at Villa d'Este.

While in its previous ownership, its former owner a noted connoisseur of the marque once commented to Bonhams that "The car's handling is light and predictable, completely different from the much heavier feeling Touring bodied cars. The suspension is very well set up: sporty but comfortable. One can drive the car all day, even on the highway. The lighter weight is very clear and the looks of the Zagato body are outright great! The handling is better than a period Ferrari and its drum brakes are certainly superior to Ferrari drums. Room inside is very adequate with long legged seating, enough space for one's head and even two children can be taken on the road in comfort. Even the boot accepts enough luggage for travel. It is an amazing combination of speed, style, elegance and practicality". There is little more than we can add except to endorse this wholeheartedly.

Shortly after this the car was acquired via Fantasy Junction by Mr. Dalessandro who had wisely been encouraged by his neighboring and enthusiastic Hamptons based car collectors to participate in the famed Mille Miglia retrospective. The Alfa was promptly entered in the 2006 edition, but sadly did not complete. Following extensive refurbishment of the cooling system it returned to Italy the next year where it finished the grueling rally successfully.

Throughout Mr. Dalessandro's ownership the car was fastidiously maintained, for the most part by Cedar Classics while in Europe/UK and after it returned to the USA by Tony Dutton's Northumberland Engineering, for which extensive bills are available on file. While in America its Weber carburetor set up has been completely overhauled to perfect its running and more recently in the lead up to the sale the car has been fully serviced. A spare set of Webers also accompany the car.

When viewed by a Bonhams specialist the car was seen to remain in fine order, its interior, engine compartment, trunk, paint, and bodywork all being immaculate, it is difficult to fault in any respect. Its detail specification extends from Borrani wire wheels with correct Borrani wheel nuts, restored Nardi steering wheel, Nardi shift linkage, the original spare wheel and jack in its original pouch and Marchal driving lights. The Plexiglas side and rear windows, so often scuffed and discolored are in excellent condition.

With FIVA papers, US Title and a large number of bills as well as file of correspondence, and letters from the 1900 Alfa Romeo Register in the UK this is a well sorted, well presented and eminently usable sporting Alfa, eligible for Mille Miglia, Tour Auto or any of the comparable US tours.

A complete separate 1900C SS engine (No. AR1308 – 10022) is also offered with the Alfa and will be forwarded to the buyer at the estate's expense. Note this is illustrated in Bonhams & Butterfields online catalog.