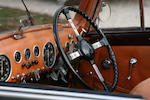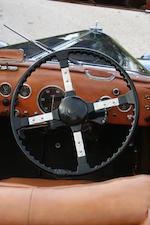 1950 TALBOT LAGO T26
1950 Talbot-Lago T26 Record Cabriolet
Chassis no. 100 008
La Talbot-Lago Record était livrée carrossée par l'usine ou en châssis nu pour être habillée par des carrossiers indépendants. L'exemplaire proposé ici possède une caisse de cabriolet réalisée par Talbot d'une indéniable élégance. Son propriétaire actuel acheta cette voiture en juin 2004 à la succession du Dr Lafarge, résidant à Auterive dans le sud-ouest de la France, au nom duquel elle était immatriculée depuis 1975.

Apparaissant un peu « fatiguée » lors de cet achat, elle a depuis bénéficié d'une remise en état générale réalisée par le mécanicien personnel du propriétaire. Les travaux ont concerné le changement de la chaîne de distribution, les supports moteur et la batterie, la réparation de la caisse, le retraitement des chromes, la réfection des freins (confiée à Etient à Neuilly), le réglage de la carburation et la vérification de la boîte de vitesses présélective Wilson. (Le moteur lui-même n'est pas le groupe d'origine de la voiture bloqué en 1974, mais un moteur Grand Sport fourni par le Garage Rosier de Clermont-Ferrand dont le propriétaire était le célèbre pilote vainqueur des 24 Heures du Mans, Louis Rosier).

Peinte en bleu foncé avec un intérieur en cuir havane qui présente une délicieuse patine, la voiture est offerte avec sa carte grise française et un dossier de documents techniques et de factures.

Représentante des dernières grandes routières sportives d'une célèbre marque française, cette T26 Record ne peut que figurer avec succès dans les plus grands concours du monde tout en étant éligible dans les plus importantes épreuves historiques telles que la Mille Miglia.


This beautifully proportioned Grand Sport Cabriolet is a rare survivor of Talbot-Lago's last defiant gesture against the mindless egalitarianism that was destroying it. The Talbot-Lago story had commenced with the dissolution of the Sunbeam-Talbot-Darracq combine in 1935, when Venetian-born Major A F 'Tony' Lago bought the Darracq factory at Suresnes and continued production, selling his cars as Darracqs in the UK and Talbots in France. The revitalised marque embraced both sports car and Grand Prix racing, and in 1937 achieved victories in the French Grand Prix and the Tourist Trophy; from then on it was an uphill struggle against the might of the German and Italian opposition. There were, however, many notable successes in the immediate post-war years, including three Grand Prix wins for French Champion Louis Rosier and victory at Le Mans.

The first Lago-built cars retained the existing X-braced, independently front suspended chassis, but were powered by new six-cylinder engines designed by Walter Becchia, in sporting guise featuring inclined overhead valves set in hemispherical combustion chambers and opened via pushrods by a single camshaft mounted in the block. The marque's ultimate pre-war road car - the 4.0-litre Lago Special - produced 165bhp and was good for more than 160km/h (100mph). This successful series of cars was later renamed 'Talbot-Lago' and Becchia's engine would be one of the few that saw service in Grand Prix cars both before and after WW2.

The model was revived in 1946 as the 'T26 Record', now sporting hydraulic brakes, a Wilson pre-selector gearbox and a 4½-litre, twin-cam version of the classic long-stroke overhead-valve engine producing 170bhp. Its 'T26' designation had been used before – for the 4½-litre GP racers in the late 1930s – and referred to the car's taxation rating of 26CV. For serious competition work there was the short-wheelbase 'Grand Sport' with a 190bhp version of the new '2AC' engine featuring an aluminium-alloy cylinder head and triple carburettor induction, and it was this model that formed the basis of the Rosiers' 1950 Le Mans winner as well as the monoposto Grand Prix car. Further development kept the Talbot-Lago competitive at Le Mans for a few more seasons.

However, by the early 1950s the company was in serious financial difficulty as a result of the French government's taxation policies which heavily penalised cars of over 3.0 litres; sales fell from 433 in 1950 to just 80 in 1951. Despite the fact that a Saoutchik-bodied Record had been chosen as the official car of French President Vincent Auriol to symbolise national automotive prestige, the country's socialist government introduced a vindictive regime of taxation, based on engine capacity, which destroyed the French luxury car industry overnight.
The Record was available with factory bodywork or as a rolling chassis for bodying by independent coachbuilders, and the example offered here has Talbot Lago's own undeniably handsome cabriolet body. Its current owner bought the car in June 2004, from the executors of the late Dr Lafage, a resident of Auterive in south-western France, in whose name it had been registered since 1975.

The car was a little 'tired' when purchased and has since benefited from extensive refurbishment undertaken by the owner's personal mechanic. Work carried out has included fitting a new timing chain, clutch, engine mounts and battery, repainting the bodywork, re-plating the brightwork, overhauling the brakes (done by Etient at Neuilly, invoice available), adjusting the carburetion and checking the Wilson pre-selector gearbox. (The engine itself is not the car's original, which had seized in 1974, but a Grand Sport unit supplied by Garage Rosier in Clermont-Ferrand, whose proprietor was the famous Le Mans winner, Louis Rosier).
Finished in dark blue with tan leather interior, the latter possessing a delightful patina, the car is offered with French Carte Grise and a file of technical documents and invoices. Representing the last glorious flowering of a great French marque, this T26 Record would be a welcome invitee at prestigious concours events around the world and is also eligible for important historic competition events such as the Mille Miglia.
Saleroom notices
The chassis number 100 008 is incorrect in the catalogue and should read 101 008. Le numero de chassis 100 008 indiqué au catalogue est erronée. Cette voiture porte le numero de chassis 101 008.