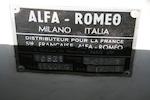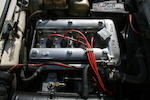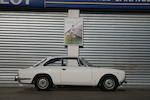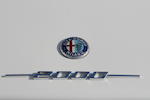 The ex-Fernand Masoero, Mont Ventoux hill climb, class-winning
1972 Alfa Romeo 2000 GTV Group 1 Coupé
Chassis no. 2428889
Introduced as a more powerful derivative of the original 105-Series Giulia Sprint GT Coupé, the 2000 GTV was one of the last classic Alfa Romeo designs developed under the leadership of Orazio Satta Puliga, one of the greatest of Italian automobile engineers, who had been responsible for all the post-war Alfas.

First introduced in 1962, the early Giulia differed from the outwardly similar 101-Series Giulietta by virtue of its more powerful and much less fussy 1,570cc engine, which continued when the new 105-Series Giulia was introduced later that same year. Despite its boxy, unitary construction body the newcomer was a paragon of aerodynamic efficiency and possessed a distinctly sporting nature, the 92bhp produced by its classic twin-cam four-cylinder engine making the Giulia TI a genuine 100mph car. Under the skin the Giulia featured a five-speed manual gearbox, independent front suspension, coil-sprung live rear axle and - apart from early cars - disc brakes all round, a formula that carried over into the coupé version, the Giulia Sprint GT.

Launched in 1963 the Sprint GT was clothed in beautifully balanced four-seater coachwork designed by Carrozzeria Bertone's Giorgetto Giugiaro but now manufactured at Alfa's new Arese factory. It represented a successful attempt to produce a typically sporting Alfa coupé for the young family man, a modestly priced four-seater combining the elegance of a Bertone-designed body with the performance of a twin-cam engine.

As one would expect from Alfa Romeo, there was also a competition version - the 'GTA' - the 'A' standing for alleggerita – lightened. Produced in road and race variants, the latter, as usual, being the responsibility of Autodelta, the GTA made its racing debut on 20th March 1966 at Monza, Andrea de Adamich and Teodoro Zeccoli triumphing in the Jolly Club Four-Hour Race. From then on the Autodelta-prepared GTAs enjoyed outstanding success, winning the European Touring Car Championship three years running from 1966-68.

Introduced in 1971, the 2000 GTV was the final version of the classic 105-Series Alfa Romeo. There were no major styling changes made by Bertone, merely a new grille, the body remaining the same as the preceding 1600 and 1750 models. Representing the final enlargement of Alfa's legendary twin-cam four, the 1,962cc engine produced 132bhp, which was delivered to the road via a five-speed gearbox and limited-slip differential. Torquier than its 1750 predecessor, the 2000 GTV was good for a top speed of 120mph.

This particular 2000 GTV was supplied by the factory to Fernand Masoero, the largest official Alfa Romeo dealer in South Eastern France. Specially prepared for him by Alfa Romeo, the engine is reputed to produce around 150 horsepower courtesy of – it is believed – special camshafts and a factory exhaust system. Other noteworthy features include a competition clutch, close-ratio gearbox, special brakes and an FIA four-point roll cage. Driven by Fernand Masoero, this car won its (Group 1) class at the celebrated Mont Ventoux hill climb on no fewer than three occasions: in 1972, '73 and '76. Fernand Masoero last used the car on the Jean Rolland Memorial rally in 1997.

The car was sold to the second owner, a Parisian collector, at the Masoero Collection auction in Paris in 1998 and was driven by him on the Tour Auto in 2004 and 2005. It was bought by the current owner two years ago. Since acquisition body has been restored and the car is presented today in absolutely superb condition throughout, ready for another Tour Auto or Monte Carlo Historique. It is offered with FIA/FFSA Passport and French Carte Grise. Certainly the most competitive Bertone coupe.




Cette 2000 GTV fut livrée par l'usine à Fernand Masoero, le plus important distributeur Alfa Romeo du sud-est de la France. Spécialement préparé pour lui par Alfa Romeo, le moteur est réputé délivrer 150 ch grâce, probablement, à des arbres à cames spéciaux et à un échappement d'usine spécial. Elle bénéficie en outre d'un embrayage compétition, d'une boîte à rapports rapprochés, de freins spéciaux et d'un arceau-cage homologué FIA. Pilotée par Fernand Masoero, cette voiture a remporté sa catégorie (Groupe 1) à la célèbre course du Mont Ventoux en 1972, 73 et 76. Fernand Masoero l'a conduite pour la dernière fois au Rallye du Memorial Jean Rolland en 1997.

La voiture a été acquise lors de la vente de la collection Masoero à Paris en 1998 par son deuxième propriétaire, un collectionneur de Paris, qui l'a engagée au Tour Auto en 2004 et 2005. Acquise par l'actuel propriétaire il y a deux ans, elle a été restaurée en carrosserie et elle se présente aujourd'hui dans un magnifique état sur tous les points prête à participer au Tour Auto ou au Monte Carlo Historique. Accompagné de son passeport FIA/FIVA et de sa carte grise française, c'est très certainement le coupé Bertone le plus compétitif qui soit.