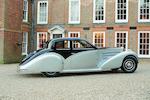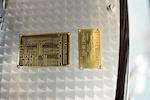 1937 Bugatti Type 57
Chassis no. 57546
Engine no. 400
Ventoux coachwork by Gangloff
Colour: Grey and black

The Type 57 - arguably the finest road-going Bugatti of all – was unveiled at the 1933 Paris Salon. Its overall design owed much to the influence of Ettore Bugatti's talented young son Jean (Gianoberto) who, although only in his mid-20s, possessed a remarkable talent for styling allied to a keen grasp of technical matters. Essentially a completely new design, the Type 57 was a refined 3.3-litre twin-cam straight-eight that finally gave the Bugatti marque a civilised road car that could match rival products from Delage and Delahaye. Its performance was prodigious; the Type 57 was capable of maintaining an average speed of 60 mph on the ordinary roads of the 1930s and Jean Bugatti later boasted of being able to cover the 435 kilometres that separated his Molsheim factory from Paris in just under three and a half hours, a door-to-door average of some 77 mph. Even though it had been designed as a fast road car, the Type 57 had tremendous track potential, and in its ultimate T57G "tank" racing guise, it brought Bugatti victory in the final prewar Le Mans 24-hour race in 1939, ending a 12-year run of English and Italian victories.
The success of the new Bugatti is reflected in its production figures: some 680 examples of all models (supercharged and unsupercharged) of the T57 were produced between 1934 and 1940, and the postwar T101 was based on the T57 chassis.

In its original unblown form, the Type 57 was an outstanding performer, with ultra-sharp handling allied to a silent, smooth-running engine: it was one of an exclusive handful of cars available in the 1930s capable of 100 mph on the open road. Added refinement was introduced at the end of 1936 when the engine was rubber-mounted in a heavier chassis with more cross-bracing, a different design of exhaust manifold was fitted and a new dashboard with two instrument panels was fitted.
The car offered here is one of that improved "Series 2" design with the benefit of hydraulic brakes and telescopic shock absorbers and was originally purchased by a M Louis Roussel. Type 57 No 57546 was driven out of the Bugatti works at Molsheim in chassis form on 11 May 1937, en route to the Gangloff coachworks in Colmar, a drive of some 55 km. Though Bugatti had its own bodyshop, demand for the T57 series was such that it could not keep up with the production of chassis, and so many were bodied by the Colmar Gangloff factory, a subsidiary of Switzerland's most fashionable coachbuilder set up in 1919 to cushion the parent company from falling demand for bespoke bodywork in its own country, where it had been extablished since 1830. At first the Colmar Gangloff company had operated in rented accommodation in the old-established Wiederkehr coachworks, but in 1930 Gangloff purchased Wiederkehr. Gottlieb Moor and Paul Horlacher, two Swiss nationals who had joined Gangloff in 1927, became joint managing directors and established a close relationship with Bugatti. Accordingly, Gangloff of Colmar became Bugatti's most important outside coachbuilder, producing as many as five bodies in a month.

The naked chassis were driven to the Gangloff coachworks in the Rue Stanislas in Colmar by members of the Bugatti staff, among them works racing driver René Dreyfus, who regarded the taxing journey, often undertaken in bad weather, as an excellent form of training for forthcoming competitions. After test-driving an early Type 57, which covered a flying kilometre at over 100 mph and took just 39 seconds for a standing kilometre, Dreyfus, who drove his cars hard and fast, was unstinting in his praise: "Vraiment une voiture fantastique!" was his verdict.
While the general lines of most bodies built on the Type 57 chassis by Gangloff broadly followed those laid down by Jean Bugatti, the Bugatti works sent no drawings to Gangloff, so that all the 180 or so Type 57 bodies built at Colmar were entirely their own creation. Heading the small design office at Gangloff – it had a staff of just two, producing some 25 drawings a week – was its talented young chief designer Lucien Schlatter, a self-taught artist who had joined Gangloff as an apprentice designer in 1934, just after his 14th birthday and worked there until his retirement in 1980. This car was one of his creations, built from drawing No 3719 dated 29 April 1937 and differs in several subtle and unique respects from the "works" Ventoux design, including a wooden dashboard with Jaeger instruments similar to that used on the supercharged Type 57C model and luxurious padded seats.

Its first owner, Louis Roussel, owned a textile factory in La Bresse in the Vosges mountains, not far from Gerardmer. The Bugatti was first registered as "8815 ZQ2" on 19 June 1939 in the name of "Société Textile de la Bresse" and was, according to M Roussel's late son Jacques, painted in two tones of cream or light brown. Louis Roussel retained the car during the wartime Occupation of France, but in 1944 or '45 it was commandeered by a Colonel in the FFI Resistance force for his own use, and was subsequently sold by the "Domaine" (French State).

It was registered "4671RP6" in Paris on 30 January 1947, but apparently remained in the Darl'Mat agency of prewar Le Mans racer Charles de Cortanze, where it was purchased by Pierre Cros of "Pannesseau Castel" in Theuse (Dordogne) on 2 April 1948. At the time the car was painted cream and black, with red leather upholstery; the seats were restored in the USA to the original pattern. During his ownership, some work was carried out by noted Bugattiste Ernest Friderich of Nice.
M Cros sold his Bugatti to garagiste Auguste Bottero of Port-Sainte-Foy, near Perigueux, who registered it as "124AQ24"; Bottero also owned a Type 43 GS that he later sold to collector Du Montant.

On 19 January 1960 he sold the car to F. Chevalier of Bergerac, former director of Paul Ricard race course, who kept the car less than two years before it passed to its next custodian, J.D. McLean of the United States.
In 1969 he sold the car to Dr Richard Riddell, a Pastpresident of ABC who had a complete body-off restoration carried out by Tom Beauchamp and an engine rebuild by Phil Reilly between 1984-89; the car was subsequently shown in top concours events including Pebble Beach and was acquired by its present owner in 1998. T57 authority Pierre-Yves Laugier describes the car as being in very good original condition, "even the bumpers are original… very few details have been modified over the years."
In the hands of the current owner, who believes in regular use of historic vehicles, the car has been given a full mechanical overhaul and has covered some 11,000 miles in major tours and rallies. It was inspected for its FIVA Passport by noted marque expert Terry Cardy. During the summer of 2005 it was displayed at the headquarters of the Bugatti Trust at Prescott. Though it is some two decades since it was restored in the USA, its paintwork is still in good condition, with that special patina that only careful use can bring. The Bugatti comes with a comprehensive history and service file with invoices by respected marque specialists such as Crosthwaite & Gardiner, Tim Dutton and Gianni Torelli.



1937 Bugatti Type 57
Carrosserie Ventoux de Gangloff

Châssis no. 57546
Engine no. 400
Couleur : Grise et noire

La Type 57 – probablement la meilleure de toutes les Bugatti de route – a été dévoilée au Salon de Paris en 1933. Le dessin général a été imaginé principalement par Jean (Gianoberto), le jeune et talentueux fils d'Ettore Bugatti qui, bien que seulement âgé d'une vingtaine d'années, possédait non seulement un talent remarquable pour la conception mais également une excellente maîtrise des points techniques. Bénéficiant d'une toute nouvelle carrosserie, la Type 57 disposait d'un moteur 8 cylindres en ligne de 3,3 litres double arbre à came offrant à la marque Bugatti un modèle de tourisme confortable qui rivalisait avec les véhicules des concurrents Delage et Delahaye. Ses performances étaient prodigieuses. La Type 57 était capable de se maintenir à une vitesse moyenne de 96 km/h sur les routes des années 30. Jean Bugatti s'est vanté plus tard d'avoir couvert les 435 kilomètres séparant son usine de Molsheim à Paris en un peu plus de trois heures et demi, une moyenne porte à porte d'environ 124 km/h. Même si elle a été conçue pour être une voiture grand tourisme rapide, la Type 57 avait un énorme potentiel sur circuit. Dans sa toute dernière version de course T 57 G "Tank", elle amena Bugatti à la victoire lors de la dernière édition des 24 Heures du Mans d'avant-guerre en 1939, mettant fin à 12 ans de suprématie des voitures anglaises et italiennes.
Le succès de la nouvelle Bugatti a rejailli sur ses chiffres de production : environ 680 exemplaires tous modèles confondus (avec ou sans compresseur) de T 57 ont été produits entre 1934 et 1940. La T101 d'après-guerre a repris le châssis de la T 57.
Dans sa version originale, la Type 57 était un remarquable phénomène, bénéficiant d'une maniabilité exceptionnelle alliée à une moteur silencieux au fonctionnement doux. Elle comptait parmi les quelques voitures disponibles dans les années 30 capables d'atteindre les 160 km/h sur route ouverte. De nouvelles améliorations ont été apportées fin 1936 : le moteur a été monté sur silent-bloc en caoutchouc sur un châssis plus lourd renforcé, un nouveau collecteur d'échappement a été installé et un nouveau tableau de bord à double instrumentation a été adapté.
La voiture proposée ici est une "Série 2" au design retravaillé bénéficiant de freins hydrauliques et d'amortisseurs télescopiques, achetée à l'origine par un certain M. Louis Roussel. Cette Type 57 No 57546 avait été transférée depuis les ateliers Bugatti de Molsheim sous forme de simple châssis le 11 mai 1937, en direction des locaux de carrosserie de Gangloff à Colmar, distant d'environ 55 km. Lorsque Bugatti disposa de sa propre carrosserie, la demande pour ces séries T 57 fut telle qu'il ne fut pas possible de maintenir le rythme de production de châssis. De nombreuses voitures furent montées dans l'usine Gangloff de Colmar, une filiale du plus renommé carrossier suisse fondée en 1919 et ce, afin de préserver la société mère de la chute de la demande de carrosseries sur mesure dans son pays, où elle était établie depuis 1830. A ses débuts, la société Gangloff de Colmar a travaillé dans des locaux loués dans les ateliers du carrossier Wiederkehr. En 1930, Gangloff a racheté Wiederkehr. Gottlieb Moor et Paul Horlacher, deux ressortissants suisses qui avaient rejoint Gangloff en 1927, sont devenus directeurs adjoints et ont établi une proche collaboration avec Bugatti. De ce fait, la société Gangloff de Colmar est devenue le plus important fournisseur extérieur de carrosserie de Bugatti produisant cinq voitures par mois.
Les châssis nus étaient conduits vers les ateliers de carrosserie Gangloff de la rue Stanislas à Colmar par des membres de l'équipe Bugatti, parmi lesquels on trouvait le pilote René Dreyfus, qui voyait dans ce travail d'acheminement de véhicules, se déroulant souvent par mauvais temps, un excellent moyen de s'entraîner pour les prochaines courses. Après avoir accompli un test routier au volant d'une des premières Type 57, Dreyfus couvrit un kilomètre entier à plus de 160 km/h et ne mit que 39 secondes pour réaliser un kilomètre départ arrêté. Ce-dernier, qui avait une conduite rapide et agressive, fut très élogieux : "Vraiment une voiture fantastique !"
Même si les lignes générales des carrosseries construites par Gangloff sur le châssis de la Type 57 suivaient largement celles fixées par Jean Bugatti, les ateliers Bugatti n'envoyaient pas de schéma à Gangloff, si bien que les quelque 180 exemplaires de Type 57 fabriqués à Colmar ont été de véritables créations. À la tête du modeste bureau de design de Gangloff – simplement composé de deux personnes, produisant environ 25 dessins par semaine – se trouvait le talentueux jeune chef designer Lucien Schlatter. Artiste autodidacte, il avait rejoint Gangloff en tant qu'apprenti designer en 1934, juste après son 14ème anniversaire. Il a travaillé à ce poste jusqu'à son départ à la retraite en 1980. Cette voiture est une de ses créations. Construite à partir du dessin No 3719 daté du 29 avril1937, elle est différente sous plusieurs petits aspects par rapport à la version Ventoux « d'usine » : un tableau de bord en bois avec une instrumentation Jaeger comparable à celle installée sur le modèle Type 57C à compresseur et des sièges capitonnés luxueux.
Son premier propriétaire, Louis Roussel, possédait une usine textile à La Bresse dans les montagnes vosgiennes, tout près de Gérardmer. La Bugatti a été immatriculée pour la première fois « 8815 ZQ 2 » le 19 juin 1939 au nom de la « Société Textile de la Bresse ». Selon Jacques, le fils de M. Roussel, la voiture était peinte en deux tons crème et marron clair. Louis Roussel a conservé la voiture pendant l'Occupation, mais en 1944 ou 45 elle a été réquisitionnée par un colonel des forces de Résistance FFI pour son propre usage, et vendue par la suite par les Domaines.
Elle a été immatriculée « 4671 RP 6 » à Paris le 30 janvier 1947, avant de rester semble t il dans l'agence Darl'Mat du pilote du Mans d'avant-guerre Charles de Cortanze, où elle a été achetée par Pierre Cros des "Pannesseau Castel" à Theuse (Dordogne) le 2 avril 1948. À cette époque, la voiture était peinte en crème et noir, avec une garniture d'intérieur en cuir rouge. Les sièges ont été restaurés aux USA conformément à l'origine. Pendant cette période, quelques travaux ont été réalisés par le célèbre Bugattiste Ernest Friderich de Nice.

M. Cros a vendu sa Bugatti au garagiste Auguste Bottero de Port-Sainte-Foy près de Périgueux, qui a été immatriculée « 124 AQ 24 ». Bottero possédait également une Type 43 GS qu'il a vendu plus tard au collectionneur Du Montant.
Le 19 janvier 1960, il a vendu la voiture à F. Chevalier de Bergerac, ancien directeur du circuit Paul Ricard, qui l'a gardée moins de deux ans avant qu'elle ne passe dans les mains d'un nouveau propriétaire J.D. McLean installé au États-Unis.

En 1969, il a vendu la voiture au Dr Richard Riddell, un ancien président d'ABC, qui a confié sa restauration à Tom Beauchamp et la réfection du moteur à Phil Reilly entre1984 et 1989. La voiture a ensuite été exposée dans les plus grands concours d'élégance dont Pebble Beach. Elle a été acquise par son nouveau propriétaire en 1998. Pierre-Yves Laugier, une référence en matière de Type 57, décrit la voiture comme étant en excellent état général, « même les pare-chocs sont d'origine… très peu de choses ont été modifiées au cours des années."
Dans les mains de son propriétaire actuel, militant pour que les véhicules historiques roulent régulièrement, la voiture a profité d'une révision générale et a parcouru environ 17 700 kilomètres dans les principaux tours et rallyes. Elle a été inspectée afin d'obtenir son passeport FIVA par le fameux expert de la marque Terry Cardy. Durant l'été 2005, elle a été exposée au siège du Bugatti Trust à Prescott. Bien que sa restauration aux USA date d'environ 20 ans, sa peinture est toujours de bonne tenue, avec une patine particulière que seul un usage soigné peut conserver. La Bugatti est fournie avec un dossier complet sur son histoire et son entretien avec les factures de spécialistes renommés de la marque comme Crosthwaite & Gardiner, Tim Dutton and Gianni Torelli.