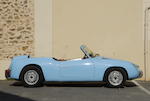 1958 FIAT-Abarth 750 Zagato Spider
Coachwork by Zagato
Chassis no. 100.316814
Engine no. 214.1490
An innovative concern with a sporting pedigree second to none, Abarth branched out from producing induction and exhaust systems into selling performance kits for - mainly FIAT - production cars, later building a succession of aerodynamically stylish sports prototypes and limited-series production cars.
One of Carlo Abarth's most successful series of GT cars was based on the FIAT 600, the first of these handsome little Zagato-bodied coupés - the 750 - appearing in 1956. The 600 chassis was used with scant modification apart from changing spring rates and up-rating the front brakes to twin-leading-shoe operation, yet despite this apparent handicap coped remarkably well with the Abarth's greatly increased performance. The latter was achieved by boring and stroking the 600's 633cc four-cylinder engine to 747cc and modifying or replacing just about every other component, the result being an increase in maximum power from 23bhp at 4,000rpm to 44bhp at 6,000 revs. Tested by The Autocar magazine in 1958, the Abarth Zagato 750 GT scorched through the standing quarter-mile in 20 seconds on its way to maximum speed of 95mph, outstanding figures for such a small-engined car.
Its makers were well aware of the potential market for a soft-top or Spider version, and the first of these was exhibited at the Turin Auto Show in 1957. A second car was shown the following year, but Zagato was far to busy turning out coupés to devote much time to Spider production, and it is believed that only 2-4 cars of this type, each one unique, were ever constructed.

We are advised that this Zagato Spider's first owner is believed to be famous French comic actor Fernandel (Fernand Contandin) according to information (not confirmed) provided by the Departement des Cartes Grises, which had traced the registration number. The car was bought by the current owner circa 1980, having previously been in barn storage, and has been restored by him. The coachwork is constructed of aluminium, except for part of the rear, while the engine has been replaced (by another Abarth unit). Although not illustrated, the correct Abarth hubcaps come with the car. Offered with French Carte Grise, this delightful little Zagato Spider represents a rare opportunity to acquire a unique example of this foremost carrozzeria's work.

€42,000 – 48,000

Nous sommes informés que le premier propriétaire de cette Zagato Spider aurait été le célèbre acteur comique français Fernandel (Fernand Contandin) d'après les informations (non confirmées) fournies par le Service des Cartes grises qui a recherché le numéro d'immatriculation. La voiture a été acquise par l'actuel propriétaire vers 1980 après avoir séjourné dans une grange, puis restaurée par ses soins. La carrosserie est en aluminium (à l'exception de certaines parties à l'arrière), tandis que le moteur à été changé (remplacé par un autre groupe Abarth). Non visibles sur l'illustration, les chapeaux de moyeu Abarth corrects sont bien présents sur la voiture. Proposée avec sa carte grise française, cette délicieuse Abarth Zagato Spider est une rare occasion d'acquérir un exemplaire unique d'une importante création de la célèbre Carrozzeria.
Saleroom notices
This Lot has been withdrawn