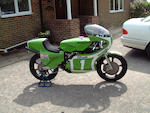 The ex-Kork Ballington, World Championship-winning
1978 Kawasaki KR250 Racing Motorcycle
Frame no. to be advised
Few machines in Grand Prix racing's modern era have enjoyed such a lengthy period of dominance as the Kawasaki 'tandem twins' which ruled the 250 and 350 classes from 1978 to 1982, winning 72 GPs and securing eight World Championships for the Japanese manufacturer.

A radical design, the KR250/350 employed the rotary inlet valves that had been a feature of previous Kawasaki two-strokes, but avoided the associated disadvantage of excess width (when applied to a conventional parallel twin) by using two inline cylinders with separate geared-together crankshafts. As well as the advantage of asymmetrical inlet timing, the use of direct crankcase induction via rotary disc valves enabled an extra transfer port to be accommodated in the cylinder where the inlet port would have been, while the tandem arrangement also left more room for the side transfer ports.

After an inauspicious debut season in 1975, the KR250 took a Grand Prix sabbatical in 1976, returning to the fray in '77 in heavily revised form with altered crankshaft phasing and monoshock rear suspension. Mick Grant scored the KR's debut GP victory at Assen that year and followed up with a win in Sweden, but it was not until Kork Ballington's arrival the following year that the KR posed a serious championship threat. The South African went on to secure both the 250 and 350 World Championships in 1978 and '79, while German Anton Mang took the 250 World Championship in 1980 and '81 and the 350 title in 1981 and '82.

This machine once formed part of the private collection of Stan Shenton, Team Manager from 1974 to the end of 1978 of Kawasaki's UK-based international racing programme run by Boyer of Bromley. It is one of the batch supplied new for the 1978 Grand Prix season and ridden by Kork Ballington to victory in the Italian, Finnish, West German and Czechoslovak rounds that year. Ballington also finished second twice, third twice and fourth twice on this machine on the way to his first 250 crown.
The machine was acquired by Mr Shenton in 1983 from Ken Suzuki, who had been Assistant Team Manager at Boyer and acted as liaison officer with the Kawasaki factory. Identification was established at that time by Mr Shenton and his son Stuart, who had been one of Kork Ballington's two mechanics and thus was very familiar with the machine. It has recently been restored by Nigel Everett, one of Mick Grant's mechanics on the Kawasaki team in the late 1970s, who also has confirmed its authenticity, and was acquired by the present owner in 2002.

A rare opportunity to acquire a genuine, ex-works, World Championship-winning racing motorcycle of impeccable provenance and presented in excellent condition throughout.