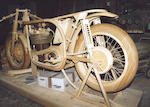 1998 Norton 'Planx' Manx
This amazing project was started in 1998/99 and took five years of its creator's spare time to complete. Every single part of this Norton Manx is made of wood: American black walnut for the crankcase and cam-box, birch for the cylinder barrel and 'head, maple for the frame, forks and swinging arm, pine for the rims and hubs, and oak for the tyres. Other timbers are used in smaller quantities: ramin dowel for spokes, bamboo for cables, tulip wood (poplar) for control levers, etc, and the machine is finished in a clear lacquer. The 'leaking' oil can is included in the sale.

On completion in 2004, the 'Planx Manx' was displayed at Squires Café Bar, Sherburn-in-Elmet for two months and then at the Horncastle headquarters of Mortons Media Group, who exhibited it at the Stafford and NEC shows. In the months immediately preceding this sale it has been on display at the National Motorcycle Museum. In its short lifetime, this unique work of art has become one of the most famous motorcycles of all time, featuring in Classic Bike Guide, Classic Racer, Old Bike Mart and Classic Motorcycle Mechanics magazines.

Its creator gratefully acknowledges the assistance of well-known Manx Norton specialists Summerfield Engineering and Gerry Kershaw (engine builder to another famous Manx re-creator, Andy Molnar) without whose assistance it could not have been built. These helpers loaned original Manx parts for copying, ensuring that the build is to engineering standards. The bike incorporates very few compromises, but some things possible in metal are impossible or impractical in wood, so there are a few minor differences.

Presented in very good condition throughout - guaranteed oil tight and woodworm free - this truly wonderful machine is eloquent testimony to its creator's prodigious ingenuity, skill and determination.