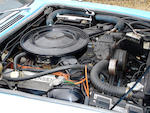 1973 Jensen Interceptor Series III Convertible
Registration no. WFH 885M
Chassis no. 2340 PP001
Engine no. 4C12211
A major development in the evolution of Jensen's Chrysler V8-engined Interceptor was the announcement of a Convertible version on the MkIII chassis in March 1974. By this time most other manufacturers had abandoned the convertible ahead of an expected US ban. When the latter failed to materialise, Jensen was left in a strong position, selling 467 Convertibles in the next two years. Today the Interceptor Convertible is one of Jensen's most sought after models.
For a vehicle to have been owned by one world-famous author is unusual enough, but the well-known Interceptor Convertible offered here has belonged to two, having been sold new to Harold Robbins and subsequently acquired by Frederick Forsyth, its current owner. Best-selling American author Harold Robbins had a hit with his debut novel, Never Love a Stranger (1948) and several of his subsequent works became best sellers, including The Carpetbaggers (1961) and The Betsy (1971), both of which were made into feature films. Like the late Harold Robbins, Frederick Forsyth has written a succession of major best sellers, many of which have been turned into box-office hits including The Day of the Jackal (1971), The Odessa File (1972) The Dogs of War (1974) and The Fourth Protocol (1980).
Chassis number '2340 PP001' is the first right-hand drive Convertible made, and was driven briefly in the UK by Harold Robbins before he returned to the USA. Left in storage, the car subsequently underwent extensive restoration circa 1991/92 at Marksdanes Classic Cars, of Shepton Mallet at a cost of around £40,000. It was purchased by Frederick Forsyth (its fourth owner) approximately 3-4 years ago and re-sprayed powder blue (from Storm Red) in 2003. The vehicle is cosmetically presented in good condition, having covered only a limited mileage from new, and offered with Marksdanes' list of parts/materials used, assorted restoration photographs, sundry invoices, current MoT/road fund licence and Swansea V5.