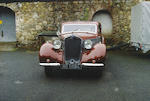 The Earls Court Motor Show
1937 Delage D6-70 Sports Saloon
Coachwork by Coachcraft
Registration no. MG 5584
Chassis no. 51277
Engine no. 51277
"Delage have to their credit many world's records, including a world's championship, and more awards at the principal Concours d'Elegance than any other car in the world… To these achievements Delage have added a third and greater. They have made the highest known degree of luxury and performance available at the price the average motorist can pay."
Delage's publicity had every right to sing the praises of what, arguably, was the finest French car of its day. Following the take-over by Delahaye in 1935, Delages were built to Delahaye designs but retained their own superior short-stroke engines and hydraulic brakes. Introduced for 1937, the D6-70 was powered by Delage's own powerful 2,729cc overhead-valve 'six' and would prove fast, and durable, enough to win the Tourist Trophy at Donington Park in 1938 and secure a brace of Le Mans 24-Hour second places: to a Bugatti Type 57 in 1939 and a Ferrari 166 ten years later.
This most well known Delage D6-70 was exhibited on the company's stand at the 1937 Earls Court Motor Show, featuring prominently in The Motor magazine's review in 1938 and again 50 years later in January 1988 in an illustrated article by John Simister. It also appears in William Stobbs' authoritative work, Les Grandes Routières - France's Classic Grand Tourers. 'MG 5584' wears attractive Vita sports saloon coachwork by the West London-based firm of Coachcraft, who were responsible for bodying imported Delages to the manufacturer's specifications. The car was mechanically restored by its previous owner - an engineer at GKN - in 1984 and acquired by the vendor six-or-so years ago. Bodily restored, re-wired, repainted and re-trimmed in 2001. This exciting French thoroughbred is offered with an extensive file detailing its history from new, and possesses a Swansea V5 registration document.