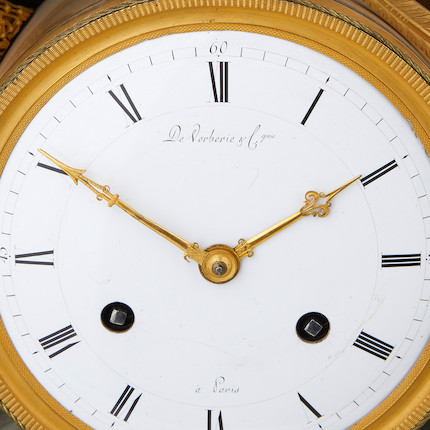 A fine early 19th century French gilt and patinated bronze mantel clock depicting a pair of lovers
De Verberie & Company, Paris
21 November 2023, 13:00 GMT
London, New Bond Street
Ask about this lot
Kafayat Zaria-Suleiman
Sale Coordinator
A fine early 19th century French gilt and patinated bronze mantel clock depicting a pair of lovers
De Verberie & Company, Paris
Each figure wearing a headdress and feather skirt, the man with a bow and arrow, his companion holding a pineapple and wearing beaded necklaces and standing with her back to him, leaning into his embrace and gazing into his eyes, both standing on a patinated rocky outcrop with applied gilt foliage and flowers, raised on a bow-ended plinth with cast panel depicting a burning torch, on six turned feet. The signed 5 inch white enamel Roman dial with minute track including Arabic quarters and good matching gilt hands framed by an engine turned bezel. The twin spring barrel movement with circular plates, silk suspension and outside countwheel strike on a bell, the pendulum bob in the form of a pair of flaming hearts pierced by an arrow. Ticking and striking. Together with a winding key.
55cms (21.5ins) high.
Footnotes
Provenance
Segoura Antiquaires, Paris 1996.

The drawing for this model by De Verberie dated 1799 is held in the Cabinet d'Estampe of the Bibliotheque Nationale, Paris.

Comparative literature
H. Ottomeyer and P. Proschel, Vergoldete Bronzen, 1986, ill. 5.15.29
P. Kjellberg, La Pendule Française, 1997, pp.356-357, fig. B - C.
J-D. Augarde, Les Ouvriers du Temps, Antiquorum and the Trustees of the Wallace Collection, p. 158, fig.125.
Ramon Colon de Carvajal, Catalogo de Relojes del Patrimonio Nacional, (1987), Madrid, p. 120.