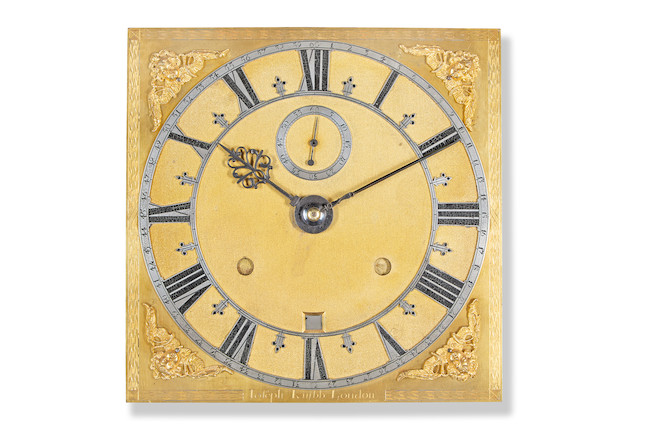 A fine and rare late 17th century English walnut month-going longcase clock with ten inch silver-mounted skeletonised dial
Joseph Knibb, London
21 November 2023, 13:00 GMT
London, New Bond Street
Own a similar item?
Submit your item online for a free auction estimate.
How to sell
Looking for a similar item?
Our Private & Iconic Collections and House Sales specialists can help you find a similar item at an auction or via a private sale.
Find your local specialist
Ask about this lot
Kafayat Zaria-Suleiman
Sale Coordinator
A fine and rare late 17th century English walnut month-going longcase clock with ten inch silver-mounted skeletonised dial
Joseph Knibb, London
The rising hood with carved floral cresting over twisted columns and glazed sides, shallow throat moulding over a long trunk door with book-matched veneers centred by a circular lenticle, to a matching base on bun feet.
The 10-inch dial with engraved wheat ear border interrupted by the signature Ioseph Knibb London, four winged cherub's head spandrels framing the exquisitely skeletonised silver Roman and Arabic chapter ring, with each minute individually engraved and fleur-de-lys half-hour markers between the hours, with very fine matting allover, including the shutters for the bolt-and-shutter maintaining power, the centre with subsidiary seconds dial and chamfered date aperture below typical Knibb-style blued steel hands.
The weight driven movement secured to the backboard with two L-shaped retaining brackets, the plates united by five latched, knopped and ringed pillars, anchor escapement to a brass-faced pendulum with butterfly suspension with bolt and shutter maintaining power, the strike train operated via a small solid outside countwheel set high on the backplate. Together with a pair of weights, pendulum and door key.
44cm wide x 19cm deep x 207cm high, (17in wide x 7in deep x 81in high)
Footnotes
Provenance
John Carlton Smith, 1988. See also printed advert by Hans Kreft.

Joseph Knibb was born in 1640. It is assumed that he served his apprenticeship under his cousin Samuel Knibb in Newport Pagnell from 1655 to 1662. He began his independent career working just outside the City of Oxford, but by the mid-1660s had moved within its jurisdiction. There was some initial resentment to his becoming Free of the City and it was only through the support of the University, where he matriculated as a gardener, that he was granted Freedom in 1678 on payment of a fine of 20 nobles and a leather bucket.

In 1670 Joseph moved to London; this was the same year that his past Master, Samuel, who had moved to the capital in 1662, died, and it was natural that Joseph should carry on the family firm. London at this time was experiencing something of a re-birth after the Great Plague and the Great Fire, and the scientific and horological sectors were closely intertwined. Joseph was obviously a talented horologist; with just three years under his belt in the capital, he was accomplished enough to supply Professor James Gregory, Astronomer of St Andrews University, with a pair of longcase clocks and a 'split second' weight driven timer capable of showing thirds of a second via its tic-tac escapement. Gregory boasted of them in a letter to the Astronomer Royal, John Flamsteed in a letter date 19 July 1673\; "I have 2 Pendulum Clocks makinge with long swinges, vibrating seconds, (no) strikinge; and also one little Pendulum Clock, vibrating 4 times a second, also without strikinge for discerninge small intervalls; where there may be a parte of a second in question." These three clocks are still at St Andrews today.

Four years later, in 1677 Knibb was commissioned to supply a turret clock for Windsor Castle. The Dukes of Sussex and York also had Knibb clocks in their collections and in 1682 Knibb was paid for work carried out for Charles II. He took on nine apprentices, including Edward Massey, John Drew and Brouncker Watts. He was Assistant to the Clockmakers Company in 1689 and is well recorded in the Company's accounts until 1697 when he retired to Hanslop. He died in December 1711.