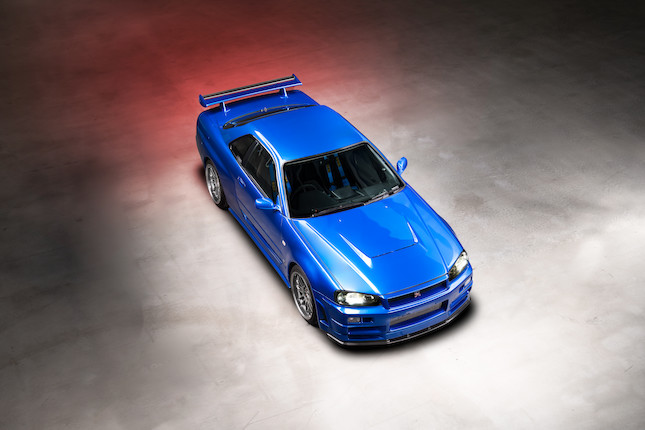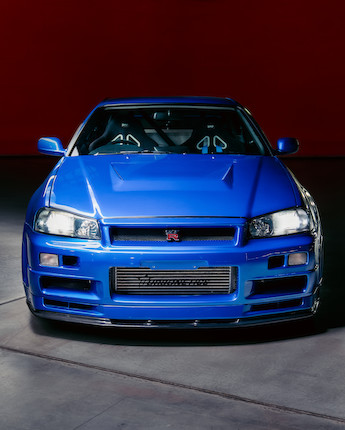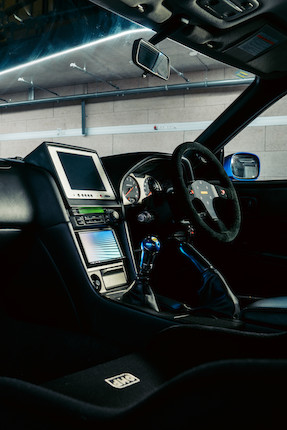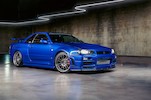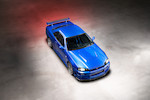 Driven by Paul Walker in Fast and Furious
2000 Nissan Skyline R34 GT-R by Kaizo Industries
Amended
28 April – 5 May 2023, 12:00 CEST
Brussels, Chaussée de Charleroi
Sold for US$1,357,000 inc. premium
Own a similar item?
Submit your item online for a free auction estimate.
How to sell
Looking for a similar item?
Our Collector Cars specialists can help you find a similar item at an auction or via a private sale.
Find your local specialist
Ask about this lot
Richard Stafford
Specialist, Head of Research
2000 Nissan Skyline R34 GT-R by Kaizo Industries
Kaizo Chassis no: 1K1AAWDD77K400109
Nissan Chassis no: BNR34-400109
• Unique opportunity to own an iconic piece of automotive and cinematic history
• The star vehicle of 'Fast and Furious 4', part of the $6B global automotive film franchise
• A timeless design complemented by extensive expert modification
• Built to the exacting personal specification of the late Paul Walker, hero of the 'Fast and Furious' series
Purple Paddle Lot: Please note there is restricted bidding on this lot which requires enhanced bid verification checks. Please contact us at [email protected] or call +44 20 7447 7447 as soon as possible if you are planning to bid on this lot to prevent any last-minute delays.
The Nissan Skyline GT-R is widely lauded as one of the greatest Japanese motor cars of all time and has indubitably earned the title of modern classic, both for its looks and its performance.
Bonhams now has the privilege to offer what is surely one of the most desirable and significant examples of the Nissan Skyline R34 GT-R ever built, with extraordinary provenance and unparalleled cultural caché.
Nissan Skyline R34 GT-R
The Nissan Skyline R34 GT-R, affectionately known as "Godzilla," is a sports car that was produced by the Japanese concern from 1999-2002. It was the final iteration of the renowned straight-six engined Nissan Skyline GT-R, and is in many ways an evolution from the ground-breaking R33 and R32 models. It was designed as a slightly more refined, more mature beast than its predecessors, offering improved handling, a smoother ride and enhanced interior comfort.
The distinctive silhouette of the R34 sets it apart from its then (and arguably still) rivals such as the Honda NSX, Toyota Supra and Mazda RX-7, and is considered a timeless design. Powered by the RB26 engine, a 2.6-litre twin-turbocharged in-line six-cylinder unit, the standard R34 was claimed to deliver 276bhp through all four wheels thanks to Nissan's ATTESA E-TS all-wheel drive system. Unmodified, the R34 can reach 155mph.
The R34 received a number of updates over its relatively short production run of four years, with suspension and bodywork revisions in addition to interior upgrades. It is widely lauded as a true driver's car, with the admired six-speed Getrag gearbox, pedals and steering working in harmony for an irresistibly attractive driving experience.
The Motor Car Offered
Constructed in 2002 as a 2nd Generation R34 GT-R, this example, recorded on the GTR Registry under its chassis No 'BNR34-400109' as a Series 2 GTR painted in TV2 Bayside Blue, was modified to 'Fast and Furious' acting legend Paul Walker's personal specification.
It starred in 'Fast and Furious 4', the fourth instalment of the multi-million dollar film franchise which grossed more than $360M worldwide. The movie, released in 2009, stars Vin Diesel and the late, great Paul Walker as street racers who team up to apprehend a vicious drug lord.
One scene in the film shows Walker's character, Brian O'Conner, in the FBI impound lot, selecting which car to enter for a high-stakes street race. He selects three, a white GT-R (portrayed on screen by Walker's personal car), a red R35 GT-R (owned by Daryl Alison of Kaizo at the time), and the blue R34 GT-R offered today. This vehicle then features extensively throughout the film, tearing through the streets of Los Angeles Koreatown defying laws of both constitution and physics in a death-defying street race. O'Conner and the GT-R make light work of a BMW M5 and an S14 Nissan Silvia but he is pushed out of the race by Dominic Toretto (Vin Diesel). The car moves on to further criminal activity in the film, being used for smuggling across the Mexican border before being blown up in a franchise-favourite fireball. Fortunately, the car seen bursting in to flames on screen is of course a replica!
Indeed, there are several vehicles used to represent this Bayside Blue Skyline in the film, but all apart from the car offered here were dressed up stunt cars. They were in fact non-turbo base specification Skyline GT-T models, disguised using East Bear body kits, and with rear-wheel drive for on-screen drifting ease. In addition to the GT-Ts and the car seen exploding, one buck car was used (body mounted on a trailer for filming purposes) which eagle-eyed viewers will notice still has the gauge cluster from the GT-T. The vehicle offered here is the true hero car, built to Paul Walker's personal specification, and indeed the only true R34 GT-R appearing in the film.
The car was purchased in Japan and brought in to the US without an engine by Kaizo Industries, a correct RB26 engine and associated components were sourced, and the car was classified as a kit car, being reassembled in California. Clever use of a loophole, and a fitting start to the life of any 'Fast and Furious' speed machine. Kaizo Industries imported a variety of GT-Rs, and worked with the intention of bringing them up to US Department of Transport standards with strengthened seatbelt mounts and reinforced body shells, although these modifications were not eventually accepted by the DoT.
Once in the US and registered (as a 2007 Kaizo), the car and was then modified and converted to Paul Walker's precise personal specification. Walker, who tragically died in a traffic collision in 2013, starred as Brian O'Conner in every 'Fast and Furious' film until his death. Much like his on-screen persona, he was a true car enthusiast and established an impressive collection of them during his lifetime.
As both a racer and an avid collector, it is unsurprising that Walker had such strong opinions on both the cosmetic and mechanical enhancements for the vehicle offered here. He requested the removal of all vinyls and exterior visual decoration to highlight the clean, classic lines of the Bayside Blue Skyline. He is reported to have said that he wasn't driving a "Sticker Bomber!" So precise were his requests, he even asked for the rear fog light to be changed from red to a white lens.
In the movie, a digital display is shown mapping out the route for the high-octane street race, and the drivers rev their engines impatiently while an on-screen clock counts down on the dashboard. At Walker's request, a large dashboard monitor was added to the car's interior costing nearly £8,500, meaning that its next owner can (safely) recreate his or her own high-tech street race fantasies.
Paul Walker's list of modifications didn't stop with cosmetic enhancements. Other conversion measures include:
· Turbonetics front-mount intercooler
· Nismo lowering springs
· Custom-built roll cage
· ARC titanium strut brace
· 19X11 Volk Racing RE30 19x11 wheels
· Rotora brake conversion with six piston calipers on the front and four piston calipers at the rear
· Nismo Version II bumper with side skirts
· East Bear hood
· Rear Seat delete
· Momo Sport Alcantara steering wheel
· Nismo V-Spec pedals (seen in close up during the street race countdown)
· Custom head-up display for dashboard mounted monitor
· MFD Xenarc Display unit with gauges programmed to the car's ECU
· Sony head unit
· OMP custom racing seats with five-point belt system
· Nismo NE-1 exhaust system
· Boost pressure raised to 550hp with uprated intercooler and exhaust modifications
The OMP custom driver's bucket seat remains fixed in the position last used by Paul Walker during filming of 'Fast and Furious 4' and has not been moved since. After filming wrapped and the production crew began work on the sequel, 'Fast Five', the car was seized and impounded by the US Border Force and was subjected to a complex and lengthy legal battle due to its having originated as an assembled vehicle by Kaizo, and the fact that the R34 GT-R was never allowed to be imported to the USA in at the time. In 2012, the vehicle was eventually released from impound and was exported to Germany, where it has remained since. In recent years some R34 GT-Rs have been imported to the US on show and display titles. If a show and display exemption is not made, this car would not be potentially eligible for US import until it is 25 years old, and would need to be correctly titled as a 2000 Nissan.
Taxes were paid in in the EU when the car arrived in to the Netherlands from America but the car has never been registered in the EU. It is offered with an expired original title from the state of Nevada, which titles the car as a 2007 Kai (shortened from Kaizo). Bidders should make enquiries regarding the registration process in their own jurisdiction before bidding.
The car retains is original chassis stamping of 'BNR34-400109' on the firewall, as well as the Kaizo Industries chassis tag with related 17-digit VIN '1K1AAWDD77K400109' (also visible on a windscreen tag beside the passenger A-pillar). The Kaizo VIN is also seen on the sticker in the door shut, showing its origins as a specially constructed vehicle. Nothing is known of its life in Japan before it came to the US for movie production, so the mileage cannot be confirmed.
The car has seen very little use in recent years, and has been a very popular exhibit at the Munich Motorworld, with fans coming from far and wide to see this iconic car. In recent years, notably, it has been wrapped in a paint protection film. The GT-R is running but as with any car that has been on static display for some time, we advise servicing and recommissioning before it is used in anger.
This scene-stealing modern classic is unquestionably one of the most notable and covetable vehicles from the most celebrated automotive film franchise of all time. The 'Fast and Furious' franchise has grossed more than $6Bn dollars worldwide and has showcased some of the most dazzling custom machines in cinematic history. It is an instantly recognisable example of a timeless design, built to the precise personal specification of a most celebrated (and now sadly missed) true enthusiast. This street racer merits every superlative accolade and represents the opportunity to own a genuine piece of cinematic and automotive history.
Saleroom notices
Please note Bonhams has been advised that due to its previous history, this car may not be allowed to be re-imported into the United States of America (USA) once it reaches 25 years old, and buyers from the USA should make their own enquiries regarding USA import. Neither the Vendor nor Bonhams can be held liable in the event that the car is not allowed to be re-imported to the USA.