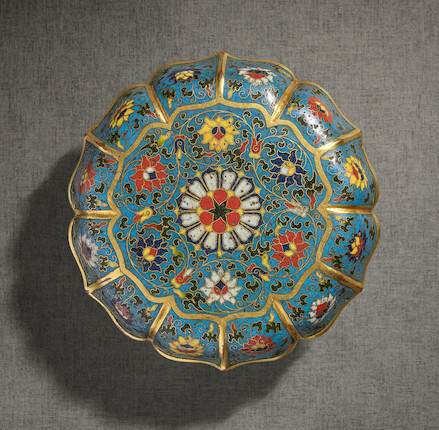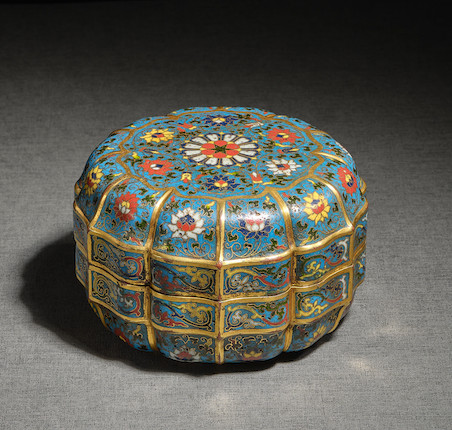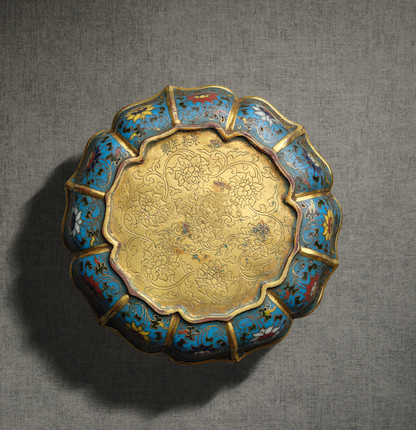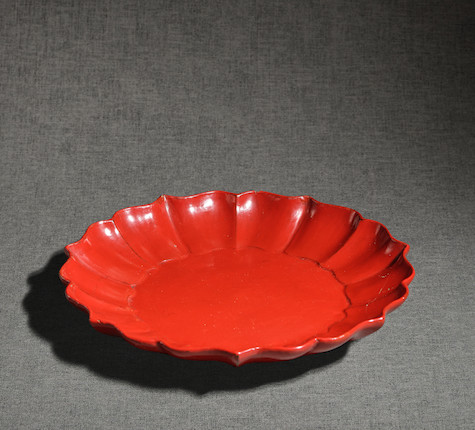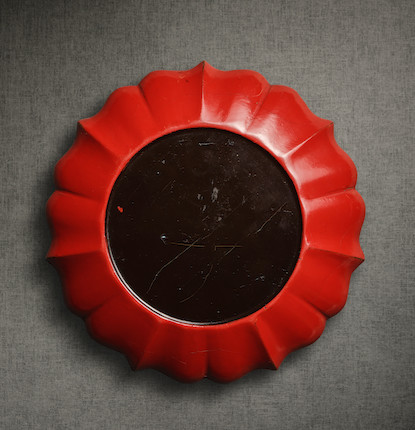 A RARE CLOISONNÉ ENAMEL 'LOTUS' BOX AND COVER
Qianlong
Amended
29 May 2023, 13:00 HKT
Hong Kong, Admiralty
Own a similar item?
Submit your item online for a free auction estimate.
How to sell
Looking for a similar item?
Our Chinese Ceramics & Works of Art specialists can help you find a similar item at an auction or via a private sale.
Find your local specialist
Ask about this lot
Gigi Yu
Head of Department
A RARE CLOISONNÉ ENAMEL 'LOTUS' BOX AND COVER
Qianlong
The foliated box and cover superbly modelled and divided into six petals, the top panel brilliantly enamelled in various tones of red, yellow, blue, white and turquoise with a lotus seed-pod encircled by radiating petals, within a band of stylised blossoming lotus issuing from scrolling tendrils, further surrounded by a border of lappets each enclosing a leafy lotus bloom, the box similarly decorated, the underside incised with similar lotus design with a four-character Jingtai apocryphal mark, wood box; together with a red lacquer foliate dish, the base lacquered black Song-Ming dynasty, Japanese wood box.
The box: 13cm (5 1/8in) wide; dish: 18cm (7 1/8in) diam.
Footnotes
清乾隆 掐絲琺瑯纏枝蓮紋花棱蓋盒
宋至明 朱漆花口盤

Provenance:
A Kyoto private collection

來源:
京都藏家舊藏

It is extremely rare to find Qing cloisonné boxes of this elegant octagonal lobed form. The shape is after Yuan and early Ming metalwork and can be more commonly found in mediums such as lacquer and ceramics. Compare to a related cloisonné enamel lobed box, dated Xuande period, also of 13cm wide, which was sold at Sotheby's Hong Kong, 8 April 2007, lot 520.

盒成鼓狀,頂底皆平,邊沿取類蓮瓣的花棱形。蓋項開光以纏枝蓮圍繞中央蓮心,蓋側和盒身的各開光分飾折枝蓮和卷葉紋。此盒的花棱器型乃來自元及明初金屬器,更多見於當時的瓷器和剔紅雕漆器。原本圓渾厚重的器形巧施花棱口沿,上下取角微彎,配以琺瑯彩料繪製的蓮紋,頓變雅俏輕盈,匠心獨運。參考一件香港蘇富比2007年4月8日售一件掐絲琺瑯纏枝蓮紋花棱蓋盒,定代為明宣德,與本拍品皆寬13公分,拍品520。
Saleroom notices
Please note that this lot has been withdrawn.
請注意此拍品已撤拍。