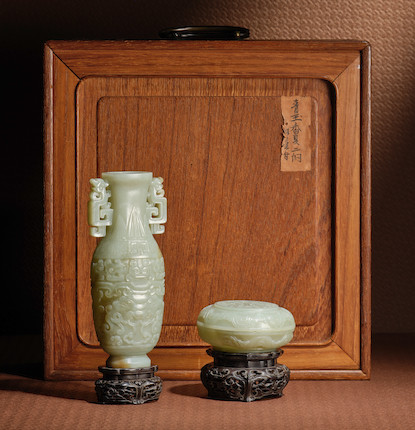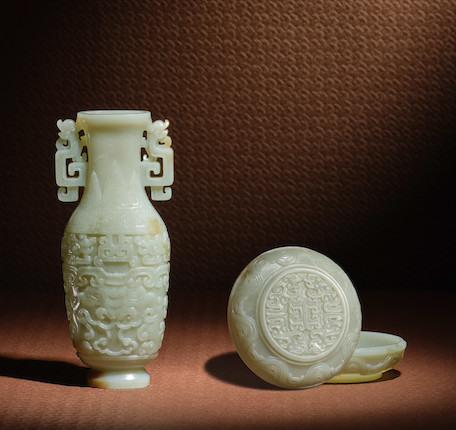 A SMALL PALE GREEN JADE ARCHAISTIC VASE, A CIRCULAR PALE GREEN JADE ARCHAISTIC BOX AND COVER
Qing Dynasty
29 May 2023, 13:00 HKT
Hong Kong, Admiralty
Own a similar item?
Submit your item online for a free auction estimate.
How to sell
Looking for a similar item?
Our Chinese Ceramics & Works of Art specialists can help you find a similar item at an auction or via a private sale.
Find your local specialist
Ask about this lot
Gigi Yu
Head of Department
A SMALL PALE GREEN JADE ARCHAISTIC VASE, A CIRCULAR PALE GREEN JADE ARCHAISTIC BOX AND COVER
Qing Dynasty
The flattened baluster body of the vase rising from a splayed foot to a waisted neck flanked by a pair of kuilong handles, the body carved in low relief on each side with a taotie mask between bands of upright and pendent lappets, the smoothly polished stone of an even colour with some snow flake inclusions; the domed cover of the box carved with a central stylised dragon medallion enclosed by another band of stylised dragon in a different style, similarly decorated on the box rising from a short foot, box.
Vase: 13cm (5 1/8in) high; box: 7cm (2 3/4in) diam.
Footnotes
清 青白玉雕饕餮紋龍耳小瓶及青白玉雕變體龍紋小盒 一組兩件

See a complete set of spinach-green jade incense garniture example in the current sale, lot 315, 18th century. Compare to the archaistic dragon patterns on the vase, box and cover in a set of white jade incense garniture set in the Qing Court Collection, illustrated in Compendium of Collections in the Palace Museum: Jade 10 Qing Dynasty, Beijing, 2011, p.154, pl.112.

十八世紀爐瓶盒的碧玉例見本場拍品315,另北京故宮博物院藏一套清代白玉爐瓶盒三式,其仿古龍紋飾與本拍品類近,可資參考,收錄在《故宮博物院藏品大系:玉器編10-清》,北京,2011年,頁154,圖版112。