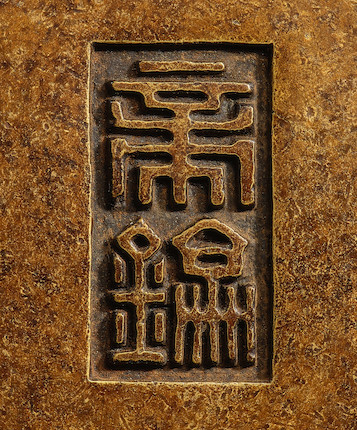 A BRONZE 'CHILONG' INCENSE BURNER
Cast Di Lun two-character seal mark, 16th/17th century
29 May 2023, 13:00 HKT
Hong Kong, Admiralty
Sold for HK$204,800 inc. premium
Own a similar item?
Submit your item online for a free auction estimate.
How to sell
Looking for a similar item?
Our Chinese Ceramics & Works of Art specialists can help you find a similar item at an auction or via a private sale.
Find your local specialist
Ask about this lot
Gigi Yu
Head of Department
A BRONZE 'CHILONG' INCENSE BURNER
Cast Di Lun two-character seal mark, 16th/17th century
Elegantly and heavily cast with a compressed body supported on a short recessed foot gently rising to a waisted neck, one side decorated with a clambering chilong grasping the rim, the bronze patinated to an attractive golden brown tone.
12.2cm (4 3/4in) diam.
Footnotes
十六/十七世紀 銅螭龍紋香爐
陽文「帝錀」篆書款

The mark reads Di Lun, which may be translated as "Emperor's gold".

Bronze incense burners decorated with a single chilong are relatively rare, where they are more often seen with two chi dragons. The chilong handle on the present vessel may have taken its inspiration from those appeared on single- or two-handled jade cups that started to gain popularity during the Ming dynasty. For an example of a jade cup with a single chilong handle, see Compendium of Collections in the Palace Museum: Jade 7 Ming Dynasty, Beijing, 2011, p.179, no.162.

Compare examples of 16th/17th century bronze incense burners decorated with two chilong handles, in the collection of R.E. Kresko, illustrated in Later Chinese Bronzes: The Saint Louis Art Museum and Robert E. Kresko Collections, Saint Louis Art Museum, 2008, p.91, fig.5; also see an example sold at Sotheby's Hong Kong, 8 April 2010, lot 1967.

此爐胎骨厚重,平口,束頸,扁腹圓鼓,圈足,器底有「帝錀」篆書款,甚為少見。腹外壁飾螭龍紋,螭龍上攀口沿,龍首上揚,脊骨畢露,尾巴向兩側分叉,身姿蜿蜒曼妙,構思簡單卻巧妙。此爐線條優美流暢,銅質細潤光潤,包漿自然,多為文房之用,文人追捧至極。

銅爐飾成對螭龍者比單螭龍更為多見。本爐原形或自明代玉螭龍杯,見一玉杯飾有單螭龍紋,《故宮博物院藏品大系:玉器篇》,卷7,北京,2011年,頁179,編號162。其他飾螭龍紋銅爐例子,可參閱Robert E. Kresko收藏一例,著錄於《Later Chinese Bronzes: The Saint Louis Art Museum and Robert E. Kresko Collections》,聖路易斯藝術博物館,2008年,頁91,圖5;亦參考香港蘇富比售出一例,2010年4月8日,拍品1967。