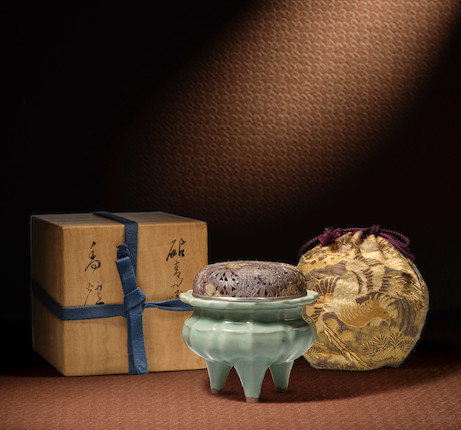 A CELADON-GLAZED LOBED INCENSE BURNER
Song Dynasty
29 May 2023, 13:00 HKT
Hong Kong, Admiralty
Sold for HK$639,000 inc. premium
Own a similar item?
Submit your item online for a free auction estimate.
How to sell
Looking for a similar item?
Our Chinese Ceramics & Works of Art specialists can help you find a similar item at an auction or via a private sale.
Find your local specialist
Ask about this lot
Gigi Yu
Head of Department
A CELADON-GLAZED LOBED INCENSE BURNER
Song Dynasty
The truncated lobed body supported on three slightly splayed legs, the shoulder with a horizontal rib intersecting vertical flanges associated with the mouth rim stimulating the form of a blooming mallow, rising to a short neck and an everted rim, applied throughout with an unctuous sea-green glaze thinning to a pale green at the ridges, the bottom of each leg left unglazed revealing the pale ware burnt russet-orange in the firing, cover and Japanese wood box.
11.5cm (4 1/2in) diam.
Footnotes
宋 青瓷葵花形鬲式爐

Provenance:
Collection of Arima Raitei, the Chief Priest of the Kinkakuji, Kyoto

來源:
京都金閣寺住持有馬頼底舊藏

The present incense burner, elegantly modelled with an undulating mouth rim to simulate the form of a blooming mallow, is highly unusual. Mallow shape is not uncommon on bowls and dishes, but it is extremely rare to find it on an incense burner. The exquisite bluish-green kinuta glaze as seen on the present vessel was particularly valued in Japan, where the incense ceremony kodo plays a highly important role.

Compare a tripod incense burner with a barbed rim and sides, published in Ge ci ya ji. Gugong Bowuyuan zhencang ji chutu Geyao cigi huicui [Selection of Ge Ware. The Palace Museum Collection and Archaeological Discoveries], Palace Museum, Beijing, 2017, pl. 108.

此爐的造型是仿照周代青銅器鬲形式的變奏,呈十八瓣葵花形開口,折沿外侈,短頸,圓肩,扁腹,口沿直至腹底凸起的豎棱與花棱形的開口相呼應,逼真地模仿了銅器出筋的装飾效果,肩部淺淺現出一道微凸的弦紋,腹下承以三足,足底呈深褐色的「鐵足」,整器造型小巧別緻。

香爐口沿巧作葵花之形,此式僅偶見於青釉盌或盤器上,但用諸香爐則極為罕稀。此爐釉色細膩,青中微泛藍,合符日本「砧青釉」之雅名。其識款原裝木盒尚存,想必曾在日本香道儀式上,為人惜慕。相關花式三足爐例,見《哥瓷雅集:故宮博物院珍藏及出土哥窰瓷器薈萃》,北京,2017年,圖版108。