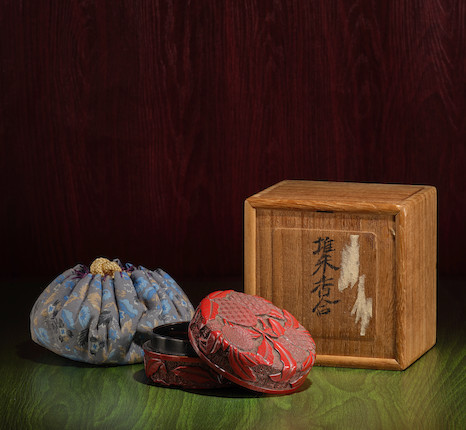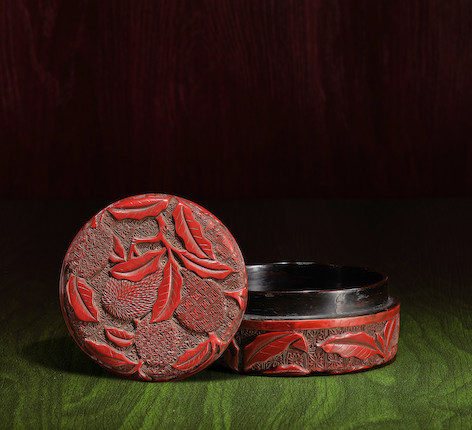 A CINNABAR LACQUER 'LYCHEE' BOX AND COVER
16th century
29 May 2023, 13:00 HKT
Hong Kong, Admiralty
Own a similar item?
Submit your item online for a free auction estimate.
How to sell
Looking for a similar item?
Our Chinese Ceramics & Works of Art specialists can help you find a similar item at an auction or via a private sale.
Find your local specialist
Ask about this lot
Gigi Yu
Head of Department
A CINNABAR LACQUER 'LYCHEE' BOX AND COVER
16th century
Both the box and cover elaborately carved through thick layers of cinnabar lacquer with fruiting branches bearing lychee, all reserved on a floral diaper ground, the interiors lacquered black, Japanese wood box.
7.8cm (3 1/8in) diam. (3).
Footnotes
十六世紀 剔紅荔枝紋圓蓋盒

Provenance:
A Himeji private collection, Japan

來源:
日本姬路市資深藏家舊藏

Two related cinnabar lacquer boxes, also carved with lychee fruits, dating to the 16th century, are in the National Palace Museum Collection, exhibited in Carving the Subtle Radiance of Colors: Treasured Lacquerware in the National Palace Museum, Taipei, May-July 2008, catalogue nos.48 and 49.

蔗段式盒,子母口,平底,盒内髹黑漆,盒身與盒蓋均飾折枝荔枝,荔枝表殼特殊的紋理,成爲工藝表現的焦點,或斜刻,或菱格細雕,與錦地溶和,刀法純熟,富自然意趣。台北故宮博物院藏兩件相關的剔紅荔枝盒,定明十六世紀,於2008年5月至7月展覽於《和光剔彩:故宮藏漆》,圖錄圖版48及49號。