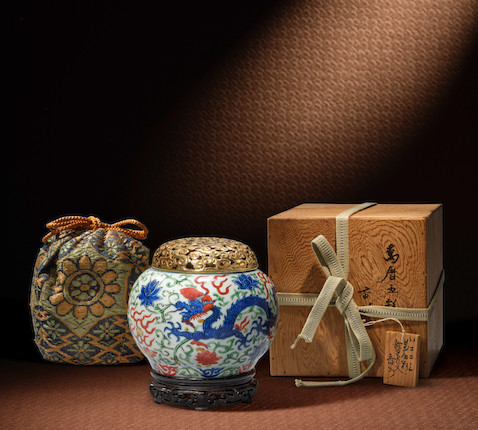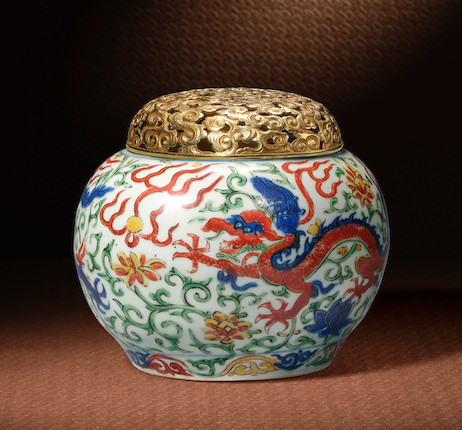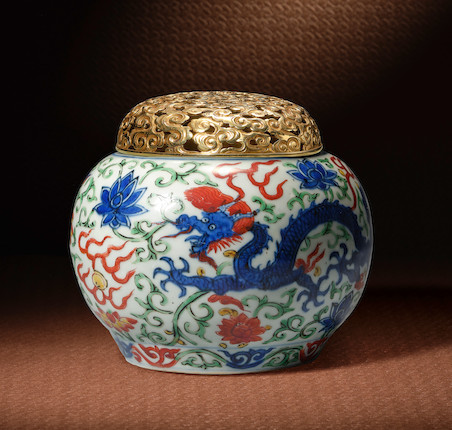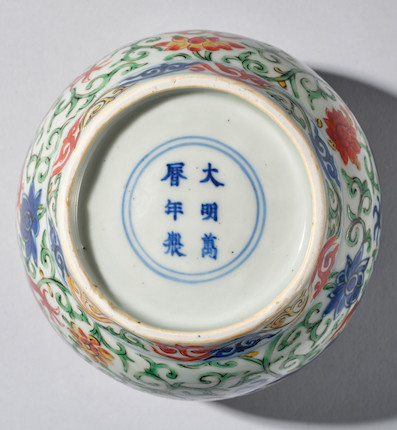 A RARE WUCAI 'DRAGON' JAR
Wanli six-character mark and of the period
29 May 2023, 13:00 HKT
Hong Kong, Admiralty
Sold for HK$537,400 inc. premium
Own a similar item?
Submit your item online for a free auction estimate.
How to sell
Looking for a similar item?
Our Chinese Ceramics & Works of Art specialists can help you find a similar item at an auction or via a private sale.
Find your local specialist
Ask about this lot
Gigi Yu
Head of Department
A RARE WUCAI 'DRAGON' JAR
Wanli six-character mark and of the period
The slightly compressed globular body vibrantly decorated with two five-clawed dragons writhing amidst clouds and flaming pearls, enamelled in either yellow, green, blue or iron-red, between narrow borders of stylised ruyi-lappet, with a band of foliate scroll above the foot, gilt-silver cover, wood stand and Japanese wood box, the cover of the wood box inscribed Qianye Jia, Dazheng shinian rucang, meaning "Asano Family, acquired in the tenth year of Taisho period (1921)".
14.5cm (5 3/4in) diam. (4).
Footnotes
明萬曆 五彩龍紋香罐
青花「大明萬曆年製」楷書款

Provenance:
Tokyo Art Club
Ogawa Co., Ltd.

來源:
東京美術俱樂部
Ogawa古美術

The present lot displays the pinnacle of achievement of the Jingdezhen kilns in the Wanli period, as demonstrated in the brilliance of the wucai enamels as well as the extraordinary rendering of the powerful five-clawed dragons. Most of the Wanli porcelain are misshapen or warped from firing, while the present lot is perfectly balanced in overall form and decoration. Wanli Imperial wares painted in attractive, brilliant wucai enamels were highly sought after in incense and tea cultures, particularly in Japan since the Edo period.

Three other Wanli-marked wucai jars of similar size and shape are in important museums and private collections: the first in the National Palace Museum, Taipei, acc.no.:K1B005954N000000000PAB; the second in the Shanghai Museum, illustrated in Lu Minghua, Shanghai bowuguan cangpin yanjiu daxi: Mingdai guanyao ciqi [Ming Imperial porcelain], Shanghai, 2007, p.172, pl.3-103; and the third in the Chang Foundation, included in Selected Chinese Ceramics from Han to Qing Dynasties, Taipei, 1990, pl.107. See also a related water container from the Qing Court Collection, illustrated in Complete Collection of Treasures of the Palace Museum: Porcelains in Polychrome and Contrasting Colours, Hong Kong, 1999, no.42.

此壺圓口內斂,豐肩圓腹飽滿外鼓,平底凹足,足內青花雙圈豎兩排楷書款,書「大明萬曆年製」六字。器身飾青花五彩雙龍戲珠紋,神態威武生動,身姿矯健輕盈;其一以青花繪龍身,礬紅勾鬚髮,再用黑彩分填出遍佈龍身的鱗片,另一則正好相反,紅身青髯,形成強烈的對比,頗具視覺衝擊力;雙龍所戲之寶珠施黃彩,周圍用礬紅描繪噴出的火焰,明艷光亮、引人入勝;龍與寶珠之間滿佈綠彩卷草枝葉紋,連綿纏繞、生生不息。而枝上各處又點綴起不同色調的西番蓮紋,有的繪青花,有的施礬紅,有的表現為黃紅相間,艷麗多姿。足邊同樣以青花五彩繪出茂盛的枝葉卷草,上承如意頭紋。本器出色的五彩紋飾及比例恰當的造型,代表了當時景德鎮技術之先進,可算是萬曆五彩瓷中最優秀之一。壺口配銀鎏金頂蓋,呈圓弧狀,遍佈鏤空祥雲紋樣。日本舊木盒上書「淺野家大正十年入藏」。

相同的雙龍戲珠題材與器型可參見一件台北故宮博物院藏萬曆五彩雲龍紋蓋罐,文物圖檔編號K1B005954N000000000PAB。上海博物館亦有一件萬曆五彩雲龍紋蓋罐,見陸明華著《上海博物館藏品研究大系-明代官窯瓷器》,上海,2007年,頁172,圖版3-103。另見台北鴻禧美術館的一件五彩雲龍紋水盂,見《中國歷代陶瓷選集》,台北,1990年,圖版107。參考一飾有龍穿花紋類例,清宮舊藏,現存北京故宮博物院,錄於《故宮博物院藏文物珍品大系.五彩.鬥彩》,香港,1999年,編號42。