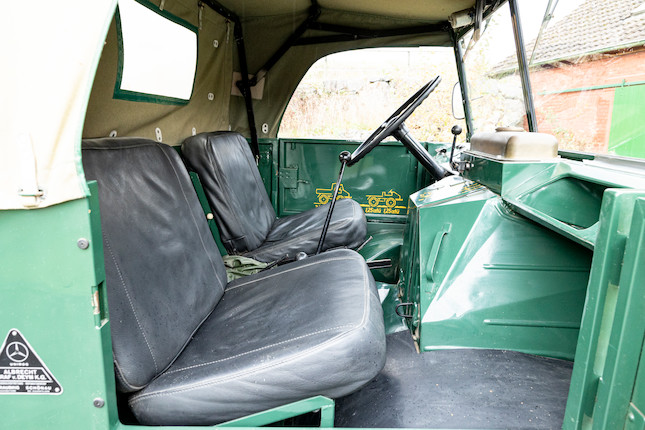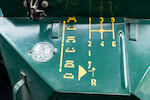 1958 Mercedes-Benz Unimog 411 4x4 Utility
1 February 2023, 18:00 CET
Paris, The Grand Palais Éphémère
Sold for €29,900 inc. premium
Own a similar item?
Submit your item online for a free auction estimate.
How to sell
Looking for a similar item?
Our Motorcycles specialists can help you find a similar item at an auction or via a private sale.
Find your local specialist
Ask about this lot
Gregor Wenner
Specialist Consultant
1958 Mercedes-Benz Unimog 411 4x4 Utility
Chassis no. 411 1107503374
Footnotes
• Iconic German 4x4
• 1,767cc diesel engine and eight-speed gearbox
• Acquired for the Bühner Collection in 2007
• German registration papers

Designed in the aftermath of WW2 Albert Friedrich and Heinrich Rößler, and still in production today, the Unimog 4x4 was intended to serve the needs of the agricultural community but, like the contemporary Land Rover, ended up filling an almost limitless variety of other roles. Production started in 1948 at the Boehringer factory in Göppingen, Germany. One of the Unimog's more unusual design features was a flexible chassis frame, effectively part of the suspension, while the equal-sized wheels meant that it was better suited for highway use than a conventional tractor. Power take-offs were provided to enable the Unimog to operate a wide variety of machinery: brush mowers, snow blowers, etc. Manufactured by Mercedes-Benz since 1951, the versatile Unimog has seen service with fire departments, municipal authorities, aid agencies and armies worldwide, and has won the truck class of the Dakar Rally more than once.

The original Unimog '70200' was a small agricultural tractor a little over 3.5 metres long, which offered only the protection of a canvas roof for the driver. However, the engine's maximum output of only 25DIN/PS (24.6bhp) proved insufficient for many applications, prompting the introduction of an improved '411' model soon after Daimler-Benz took over Unimog manufacture. Improvements included a longer wheelbase, a proper cab, and more powerful engines of up to 34DIN/PS (33.5bhp).

The vehicle offered here is an example of the '411' series, the ultimate version of the traditional Unimog. Purchased by Peter Bühner for the collection in 2007, this most attractive Unimog with the short wheelbase and canvas convertible top is equipped with a 1,767 cc four-cylinder diesel engine producing some 34 horsepower at 2,750rpm via an eight-speed gearbox. An older restoration which presents very well, the vehicle is offered with German registration papers; an original user manual (in German); and numerous magazine articles relating to the model. A rare opportunity to acquire one of these most practical of classic vehicles.





Mercedes-Benz Unimog 411 4x4 Utilitaire - 1958
Châssis n° 411 1107503374

• Un 4x4 allemand mythique
• Diesel 1 767 cm3 et boîte à huit rapports
• Acquis pour la Collection Bühner en 2007
• Documents d'immatriculation allemands

Conçu à la fin de la Seconde Guerre mondiale par Albert Friedrich et Heinrich Rößler, et toujours construit, l'Unimog 4x4 avait pour seul but de satisfaire les besoins des agriculteurs mais, comme son contemporain le Land Rover, il a fini par jouer une gamme pratiquement illimitée d'autres rôles. Sa production démarra en 1948 à l'usine Boehringer de Göppingen (Allemagne). L'une de ses caractéristiques les plus inhabituelles était son châssis flexible, qui faisait partie de sa suspension. Ses roues de tailles identiques montraient qu'il était davantage fait pour rouler sur route que pour servir de tracteur. Des prises de force lui permettaient d'entraîner une grande diversité d'accessoires, des tondeuses à brosses, des chasse-neiges, etc. Fabriqué depuis 1951 par Mercedes, l'Unimog est suffisamment polyvalent pour avoir été utilisé par les pompiers, les services municipaux, les organisations humanitaires et les armées du monde entier ; il a remporté le Dakar plus d'une fois en catégorie camion.

L'Unimog 70200 des origines était une petit tracteur agricole d'un peu plus de 3,50 m de long, qui n'offrait à son conducteur que la protection d'une toit en toile. Sa puissance de seulement 25 ch DIN s'est toutefois révélée insuffisante pour de nombreuses applications, aussi Daimler-Benz s'est-il dépêché d'en lancer sous le nom de 411 une version améliorée, dès qu'il en a repris la fabrication. Les améliorations consistaient en un empattement allongé, un véritable habitacle et des moteurs plus puissants allant jusqu'à 34 ch DIN.

Le véhicule proposé est un exemplaire du 411, la version la plus évoluée de l'Unimog traditionnel. Acheté en 2007 par Peter Bühner pour sa collection, ce très attrayant Unimog à empattement court et toit en toile amovible est équipé d'un quatre-cylindres diesel de 1 767 cm3 délivrant 34 ch à 2 750 tr/min et accouplé à une boîte à huit rapports. Une ancienne restauration fait qu'il a belle allure. Il est proposé muni de documents d'immatriculation allemands, de sa notice d'utilisation d'origine (en allemand) et de nombreux articles consacrés à ce modèle. C'est une occasion rare d'acquérir l'un des plus utilitaires des véhicules de légende.


It should be noted that these vehicles have either been on display in the museum or kept in store since Peter and Ulrike passed away. Their present mechanical condition is not known; accordingly, perspective bidders must satisfy themselves with regards to their condition, completeness, correctness, or otherwise prior to bidding.

On notera que depuis le décès de Peter et d'Ulrike ces véhicules ont été maintenus en exposition dans le musée ou entreposés. L'état actuel réel des mécaniques est inconnu et les éventuels acquéreurs devront s'assurer par eux-mêmes de la condition, de l'intégrité, de l'authenticité et autres points relatifs à la qualité des machines avant de porter leurs enchères.