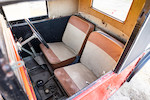 1926 Hanomag 2/10 PS Kleinauto 'Kommissbrot' Saloon Project
1 February 2023, 18:00 CET
Paris, The Grand Palais Éphémère
Sold for €16,100 inc. premium
Own a similar item?
Submit your item online for a free auction estimate.
How to sell
Looking for a similar item?
Our Motorcycles specialists can help you find a similar item at an auction or via a private sale.
Find your local specialist
Ask about this lot
Gregor Wenner
Specialist Consultant
1926 Hanomag 2/10 PS Kleinauto 'Kommissbrot' Saloon Project
Chassis no. 6307
Footnotes
• One of the most successful German light cars of its day
• One of Peter Bühner's last projects
• Offered for restoration
• A rare survivor

Hannoversche Maschinenfabrik AG (Hanomag) was founded in 1846 as a constructor of steam locomotives, and went on to build commercial vehicles, cars, tractors, etc. Hanomag's first motor car was launched in 1925: this was the 2/10 PS two-seater 'Kommissbrot' (literally 'army bread'), so called because its shape resembled that of an army-issue loaf. The 2/10 PS was powered by a rear-mounted 499cc 10hp single-cylinder water-cooled engine, which drove the rear axle by a chain (there was no differential). Keeping weight to a minimum was a design priority, and the first (open) version weighed only 370kg. A closed version followed later. Top speed was around 60km/h.

Named 'Zweisitzer Limousine' (two-seat limousine) by the company, the Hanomag 'Kommissbrot' is historically significant as the first German car to be manufactured on a moving assembly line, as pioneered by Ford; in 1927 and 1928 Hanomag were building 80 cars per day. Production ceased after three years when 15,775 had been made, very few of which survive. Despite being the best selling car in Germany at the time, the 'Kommissbrot' did not make any money for Hanomag, which turned to more conventional cars that would help it into financial stability.

This charming Hanomag 'Kommissbrot' was one of Peter Bühner's last projects and has not been completed. This is potentially most rewarding project, but interest parties should satisfy themselves with regard to its completeness or otherwise prior to bidding. The car is offered with a cancelled German Kraffahrzeugbrief dating from 1966, an original owner's manual (German language), and numerous magazine articles relating to the model. A very modern looking car for its age, '6307' is one of the very rare surviving 2/10 PS models and is worthy of a place in any important collection.



Hanomag 2/10 PS berline Kleinauto 'Kommissbrot' (projet) - 1926
Châssis n° 6307

• L'une des petites voitures allemandes les plus couronnées de succès en son temps
• L'un des derniers projets de Peter Bühner
• Proposée pour être restaurée
• Une survivante rare

La Hannoversche Maschinenfabrik AG (Hanomag) fut fondée en 1846 pour construire des locomotives à vapeur, puis elle se développa en construisant des véhicules utilitaires, des voitures, des tracteurs, etc. La première automobile de Hanomag fut lancée en 1925 ; c'était la deux-places 2/10 PS dite Kommissbrot, littéralement "pain de l'armée", à cause de son allure qui faisait penser à une miche de pain de l'armée. Elle était équipée d'un monocylindre de 499 cm3 de 10 ch refroidi par eau et monté à l'arrière, qui entraînait l'essieu arrière par une chaîne, sans différentiel. La priorité avait été donnée à la légèreté et sa première version (découverte) ne pesait que 370 kg. Elle fut suivie d'une version fermée. Leur vitesse maximale était d'environ 60 km/h.

Cette Hanomag Kommissbrot, que son constructeur désignait par Zweisitzer Limousine, ou limousine biplace, présente la particularité d'être la première voiture allemande à avoir été montée sur une ligne d'assemblage en mouvement, selon l'exemple donné par Ford. En 1927 et 1928, Hanomag produisait quatre-vingts voitures par jour. Sa fabrication cessa au bout de 15 775 exemplaires, dont très rares sont ceux qui ont survécu. Bien qu'ayant été en son temps la voiture qui se vendait le mieux en Allemagne, la Kommissbrot ne fit pas gagner d'argent à Hanomag, qui se tourna vers des voitures plus conventionnelles pour assurer sa santé financière.

Cette charmante Hanomag Kommissbrot a été l'un des derniers projets de restauration de Peter Bühner, mais qui n'a pas été mené à bien. C'est un projet potentiellement gratifiant, mais les personnes intéressées doivent vérifier s'il est ou non complet avant d'enchérir. Cette voiture est proposée munie d'un certificat d'immatriculation allemand annulé datant de 1966, d'un manuel d'utilisation d'origine (en allemand) et de nombreux articles de magazines consacrés au modèle. D'allure très moderne pour son âge, cette 6307 est l'une des très rares 2/10 PS à avoir survécu ; elle a sa place dans toute collection d'importance.


It should be noted that these vehicles have either been on display in the museum or kept in store since Peter and Ulrike passed away. Their present mechanical condition is not known; accordingly, perspective bidders must satisfy themselves with regards to their condition, completeness, correctness, or otherwise prior to bidding.

On notera que depuis le décès de Peter et d'Ulrike ces véhicules ont été maintenus en exposition dans le musée ou entreposés. L'état actuel réel des mécaniques est inconnu et les éventuels acquéreurs devront s'assurer par eux-mêmes de la condition, de l'intégrité, de l'authenticité et autres points relatifs à la qualité des machines avant de porter leurs enchères.